Sedona Red Rock hangs on to Central lead at Northland Prep
October 22, 2021 by George Werner, AZPreps365
---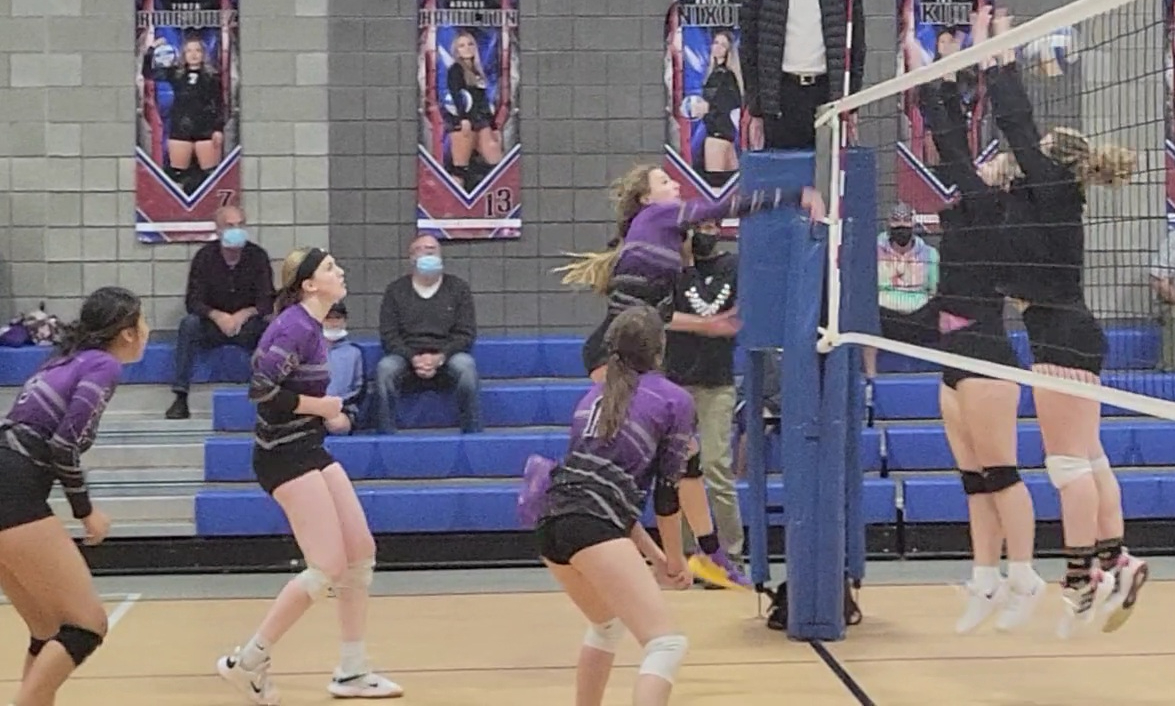 With a sigh of relief, Sedona Red Rock High School's volleyball team left Northland Preparatory Academy's gymnasium Thursday, Oct. 21, leaders of the 2A Conference's Central Region.
In their first of three matches in three days that will likely determine not only the regional champion, but the last seed to avoid the play-in round of the 2A state volleyball tournament, the Scorpions won their first two games over the Spartans, 25-20 and 25-16, before hanging on to win the fourth game.
Senior all-region second teamers Emma Beattie and Stephanie Medel slammed and served ninth-ranked Red Rock to wins in their first two games at Northland Preparatory Academy, only to see that advantage virtually collapse before junior Bella Williams' left-side kill allowed them to escape, 28-26.
"We hit the ball well and kept the ball alive," said John Parks, Scorpions head coach and athletic director, who can clinch no worse than a tie for his second regional crown in three years with wins Friday and Saturday, Oct. 22 and 23, over Glendale Prep and at Scottsdale Prep. "We just need to cut down on service errors."
Mistakes that plagued both tournament-eligible teams on a night in which the Scorpions had to overcome three early-game deficits to hold off the 17th-ranked Spartans, led by the 23 digs, 22 kills and four aces of senior Maggie Auza.
"Just a couple more plays on their team, is all it came down to," added Parks, who will need a little help from above to move up to eighth in the 2A power rankings and avoid hosting a play-in match Tuesday, Nov. 2. "I think everybody else [for Sedona] contributed."
Even the first game, in which Medel's serves proved unreturnable during an 8-1 run that opened up a seven-point Scorpion lead after trailing through the match's 11th point.
Likewise in Game Two, when Beattie's ace forged game point before her tip won it over the bunched-up Spartan front row at the net.
"Which is something you expect," Parks said. "They've done that all year."
Auza's final kill of the third game ensured the Spartans didn't give away all of the five-point lead built largely by junior top-five 2A hitter Bella Moseng in the face of a final Red Rock run, forcing a Game Four, 25-23.
"Our passing was good enough to get the ball to them plenty," said Spartans head coach Corie Murphy. "We've just got to learn to pass under pressure. They showed great leadership."
It also opened the door for a Game 5 tiebreaker, which the Spartans nearly achieved at two separate game points before Medel's set for Williams' second spike at the Scorpions' second match point at last fell in.
"We work hard on finding either corner," Murphy added. "I'm proud of my kids. They showed great fight."
The Spartans also have games against Scottsdale Prep, which trails 11-3 Sedona Red Rock by a half-game in the Central, and another challenger in the region, Desert Heights Prep Academy, who "we're kind of in a dogfight with," Murphy added.
"We don't really talk about playoffs yet," she said. "We talk about being better than we were yesterday, every single day. We try not to think too much about the outcomes we can't affect. We can only control what we do every single night."
Moseng added 16 digs and 10 kills against the Scorpions to go with another 10 kills from sophomore Miranda Greene, along with 19 digs. Sophomore Caroline Jameson had another 12 kills for the Spartans, 8-5 in the conference and 6-3 in region play.
---