Phoenix Country Day's freshman trio shines in straight sets victory over Scottsdale Christian Academy
October 22, 2021 by Andrew Martinez, Arizona State University
---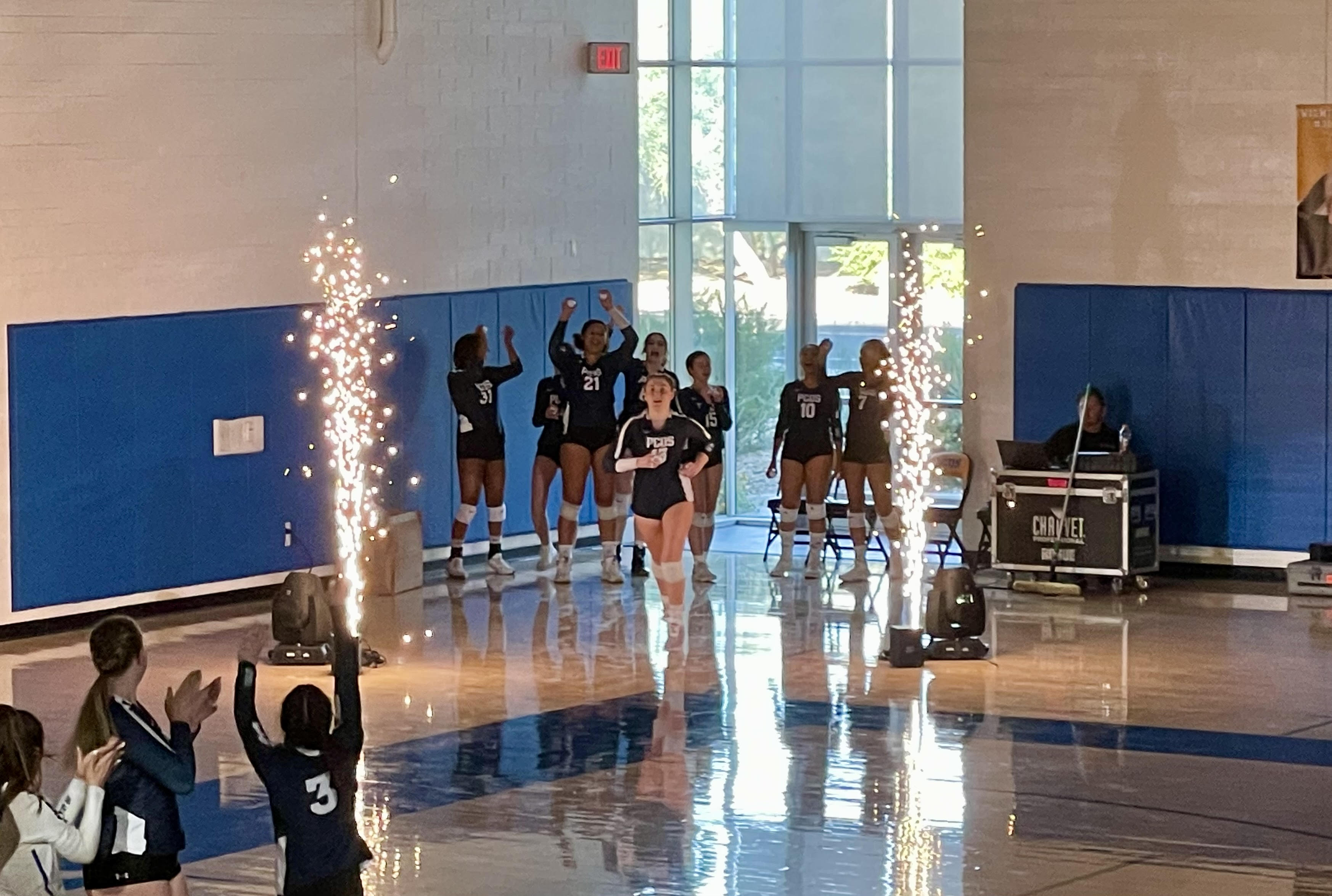 Andrew Martinez is an ASU Cronkite School of Journalism student assigned to cover Phoenix Country Day School for AZPreps365.com.
PARADISE VALLEY-- A battle of two girls volleyball leviathans, whose mascots both happen to be Eagles, took place on Friday when Scottsdale Christian Academy visited Phoenix Country Day. It was the conclusion of blue-and-gold week at PCDS, the school's spirit week, akin to homecoming. PCDS was able to cap off its festive week and celebrate the school's 60th birthday in style, a victory against its biggest rival in straight sets: 25-12, 25-23, and 25-12.
Phoenix Country Day's team had been preparing for this match for a long time, knowing that if they were able to win, they'd prove themselves as a true contender in the upcoming playoffs. Entering the match, PCDS was sitting at the number-two rank in the 2A Metro volleyball standings. The only team above them? Scottsdale Christian.
"We've been looking forward to this game for a while now and training and pushing ourselves," said coach Kat Glaeseman. "I think knowing that if we play our game we can win and we can compete against the top three teams in the state, it gives us a lot of confidence going into the tournament that if we play our game we can beat anyone and we can win the state championship."
From the opening serve, the match's action was unrelenting. The first rally was over 30 seconds long, with multiple digs and diving saves by both sides. This got the full crowd on their feet and roaring, seconds into the match. PCDS took that first point and the next five, jumping out to an early 6-0 lead with kills from freshman Teraya Sigler and good defensive chemistry at the net from senior captain Lilly Robinson and freshman Mia Warner, getting two combined blocks early on.
The strong defense kept its grasp on the game's pace and allowed PCDS to extend its lead to 13-6, capitalizing on errant kill and serve attempts by SCA, which traveled out of bounds. PCDS was able to sustain its lead and take the first set, prohibiting SCA from getting its potent offense in rhythm.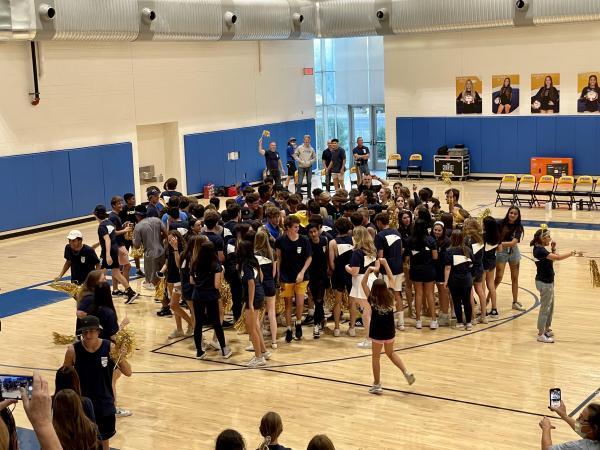 PCDS students gather on the court to celebrate their team's victory (Andrew Martinez/AZPreps365)
One of PCDS' star freshmen is outside hitter Quincy Rodin, who is the daughter of the school's headmaster, Andrew Rodin. With PCDS being a K-12 school, Quincy Rodin has been attending PCDS since she was four years old, building friendships and ties to the community for as long as she can remember. Now that Rodin is at the high school level, she is taking the representation of her school, community, and family very seriously.
"This is my alma mater, I fight for this school, this team," said Rodin. "We love each other, we would do anything for each other, we are family forever. This team is everything, my family (is everything), everyone here, we do it for each other. It's awesome. Just the best feeling."
Set two was plagued by miscues from both sides, starting with early serves into the net from PCDS, giving SCA a 5-2 lead. This three-point lead would be the largest by either team until late in the set. After campaigning back, with breathtaking passes from Robinson and back-to-back kills from senior Ella Cabbil, PCDS evened the score at 7-7. No team was able to separate itself from the other, the scoreboard flickered back and forth until it read 13-13.
SCA middle hitter, sophomore Reece Gibson helped keep the score close by generating offense at the net for SCA, at times being able to penetrate the impervious PCDS defense. The score remained knotted, until Sigler gave the PCDS offense the jolt it needed, stringing together multiple kills to give PCDS a 23-20 lead. Despite this, SCA was unwavering. With set point lingering and quickly becoming a reality, SCA fought back and was able to put pressure on, making the score 23-24 and forcing PCDS into a timeout. With clear heads coming off the timeout, PCDS was able to take the next point, winning the set.
Rodin and Sigler are two of PCDS' main playmakers who, while only freshmen, are close friends and long-time teammates. The K-12 system that the school has benefits such players. They are able to become connected on a deeper level, while also establishing a sense of community and togetherness at the same time.
"It really benefits us (K-12) for multiple reasons, we get to push each other to our limits because we are so close, "said Rodin. "We know when to lay off each other, when to push each other. We know each other so well that it's like we think the same things without even saying anything and it makes us play even better together."
In set three, PCDS did not have a hot start, allowing the score to be tied at 3-3, but a run of stunning serves from Sigler and some mistakes from SCA allowed PCDS to jump out to a 9-4 lead. Warner tallied two more blocks to her total and PCDS continued to enlarge its lead, making the score 17-7.
Bella Anderson and Ava Lambert attempted to lead SCA on one final run, but PCDS was able to extinguish any chances of a comeback, ending the third set and the match on a Sigler ace. Once the ball struck the hardwood court on the final point, the rowdy PCDS student section stormed the court to celebrate their victory.
Sigler finished the match with 19 kills and three aces. Robinson ended with 25 assists. Cabbil sent down five kills. Warner racked up six blocks on the night, and Rodin concluded the match with eight kills.
PCDS will visit the Valley Lutheran Flames (5-14) in their next matchup on Monday. They will be looking to extend their winning streak to 20 games, but more importantly, making sure they are prepared for the upcoming playoffs.
---