Pinnacle 4th after day 1 of state tournament
November 1, 2021 by Conor Bonfiglio, Arizona State University
---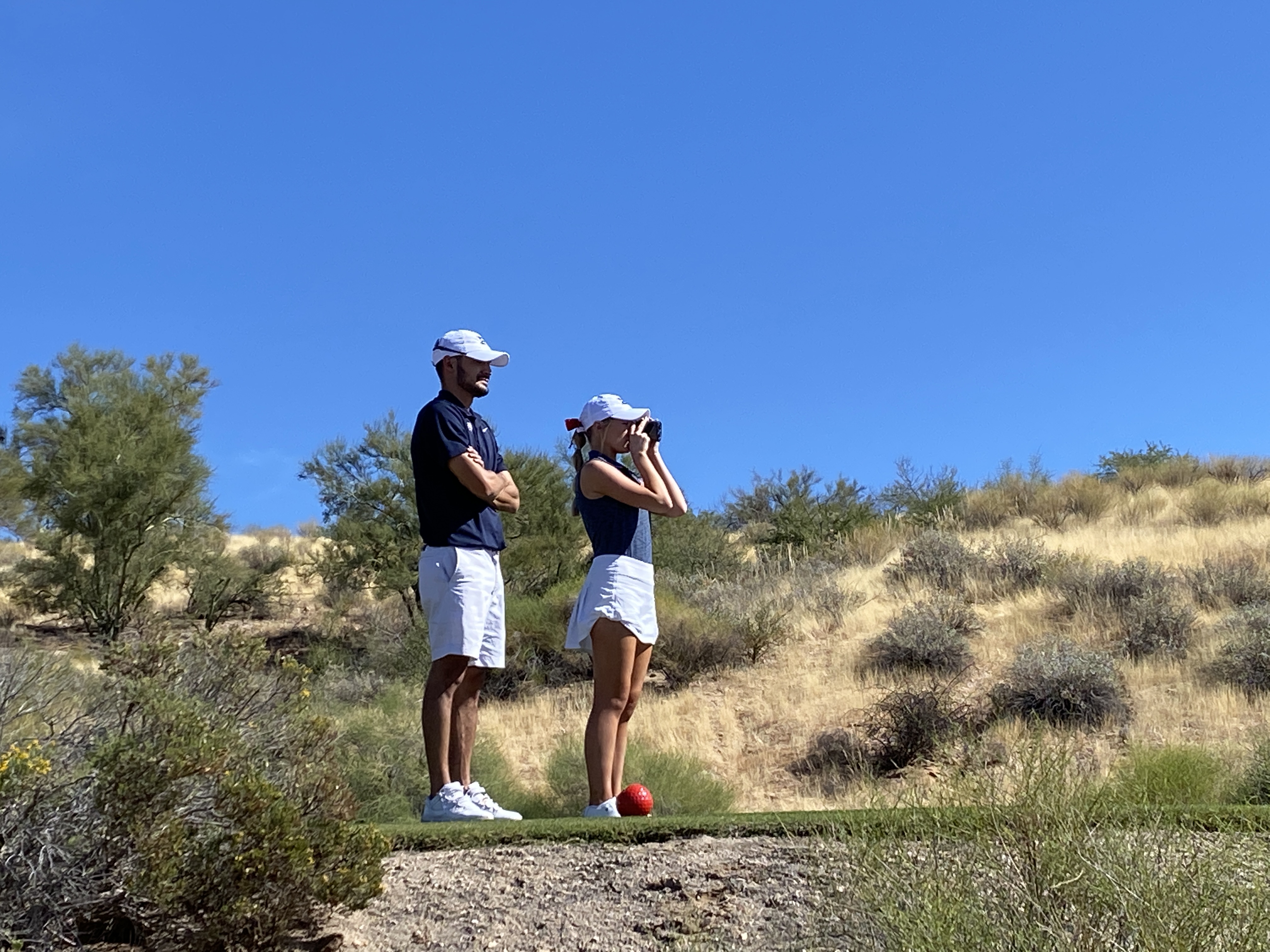 TUCSON – The Pinnacle girls golf team finished 25 over par after day one of the AIA state championships on the Sonoran Course at Omni Tucson National Resort on Monday.
The Pioneers were anchored by Samantha Olson and Carolyn Fuller, who shot an even-par 71 and a 1-over 72, respectively.
Pinnacle sits in fourth place of out 12 teams and just eight strokes behind first-place Liberty.
Pioneers coach Brandon LaRosa was impressed with his team's performance on the biggest stage of the year.
"The key word for our team today was resilience," LaRosa said. "Some of us started slow, some of us played poorly in the middle, some ended slow, but all that matters is that we're only eight shots off the lead. We're in a good position to go out there tomorrow with nothing to lose and make as many birdies as possible and fight back."
Olson and Fuller both had rollercoaster rounds, but still managed to finish in the top five individually out of 78 golfers.
"This was a really crazy round for me," Olson said. "I was a little nervous, so I made a bogey on the first hole, but it kind of helped me. It got me into the right mindset of 'OK, I need to start making birdies.'"
After the dropped shot on one, Olson birdied three out of her next eight to finish 2 under on the front nine. A costly double bogey on the par-4 12th brought her back to even par for the day.
Fuller's round was Kingda Ka-esque.
"I had a pretty shaky start and shaky finish but in between was pretty solid," Fuller said. "I got more settled into the round and got a little more comfortable. I want to say I put myself in a good position, but I'd like to be a little higher up on the leaderboard."
Fuller started slow, dropping shots at three and four. In the middle of the round, she went into a zone as she has all year and played the next nine holes 4 under par. However, she promptly left the zone and played the final four holes 3 over par.
If day one taught us anything, it's that winning the Division 1 State Championship will take a team effort. Hamilton sits in third place, even after an unconscious round from junior Jennifer Seo. She fired a 7-under 64, the low round of the day.
Seo was lights out from the jump, going 4-under through her first four holes. After returning to earth with a bogey on the par-5 seventh hole, she finished her round with four more birdies. Unfortunately, the rest of the Huskies combined to shoot 28 over par.
On the flip side, Liberty leads the championship at 17 over par thanks to three rounds in the top 15. Lions senior Mattie Frick led the charge, carding a 1-under 70. She was one of three players in the championship to finish in red figures.
The Pioneers sit just eight strokes back thanks to contributions across the board. Freshman Kiana Roddy held her own in her first state championship, shooting a 12-over 83, good enough for top-30 in the field.
"It's nerve wracking but it's also a fun and cool experience," Roddy said. "I liked how positive I was, but I didn't like my club selection on some holes. There were a few holes where I didn't go with my gut on a club."
Roddy and senior Alyssa Castro both fired 83s, giving LaRosa's team a legitimate chance to win the state championship in his first season as head coach.
"Tournament golf is all about the small things," LaRosa said. "If I asked one through five to take back two shots from their rounds, they would all know exactly which shots they pick, whether it's a missed three-footer, a duffed chip, or an errant tee shot. They all know exactly what made them miss their mark by one or two shots. If we had all of them get those two shots back, we're winning this golf tournament."
LaRosa and the Pioneers look to seal the deal Tuesday as the final day of play begins at 9a.m.
---