Westview plans for success after cancelled season last year
November 17, 2021 by Bec Striffler, Arizona State University
---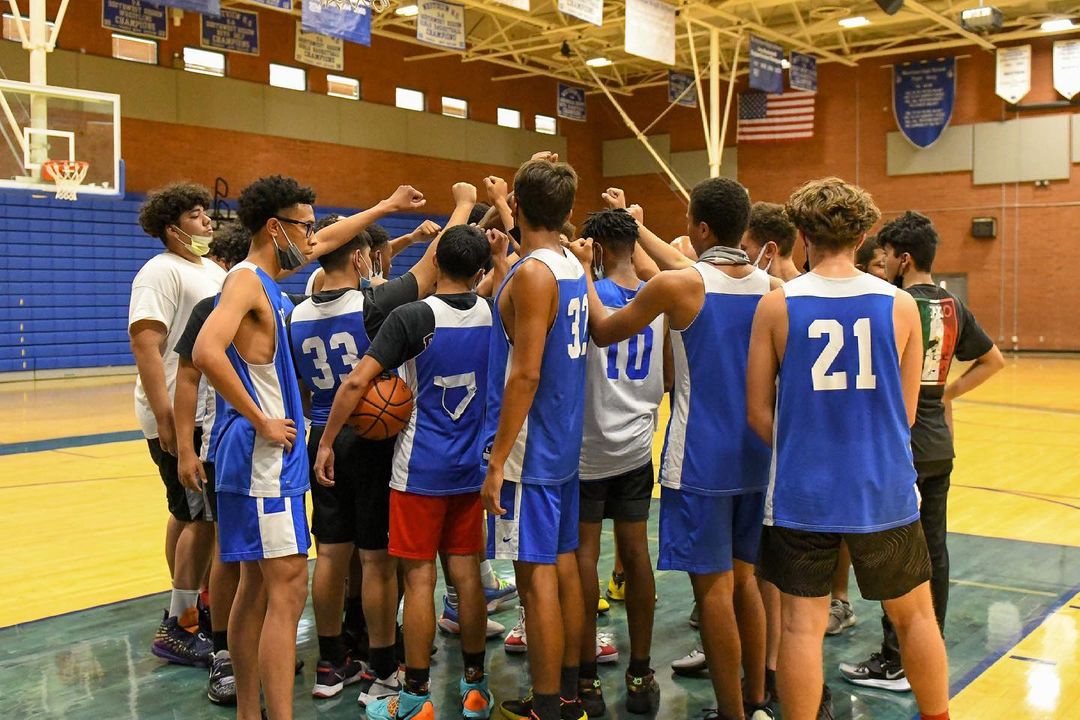 Bec Striffler is an ASU Cronkite School of Journalism student assigned to cover Westview High School for AZPreps365.com.
After a canceled winter season last year, the Westview High School boys basketball team plans to carry on its success from its summer league into this season.
Having fallen just short of the title in the championship game against Copper Canyon over the summer, the Knights hope to see lots of victories and a playoff run this winter.
"We're all super hungry from not being able to play at all last year, so we're just coming out like every game's our last, and we plan to win," senior Chase Diaz said.
The Tolleson Union High School District canceled all winter sports last year out of precaution for COVID-19, taking away the last season for some and many opportunities for others. To make up for the loss, the district held a summer league between all of its schools, in which Westview placed second.
"For me, it was hard because last year was my junior year, and junior year is when you're supposed to get your name out there and everything," said Diaz. "I just wasn't able to have that chance, so this year, I'm working harder than ever just so I can get my name out there and catch up on the time I lost last year."
While missing a season brought discouragement, it also brought many opportunities for the Knights to capitalize on extra time to train and grow as a team under its new head coach, Kellen Holmes.
Holmes said, "With it being my first year last year, it did give me an opportunity to, you know, earn these guys' trust and just show them how dedicated I was. Even though our season was canceled, I was still trying to figure out ways for them to still get better in the game and still put some work in."
With a desire to keep playing the sport they love, the Knights committed to practicing at local parks and doing workouts collectively and at home last winter to stay ready for when they could play next.
"Individually, I would look up videos or go on Instagram and go look up trainers and stuff like that that I could do at home," junior Jaquari Williams said. "Sometimes, I would go on jogs just to stay in shape and stay conditioned for the next season, if we had one, so basically, I was just trying to stay prepared."
With confidence brimming over from their summer success, the Knights plan to channel their energy from the time off in their determination to win this season.
"Obviously, we're going into every single game and matchup, you know, expecting to win, but with the year being taken away from us last year, every game, you know, we're going to fight," Holmes said. "Every game, we're going to give it our all, so those are gonna be the expectations. We're going to be very prepared going into every single matchup, and as long as we give it our all, and we leave it out there on the court, that's all anybody can ask for."
The 6A Southwest Knights expect to see strong competition from schools outside of their region, such as Desert Vista, Liberty and Tolleson, but they are anxiously preparing for their two region matchups against Sunnyslope, last year's 6A champion.
"Personally, I feel like that is our biggest challenge this upcoming season," Diaz said. "If we can get [Sunnyslope] out of the way, I feel like we would have a good, deep playoff run. I truly believe that because our team is so talented in many areas, but, you know, only time can tell. For sure, Sunnyslope is our biggest rival."
Adding freshman Jakai Jackson to the team, Westview plans to have a strong bench. The Knights plan to bring strong defensive skills, hustle and scrappy energy to the court this season, knowing that, after last season, each game played is a blessing.
"We're really just excited to get out there and compete, especially with a decent amount of seniors on the team," Holmes said. "For some of them, it's most likely going to be the last chance they get to play organized basketball, where there's a ref, and your parents come out and get to see you, so we're just playing every game like it's our last."
Westview plays its first game at home against Alhambra High School Tuesday, Nov. 30 at 7 p.m.
"Returning to the court is gonna be something special for us," Holmes said. "The whole community, everybody, should get behind this because we're going to bring it."
---