Why "every shot counts" for the Sentinels
November 5, 2021 by AJ Peterson, Arizona State University
---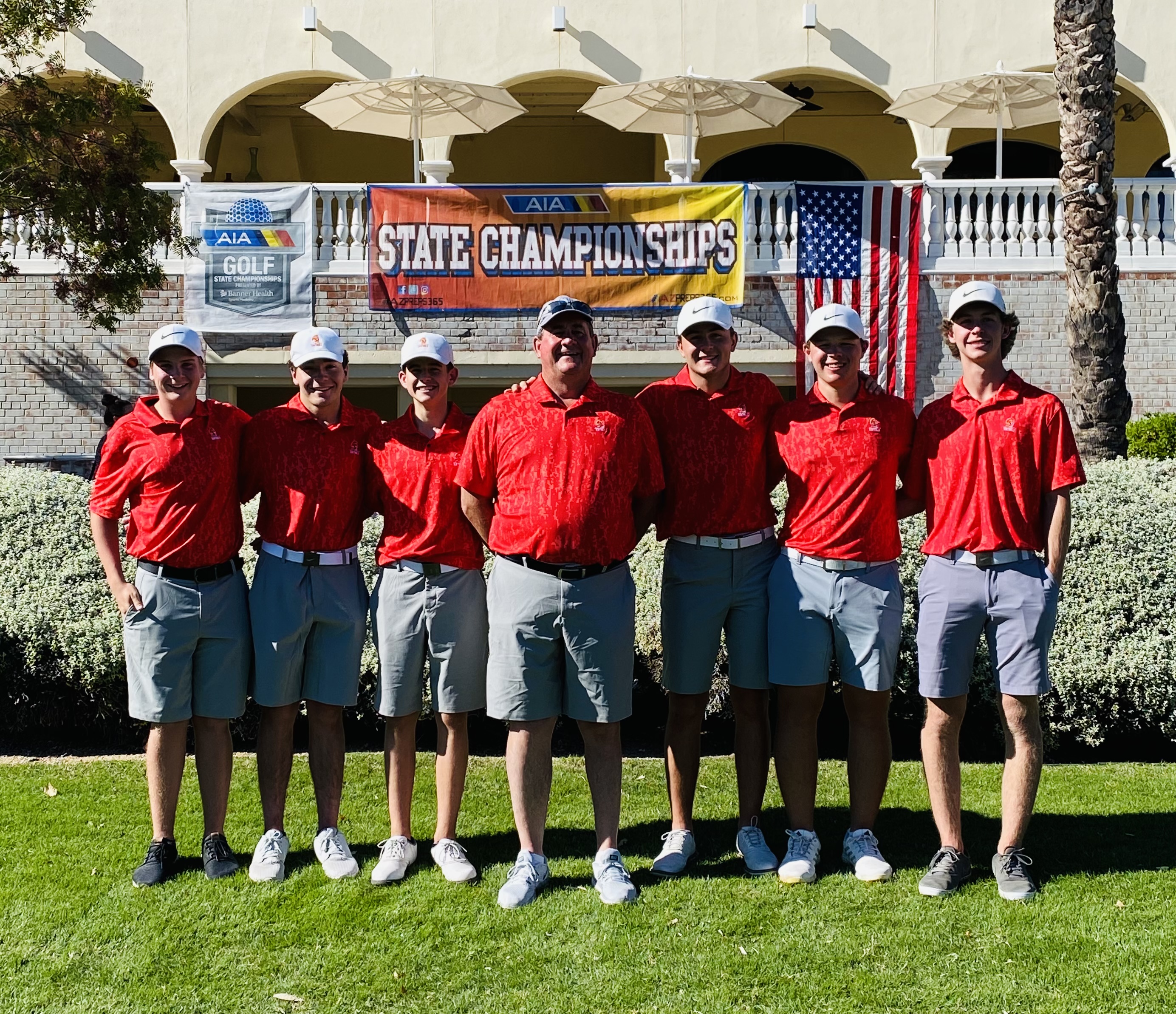 AJ Peterson is an ASU Cronkite School of Journalism student assigned to cover Seton Catholic Prep for AZPreps365.com
"This could be the one shot where you win the match or lose the match. You can't ever quit."
Mark Bakeman, head coach of Seton Catholic's boys golf team, said this when speaking about high school golf. He tries to instil a "never give up" mentality into his players, which is vital for success in high school golf. As new players join the program each year, Bakeman teaches them a simple, yet difficult concept.
"The biggest thing is about every shot counting," Bakeman said.
This seems obvious. At its core, the game of golf is rather simple: one attempts to hit the ball in the hole, taking the fewest number of shots possible. Just because something is simple in concept does not necessarily mean it is easily accomplished. So why is Bakeman's desire to have the members of the team focus on each individual shot so notable?
High school golf is very different from the professional golf format that many see on television. Professional golf is played and scored on an individual basis, meaning that each golfer tries to shoot the lowest score they can, and the player with the lowest individual score is then deemed the winner. In high school, individual scores contribute to the overall team score.
"You're competing for your school and for your friends," Seton senior golfer Nik Kittilson said, referring to his teammates as "friends."
In Arizona high school golf matches, each team competes with five players. Of the five players' individual scores, the four lowest scores are kept and added together to create the team's overall score. Although the game is the same, the strategy in team competition is a bit different than in individual competition.
"My job is to beat the course, it's really not to beat an opposing player," Kittilson said. "The hardest part has been just making sure that I'm making the smart decisions not just for myself, but for my team."
In the individual competitions that many of the Sentinel players participate in during the offseason, their objective is to shoot a score lower than the others in their group and throughout the tournament field. Bakeman encourages Kittilson and the rest of the Sentinel golfers to focus on their own ball rather than getting caught up with how their competitors are playing.
"Team golf is just more of that mental difference," Bakeman said. "It's just a different atmosphere."
With the team needing all of its players to perform at their best in order to compete at a high level, there is a lot of pressure on each player, each shot. Senior J.F. Schiemer said any high school golfer would be lying if they weren't conscious of their team on the course.
"If you don't play well that day, your score is responsible for the whole team," Schiemer said.
Despite this added pressure to score well, being a part of a team has some positives too. Senior Jacob Brown has seen it help him on the course this season.
"Being able to have a team have your back definitely helps ease the pressure," Brown said.
On top of the relief of pressure, playing high school golf has helped Seton's players off the course. Many of the players are grateful for the relationships they have developed over the course of their high school golf career.
Brown said, "being able to create a bond with your teammates," when asked about his favorite aspect of high school golf. "That's gonna last longer than any win or loss."
What it all boils down to for the Sentinels is perseverance. Moving on past the poor shots. Picking each other up. Taking it one shot at a time. For high school golf, that's what it's all about.
"There is no quit in team golf," Bakeman said. "There can't be."
---