Chino Valley ends Northland Prep's 4-year title reign
November 7, 2021 by George Werner, AZPreps365
---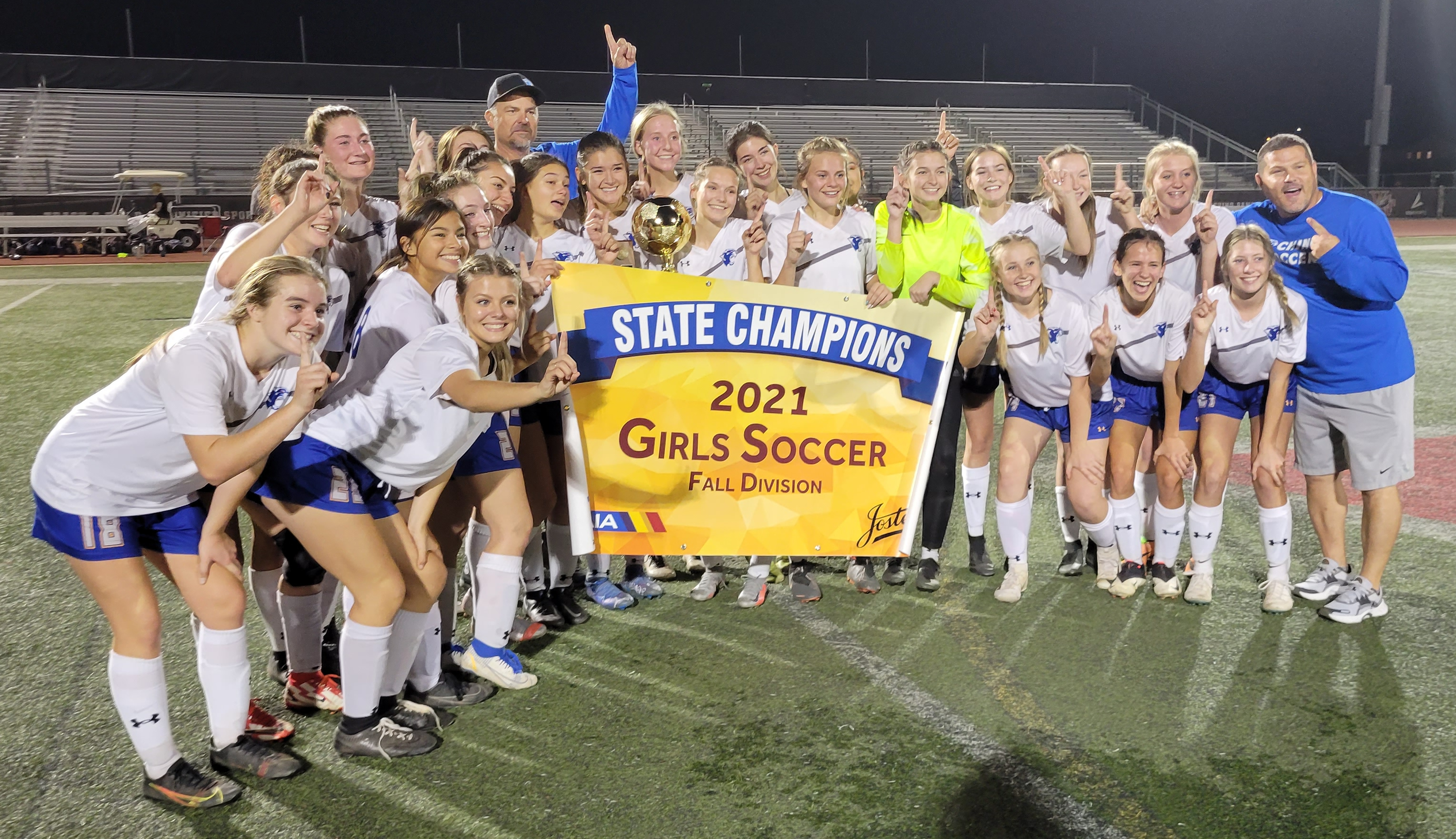 This fall's top two girls soccer goal-scorers in the state couldn't break through Northland Preparatory Academy's four-year championship grip.
In the end--less than three minutes before, to be precise--Chino Valley High School would see its sophomore forward slay the Spartans.
"I told her, 'You can win this game for us,'" head coach Allen Foster recalled. "'They're going to leave you wide open. They don't give you enough respect.'"
In the 77th minute of the fall girls soccer state championship, Danielle Graham at last made them pay, punching a rebound goal past junior goalkeeper Milly Gindorf to defeat four-time defending champion Northland Prep and win it all for the first time since 2016.
"I had to prove them wrong," said Graham, who scored her 10th goal of the season. "I can't believe it actually happened. I'm most likely going to be crying all the way home."
Graham scored as the ball rebounded off Gindorf from a shot by junior Kaitlyn Roskopf, whose 37 goals led all other Arizona high school girls soccer players this fall.
The breakthrough goal came after virtually a full game's worth of relentless attacks by the Cougars, who out-shot the Spartans and dominated time of possession by "something like 80-20" percent, Spartans co-head coach Michael Blair said following his second loss of the season to Chino--a first in five years for him as well.
"I felt we were the best team all season long," said Foster, whose daughter, Madison, scored the game-winning goal Sept. 25 to capture the Cougar Cup, 1-0, over the Spartans. made the difference in Chino's. "In [this] game, we dominated, from start to finish."
But, too much like a 2-0 shutout loss to the Spartans in their rematch Oct. 12 in Flagstaff, that domination did not translate into goals, much less any kind of cushion, against the tenacious Spartans.
"We had our chance, we had our chance," said Blair. "We marked a couple of their players, and it worked. But they were just the more aggressive team."
Despite playing an extra game in the tournament, due to the Cougars' lower seed after the Oct. 12 loss left them in second place in the Central Region. Foster and Roskopf each scored a goal, split between each half, to shut out Blue Ridge in a Tuesday, Nov. 2, home "play-in" game.
Two days later, the Cougars exorcised bad semifinal memories from last season, downing second seed and East Region champ St. Johns, 3-1. The Redskins kept Chino out of the state championship for the only time in the last four years, following three other losses to the Spartans in previous title games dating back to 2017.
Northland Prep needed just one game--only the final 26 minutes, in fact--to score four goals, shut out Snowflake and advance to the championship Thursday, Nov. 4.
"We didn't want it to be any other team," said Foster, who also credited junior goalkeeper Shea Daniels and his defenders for "shutting them down."
He also complimented midfielders like senior Sabrina Lopez and junior London Wigen, who was injured much of the season but came back healthy in time to play her best ball of the fall in the postseason.
"Sabrina shares the middle with Maddie, like a 1-2 punch," Foster explained. "The two of them share the same brain, it seems like."
---