Chino Valley proves double trouble for state's fall soccer trophies
November 7, 2021 by George Werner, AZPreps365
---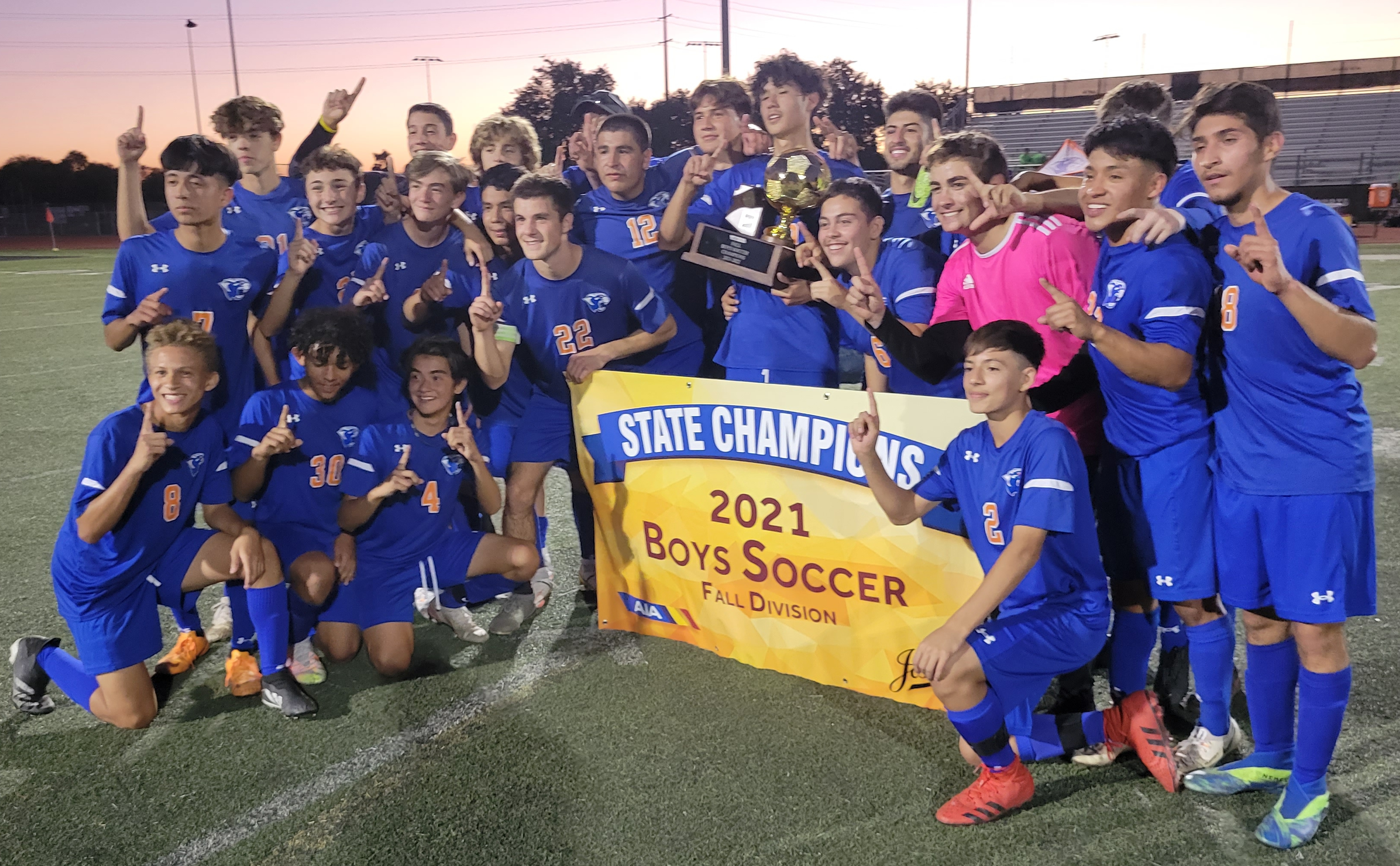 Six weeks after third-ranked Camp Verde High School's tie left fall boys soccer ruler Chino Valley with the only hiccup on its otherwise undefeated record, the North and Central Region champions at last met to resolve who was the better team.
In the state championship game Saturday, Nov. 6, no less. With the girls team also playing for their first title since 2016.
Although the Cowboys would strike first, eight-in-a-half minutes in, the Cougars would strike last, as senior midfielder Richard Flores powered the game-winning goal past a diving defender, then through Camp Verde goalkeeper Gary Ortega to take the first of two state titles home to Chino Valley.
"You've got to be tough," said Flores, who overcame a weeklong bout with the stomach flu to leave his imprint on state championship history. "We definitely needed it."
Flores, like his head coach, Todd Carey, wanted to not only get off the 1-1 schneid both his team and the Cowboys seemed to be stuck on since overtime Sept. 21, they wanted to avoid a repeat of the Cougars' draining scoreless semifinal with two-time defending champion Blue Ridge High School, which had shut the Cougars out of the last two state title games.
"It was definitely nerve-wracking," Flores said. "We definitely weren't 100 percent."
Although Chino Valley ended up edging the Yellowjackets by one penalty kick to advance, flashbacks to state championship game losses each of the last four seasons were foremost in Carey's mind.
"It feels bad coming up short. It hurts," said Carey, whose teams had been outscored, 11-1, in state championship games the previous four seasons. "It feels good to finally break free."
The first nine minutes of the game, Camp Verde head coach Dave Miller was the one feeling good, especially after senior striker Jesus Reyes got the Cowboys on the scoreboard first.
"It's just unfortunate that we gave up an 'own goal' at the other end," said Miller, back in the championship game for the first time since 2003. "But that's just the way the ball bounces."
That 'own goal' that tied the game five minutes later was credited to Cougars senior Gabe Castillo, who was out a month-and-a-half after nearly breaking his ankle at the beginning of the season, despite the ball pinballing off several players, including Camp Verde senior defender and captain Quintin O'Grady, into the Cowboys net.
"We really needed to work hard for this," Castillo said. "It was worth it, though."
---