More than baseball for Brophy Prep's Todd
November 9, 2021 by Ruby Arora, Arizona State University
---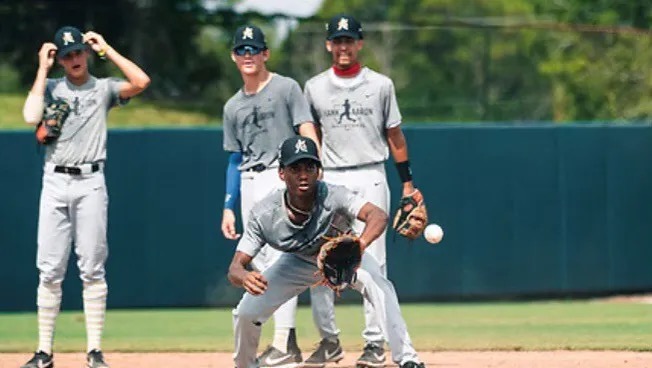 Nuri Todd is more than what meets the eye. His talents speak for themselves, however, his character and values are echoed by everyone around him.
"God got this one right," said Brophy baseball coach and athletic director Josh Garcia. "The mental makeup (Todd) has is inspiring. God gave him the strength and mindset to encourage and impact people in a positive way."
Todd inspires Garcia every day. When some days are harder than others, Todd reminds Garcia that 'life is how you look at it and nothing is ever as bad as it seems.'
"Let your experiences be your greatest teacher," Todd said. "It's what my mother instilled in me."
Todd grew up in circumstances that differentiate him from other students at Brophy College Prep.
Maya Herndon, Todd's mother, who was diagnosed with tetraplegia, raised him as a single parent. Tetraplegia, also referred to as quadriplegia, is paralysis of the body from the shoulders down.
"Todd's upbringing was very different because of the unique circumstances with me at the house," Herndon said. "It caused him to mature a lot quicker than his peers and become more responsible than his peers at a very young age."
Herndon recalls Todd helping her grocery shop at a very young age. Todd would help her with transactions, unloading, loading and buying groceries.
"He has always been very independent and adaptable," Herndon said proudly. "He has never needed certain things, or needed things to be a certain way to be OK."
Todd never saw his circumstances as less than anyone else's.
"I love my situation because I have a mother that loves me, supports me, and I get to do what I love," Todd said. "Living with my mom is the best. It's like living with your best friend."
Herndon's most significant accomplishment in life is her son. She raised him to be a successful, driven, proud Black man, and Todd continues to live up to his mother's expectations.
Todd, a junior, has a 3.5 GPA, is a part of the Black Student Association, and received a Division I scholarship offer his freshman year to play baseball for Long Beach State.
According to Garcia, Long Beach State offered Todd a baseball scholarship, not because of his athleticism and raw baseball ability alone.
"It wasn't just his talents that made Todd attractive to Long Beach State," Garcia said. "They loved him over the phone during the recruiting process."
Long Beach State was the first college scholarship Todd received, and he accepted shortly after.
"Dance with the ones that brought you," Todd said. "It's something my mom always told me, and they (Long Beach State) offered me everything I was looking for, so why would I wait to accept?"
While his maturity and fortitude come from his mother, his baseball talents originate from his grandfather, Larry Herndon, who played in the majors for 14 years, primarily with San Francisco and Detroit.
Todd's grandfather started teaching him how to play baseball from the time he could swing a plastic bat.
"He is the most impactful male figure in my life," Todd said. "He taught me how to play shortstop at a very young age because he knew the value of the position."
In baseball, shortstops can transition to other positions more easily and are considered one of the more critical positions on the team.
This past spring, Todd's batting average was .418 with a .562 on-base percentage. In 18 games, Todd had 20 RBIs.
Not only did Todd's grandfather teach him baseball, but he also introduced Todd to his 'second parent.'
"Baseball is like a second parent (for me)," Todd said.
Baseball kept Todd disciplined and focused. Instead of hanging with the wrong crowd or getting involved in rudderless activities in west Phoenix, Todd practiced.
"Baseball kept me in check," Todd said. "It was making sure I was doing what I was supposed to be doing."
Todd's fortitude exemplifies through the name he bears. Todd and his mother's last names vary because Todd bears his father's last name, whom he only met once years ago.
"My mom had asked me before if I wanted to change my last name to hers, and I told her no," Todd said. "I'm going to keep his last name, so I can reinvent the name and make it stand for something better."
Todd's maturity is well beyond his years.
"He's 16 years old," Garcia said. "But his soul is that of a 30-year-old."
Todd credits his mentality and who he is today to his mother.
"I wouldn't be who I am without her," Todd said. "We have to take care of and respect our women and women in general. If I didn't have someone that cared for me the way she does and I didn't have her as my mom, it would be catastrophic."
---