Notes from the North: Chino Valley's twin titles could be matched by Snowflake
November 10, 2021 by George Werner, AZPreps365
---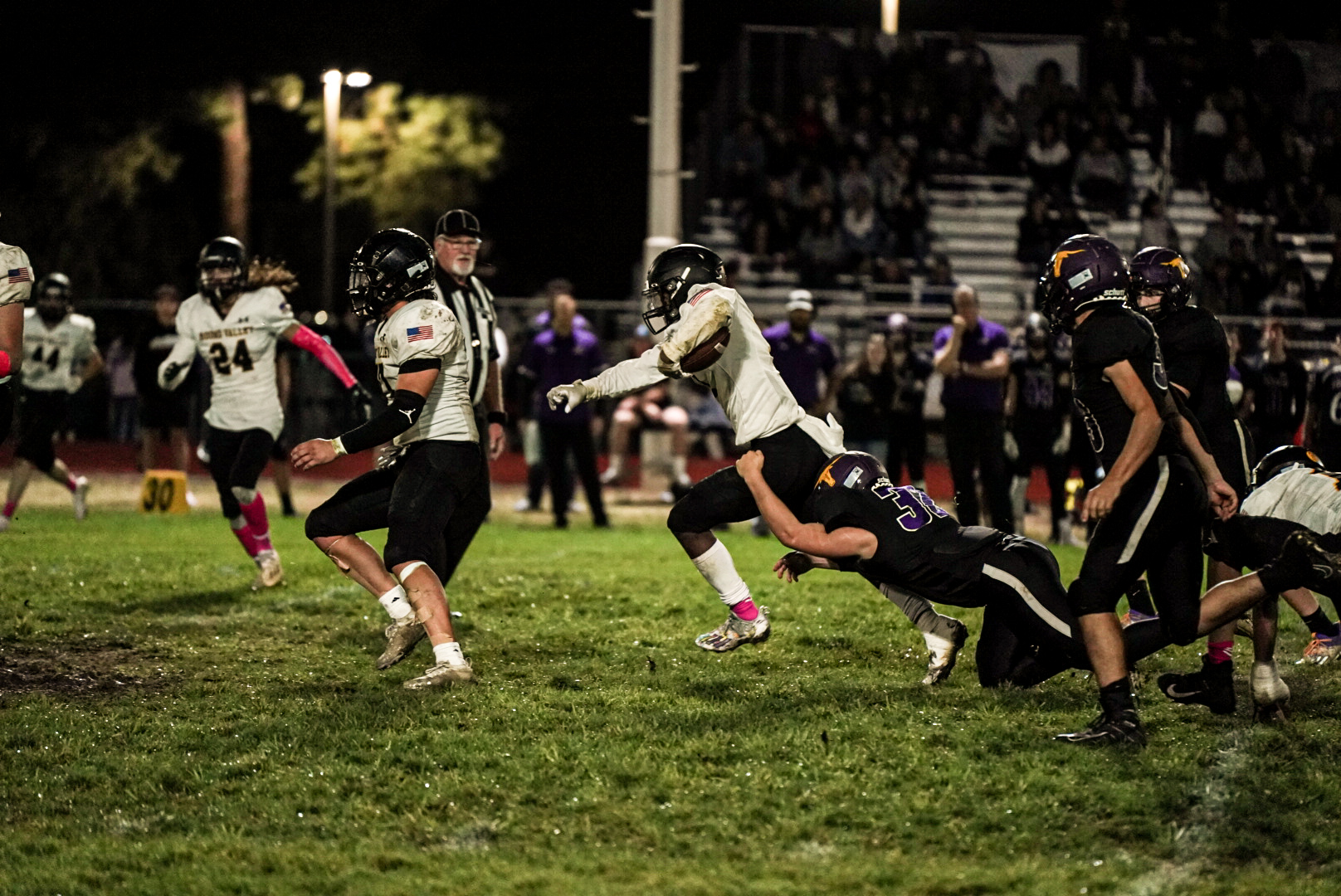 Two small Northern Arizona high schools made big news Saturday, Nov. 6.
A 20-month pandemic after its 1A Conference girls basketball program brought home the Cougars' premier state championship, Rock Point Community School, a federally-run former boarding school with two-thirds the students and staff of the total population of its surrounding town on the northeast Navajo Reservation, followed suit fully masked in girls volleyball, 3-2 over second seed Tempe Prep.
After being on the wrong end of a 25-9 blowout the first game, North Region Coach of the Year Kyle Arthur rallied his Cougars to win the next two over the 26-5 Knights, which still took them beyond the 15-point limit of an eventual tiebreaker before at last falling, 18-16.
The North's Player of the Year, senior Tamira John, should receive similar 1A accolades after her kill clinched the championship point at Scottsdale's Coronado High School. Including tournaments, the Cougars finished 31-1, their only loss coming Sept. 11 in their first game of the inaugural Window Rock Volleyball Tournament, to the biggest school they would play all year, 3A Winslow...
A couple of hours later and a half-hour drive to the southeast in Gilbert, Chino Valley took home all the spoils of the fall soccer championships, winning both boys and girls soccer title games at Williams Field High School.
Both teams had accomplished this feat before--the last time they won state titles, in fact, in 2016. But while the top-seeded boys dispatched third-seeded Camp Verde, 2-1, the girls took the battle to four-time defending champion Northland Preparatory Academy, toppling the Spartans, 1-0, on a Danielle Graham goal with less than three minutes to play.
Graham, a sophomore striker, felt vindication after the game for what she and head coach Allen Foster perceived as a lack of respect by the Spartans defense, which chose to double-team leading goal-scorers Madison Foster and Kaitlyn Roskopf instead. Graham's rebound goal off Roskopf's shot, with 2:50 to play, got past junior goalkeeper Milly Gindorf.
Gindorf's Spartans had won the previous four straight 2A state championships, led by co-head coach Michael Blair and his daughter, Mia, one of Arizona's all-time fall assist leaders who helped Wheaton College, of Illinois, win its region title for the 14th time and advance to the NCAA Division III tournament Friday, Nov. 12, in Chicago…
Shout-outs should also go, in volleyball, to 4A Conference quarterfinalists Bradshaw Mountain and Flagstaff. The Bears rolled undefeated through the Grand Canyon Region this fall but, at 16-9 overall, actually opened three seeds lower in the postseason tournament than the second-place, seventh-seeded Eagles, three of whose losses on a 21-9 finish were to the Bears.
After struggling to top American Leadership Academy - Queen Creek in its Nov. 4 playoff opener at home, eventually coming out on top by four points in the tiebreaker, Flagstaff would fall in straight sets in west Phoenix five days later, at Estrella Foothills High School. Eagles head coach Beth Haglin was honored as the region's Coach of the Year, while senior outside hitter Gracelyn Nez, with a career-high 44 aces this fall, a team-high 225 digs and nearly 1,300 career kills, was named Offensive Player of the Year and the Grand Canyon Region's overall Player of the Year by coaches. First-team all-region setter Bridget Bond led the Eagles in aces with 49...
Bradshaw head coach Karrie Platt, to the credit of her, her daughter--and first-team all-region middle blocker--Abigail and the rest of her teammates, made the best of their tougher first-round task Thursday, Nov. 4, in north Phoenix at Greenway High School.
This challenge came only two days after the Bears had to down crosstown rival Prescott, a No. 23 seed, at home in a play-in match. The seventh-seeded Demons committed 27 serving and receiving errors, though, and Abigail Platt's team-leading digs and kills, with assists and aces from seniors Nicole Shaver and Alexis Lee, respectively, helped pull off the 25-16, 25-18, 25-18 road upset before the Bears fell Nov. 9 in straight sets at Tucson's Canyon del Oro High School.
Led by junior all-region senior middle blocker Becca Arave, Lee Williams High School, the region's third-place team and No. 21 seed, fell in straight sets at another 4A quarterfinalist, Cactus High School…
Although Flagstaff was all but officially eliminated from the 4A football tournament Friday, Nov. 5, by 245 yards rushing from 16th seed Lee Williams, the Eagles can slam the door on rival Coconino's slim chances as a No. 18 seed Nov. 12 in Northern Arizona University's Walkup Skydome.
To accomplish this, head coach Sean Manning's defense needs to find a way to at least contain junior running back Cooper French, who has a shot at finishing among the top three 4A rushers if he runs to his 177-yard average against the Eagles. French, one of just six Panthers in school history to have a game in which he rushed for 300 or more yards, could finish among the top 10 ground-gainers in the state with another such game...
Above Lee Williams is Grand Canyon Region runner-up Prescott, which will open the first round on the road as a No. 12 seed after its 29-6 loss Nov. 5 to region champ Bradshaw Mountain, another likely first-round road team as a 10th seed.
Prescott's badminton team made another great run to the Division II championship game as the top seed. Ultimately, though, Northwest Section Coach of the Year Bobbi Yoder's nemesis Ironwood foiled the Badgers' aspirations again, splitting the doubles matches but taking four out of their six singles tilts Oct. 28.
The only Badgers to beat the Eagles were Section Players of the Year Megan Townsend, a junior and the team's top singles player, and one of the section's doubles players of the year, senior Nicole Raiss. Townsend's loss to Sunrise Mountain High School senior Karah Abbott in the singles consolation final was the furthest any Badger singles or doubles entry advanced in the postseason...
Friday, Nov. 12, is a big day at 3A East Region football and volleyball champ Snowflake High School--one that will stretch its considerable fanbase to its logistical limit. First, at 5 p.m. in Mesa at Skyline High School, the top-seeded Lobo volleyball team will have a rematch of its season-opening comeback win in the tiebreaker, taking on No. 5 seed American Leadership Academy - Gilbert North for the right to play in the 3A championship the next day in Phoenix.
Two hours--and a nearly three-hour return drive--later, head coach Kay Solomon's defending state football champions hope to avoid another surprise from 10th-seeded Thatcher when it visits Snowflake for their quarterfinal at 7 p.m.
It's a turn of events that could confuse families of athletes in both sports, who had looked to knock off ALA - Gilbert North in football since their season-opening loss and scout third-seeded Thatcher in the other 3A volleyball semifinal. But a 15-13 tiebreaker loss at home to sixth-seeded Empire means Thatcher's volleyball season is done, while the Eagles' football season continues after going to Tucson and upending the No. 7 seed, Pusch Ridge Christian Academy, 35-26.
Having gone undefeated with 53 combined wins outside of tournament play since the end of August, and finishing their regular seasons ranked first and second in their respective volleyball and football rankings, the Lobos' two top programs have torn through the 3A tournament. First-year head volleyball coach Jamie Robinson lost just one game in the first two rounds Nov. 6 at Tempe's Marcos de Niza High School, while four of senior quarterback Caden Cantrell's five completed passes went for touchdowns to trigger the AIA's running clock from the second quarter to the merciful end of a 65-7 slaughter of North Region champion Monument Valley.
Cantrell's primary running back and fellow senior, Camden Brimhall, ran for one score and caught another as part of a 373-yard steamrolling of the deepest defensive line on the Navajo Nation. Another senior, Samuel Crockett, the state's most prolific kicker, hit on eight of nine of his extra points and both of his field goals, including one from 42 yards, as the Lobos won by the most points of any team so far in the first round of the playoffs…
The largest margin of victory overall belongs to their smaller neighbors down the rim, defending eight-man champion Mogollon. Friday, Nov. 5, the Mustangs looked ready to take on Snowflake at Coronado High School, triggering the running clock over fourth-seeded Mohave Accelerated Learning Center--in the first quarter.
That 48-0 demolition was just the start of a legitimately frightening 77-6 1A semifinal win in which the Mustangs rushed for as many touchdowns--five--as the Patriots rushed for. In total ground yardage. And that was one five-yard carry, by one running back, senior Owen Davis.
Quarterback Kelden Holmes connected with fellow senior Josh Neal to avoid the shutout in the fourth quarter. But by then, head coach Rick Samon's defense had already held Arizona's top wide receiver, Patriot senior Aden Honegger--the only 1A player with 1,000 or more receiving yards this fall--to one catch, for 10 yards.
Meanwhile, senior Malaki Porter ran for three touchdowns as part of a 211-yard ground onslaught, with eight different receivers catching passes from his twin brother, quarterback Cael Porter, for another 177 yards.
I was challenged on social media last week for calling this fall's 1A football tournament "the Mogollon/Williams Invitational." No. 2 seed St. David, for its part, had a nice comeback from a 10-point halftime deficit to beat Williams, 50-38, in the other semifinal.
But not even the Tigers, who play Mogollon for the 1A championship Saturday, Nov. 13, at 6 p.m. at Coronado, could get within three touchdowns of the Mustangs, and that was their closest regular-season game Sept. 17.
So as far as calling this eight-man postseason the "Mogollon Invitational," at least, that would be an understatement. In fact, there may be only two adequate words to describe what Samon, honored as North Region Coach of the Year for the second straight season, and his defending champions have done to their opponents this fall: Laid. Waste...
The largest margin of 2A first round victory, unsurprisingly, was owned by top seed Parker, who dominated No. 16 seed--and the San Juan Region's very first champ--Red Mesa, 69-14. This game, the Broncs showed they could pass the football as well as run, as quarterback Zachary Bennett threw touchdowns to fellow sophomore Thaddeus Nopah as well as senior wideout Tyson Ross.
But those were just two of the six touchdowns, enabled by two Redskins fumbles, that basically ended the game in the first quarter. Nopah added rushing touchdowns in the second and third quarter on top of senior running back Anthony Taylor's two rushing scores that made the halftime score 55-0.
Redskins sophomore Bradley Benally had his own 10-yard rushing touchdown at the end of the third quarter to avert the shutout. But Ross' subsequent 75-yard kickoff return obscured that accomplishment...
Next Time
The Thanksgiving edition of Notes from the North features a feast of holiday hoops tournaments, as winter sports begin Monday, Nov. 22! Tryouts have begun this week, so Small School preseason rankings in boys and girls basketball will be analyzed and contrasted with your hot takes and feedback. Follow me on Facebook and Twitter at @ProfGWerner, or email me at gwerner@azpreps365.com.
---