Third time is the charm for Valley Christian
November 14, 2021 by Jose Garcia, AZPreps365
---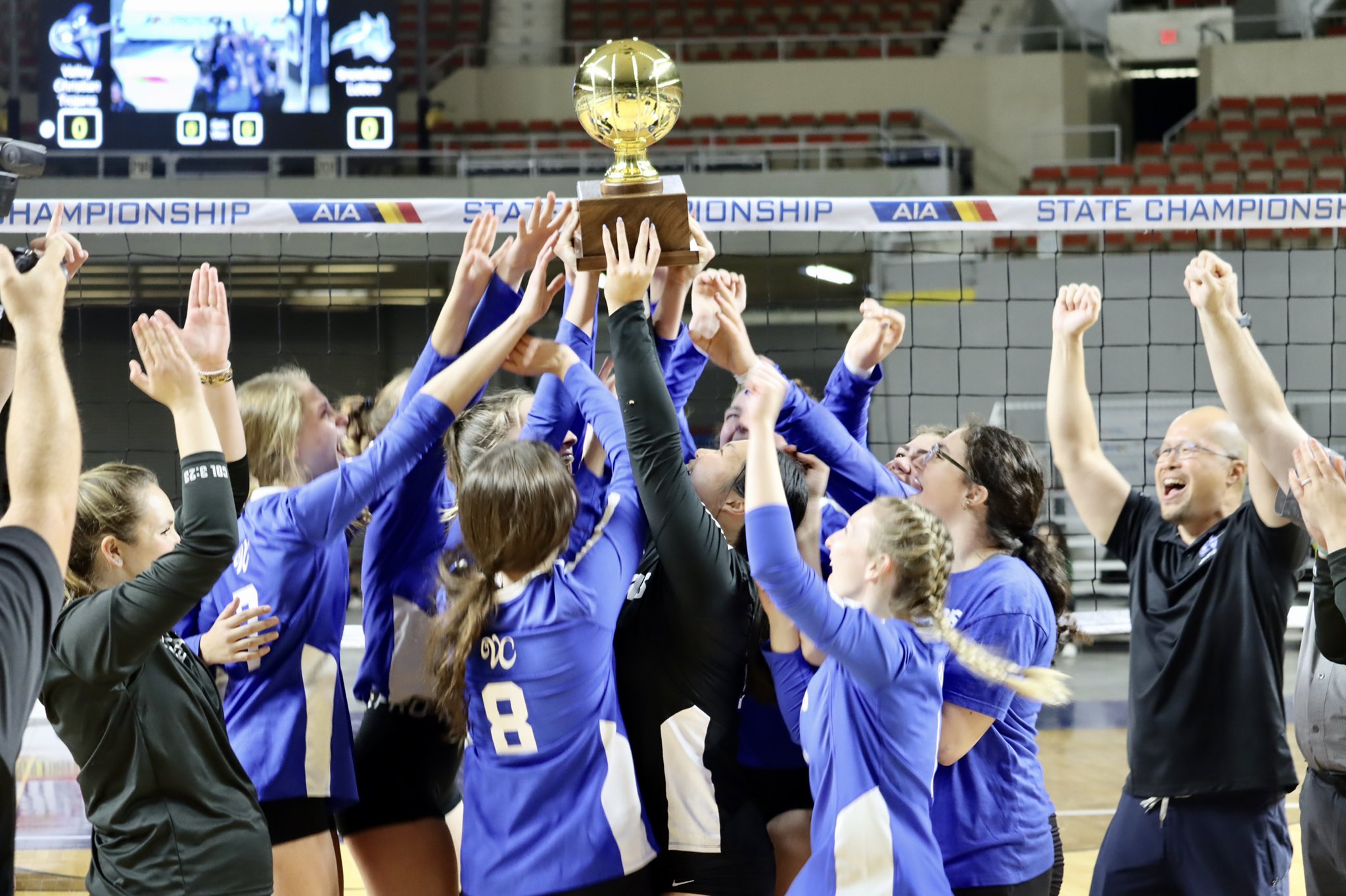 Nothing against Snowflake, but Valley Christian wasn't leaving Veterans Memorial Coliseum with another state runner-up trophy.
Not after getting swept by favorite Northwest Christian in the last two 3A championship matches. On Saturday, Valley Christian came to hoist the big prize and did so after sweeping Snowflake in three games by the same score, 25-21.
Despite losing in three, No. 1 seed Snowflake, a semifinalist every year since 2016, also played with the intent to finally win a championship, particularly at the start of each game. But No. 2 Valley Christian then went on to seize control each time.
"It was all about our mental game," said Valley Christian coach Lindy Ramsland about her team's early game deficits. "I told them, 'Hey, right now know who you are. Know who's the better team. You're the better team here. It doesn't matter about what they are ranked versus us. We are the better team. Act like it. Own it. And get this point.'"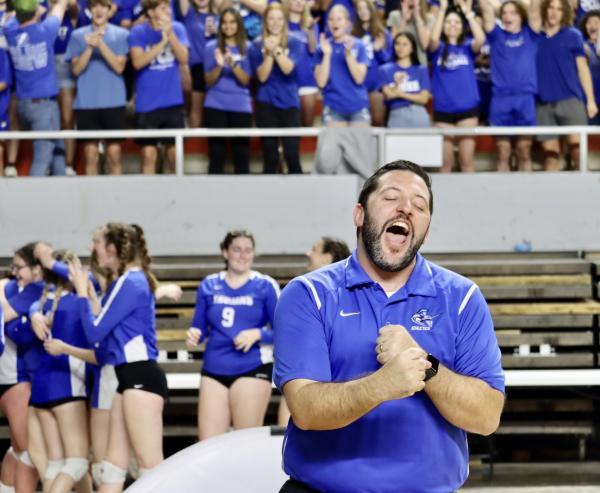 Valley Christian assistant coach Tyler Trathen, his team and fans celebrate after clinching the 3A volleyball crown. Photo by Jose Garcia/azpreps365.com.
Ramsland was a freshman at Valley Christian the last time her program won a volleyball title in 2009, but that was at the 2A level.
Saturday's title victory was Valley Christian's first in the 3A Conference. Ramsland experienced some lows and highs off the court at the start of the season.
She had a baby and then battled COVID, but Ramsland and her competitive fire eventually returned to the court.
"It's a beautiful thing (to win a title)," said Ramsland, who took over her program three years ago. "It's a beautiful thing. You can probably tell I am very competitive. I will do whatever it takes to motivate my girls. You don't quite realize how special it's to get to this point until you are out of it. They worked so hard. I couldn't be more proud of them."
Besides Ramsland, seniors Cara Braun and Kylie Wong and 6-2 junior middle blocker Kate Phillips, teammates in 2019 and 2020, were also relieved to be on the winning side finally.
"We were more prepared," Braun said. "We were rested and healthy and felt so good and confident and left it all on the floor. Especially because of the last two years, this made it a lot more sweeter."
Braun, a captain, added the final touch to Saturday's match, an ace in her final high school indoor match to go along with her team-high 14 kills, mostly from the outside.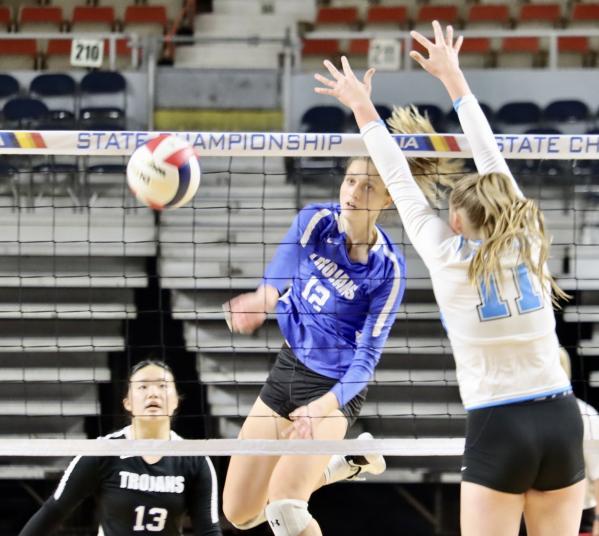 Valley Christian's Cara Braun had 14 kills in Saturday's 3A title tilt. Photo by Jose Garcia/azpreps365.com.Wong led her team with 20 digs.
"It's so amazing to see what our girls worked so hard for after all these years and especially with such a new team," Wong said. "We all worked toward it, and our hard work these last three years really paid off."
Wong was pegged to be the starting setter this season, but the emergence of a freshman, Madison Brown-McAlpine, allowed Wong to play the position she will play in college, libero.
"She is a coach's dream," said Ramsland about her hard working freshman setter, who had 33 assists.
Braun and Wong were the only two seniors on a Valley Christian team that went 33-3 year. Junior Korah Nordin (12 kills, 11 digs on Saturday) will be one of the talents who will return next year.
Snowflake also will return some talent next season, including the tall and strong Addy Fisher. But it will lose 2021 kill leader Macee LeSueur, who had her share of big moments on the outside Saturday.
Despite the loss, Snowflake finished a 37-3 season displaying qualities former assistant coach Natalie Elkins-Shumway exuded. Snowflake dedicated this season to Elkins-Shumway, who died after a vehicle accident in March.
"They are a team with heart and dedication and determination to be their best," Snowflake coach Jamie Robinson said. "And you can tell they fought to the very end. I'm proud of them. They are sisters. We are a family."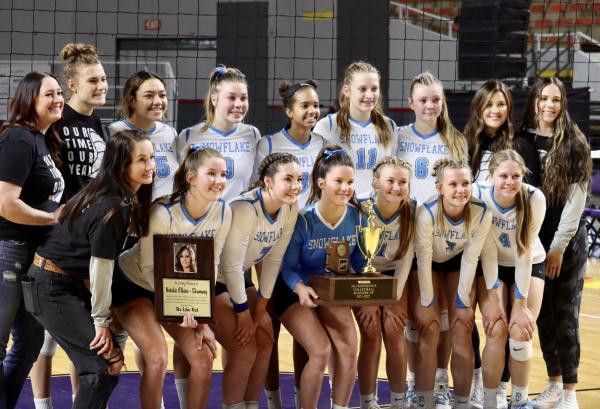 Snowflake finished with a 37-3 record this season, which was dedicated to former assistant coach Natalie Elkins-Shumway. A Snowflake player is holding a plaque with a photo of Elkins-Shumway. Photo by Jose Garcia/azpreps365.com)
---