Xavier comes up just short at girls golf state championship
November 18, 2021 by Jayden Jevnick, Xavier College Preparatory
---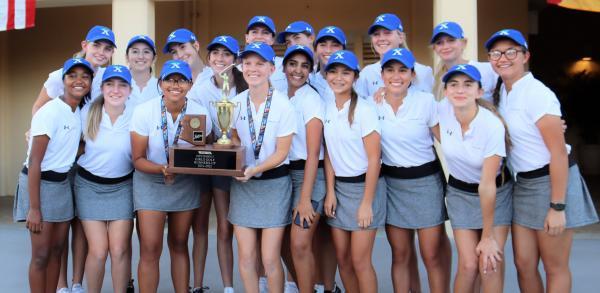 Jayden Jevnick is a student at Xavier College Preparatory on the golf team and is a member of the AIA's Student Leadership Advisory Committee
The Omni Tucson National Golf Course hosted the 2021 AIA Golf Championships recently. Each Division I girls team played the Sonoran course on Nov. 1 and 2.
The Xavier Prep Gators were able to compete once again in this competition. They played hard to earn runner-up against 11 other teams. Junior Annie Dawson led the team with scores of 72 and 71, and senior Ivy Song had scores of 71 and 73. Sophomores Kate Hauptman, Lena Durrette and Jayden Jevnick put up a solid fight as well. Although they were hoping to take the championship trophy home for the second year in a row, they learned a lot about the value of teamwork and perseverance.
It was amazing to see the whole Xavier team show up and support each other for the final day of the tournament. They really kept the other players going and gave them positive reinforcements throughout the whole round. This team has a special bond between players and coaches like no other. With 18 players on the team, you may think it would be difficult to get along all the time, but this team values the concepts of friendship and sisterhood. They appreciate each and every member and all play an important role on the team. Sportsmanship is also highly valued on the Gators golf team. They were highly recognized for their courtesy and good attitudes no matter what the situation.
Congratulations to the Liberty Lions on their victory and their phenomenal play in this event. Also a big thanks to the AIA and Omni Tucson National for making this event possible! The tournament was a great learning experience, and we can't wait until next year!
For more updates on sports teams throughout the year, follow the AIA (@azpreps365 on facebook, Instagram and Twitter) and SLAC (@pickingup.slac on Instagram and @pickingupslac on Twitter) on social media and the AIA website (azpreps365.com).
---