Prescott backup's two touchdown tosses earn head coach first playoff win
November 20, 2021 by George Werner, AZPreps365
---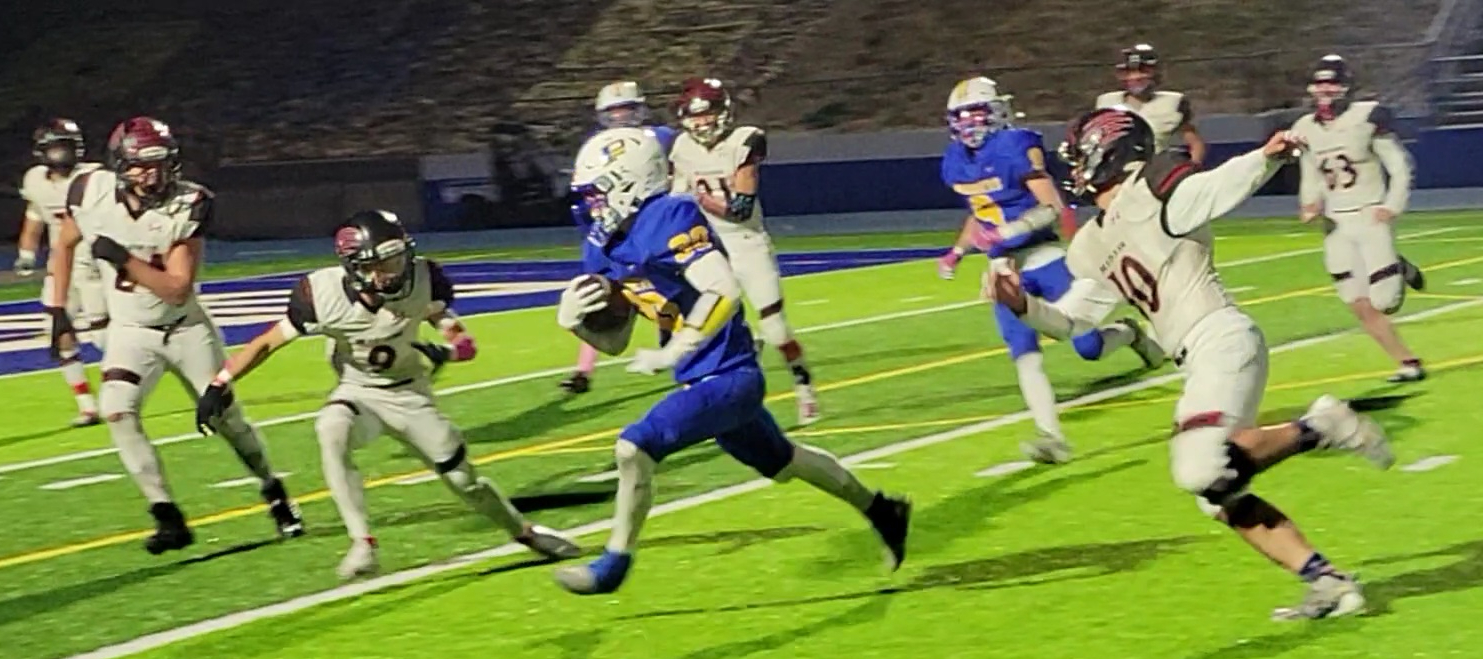 As Salvador Dali would have described Prescott's 14-6 win Friday, Nov. 19, over rival Bradshaw Mountain High School to open the 4A Conference postseason tournament, that was surreal.
The painter's Persistence of Memory certainly captured the dissonance in the performances of the Badgers, No. 8 seed and host of the first-round tournament game despite starting a backup quarterback and finishing second in the Grand Canyon Region, and the Bears, seeded ninth and bussing over from Prescott Valley despite winning the region Nov. 5 at Prescott, 24-6, without their second-leading rusher, returning to action for the first time in almost a month.
"Unbelievable win," said Cody Collett, whose trajectory as Prescott head coach the last two months has taken him from hospitalization from a heart attack following an ejection from a win over Camelback to his first postseason win in 22 years on the sidelines, the fourth in the past five games over the rival Bears. "They're so good on defense, we had to make a bunch of throws in the passing game. So I told them we need to spread the field more--in the run game as well."
Over the last three weeks, each offense alternated watching the other melt clock, limiting their scoring output to lone second-half rushing touchdowns followed by missed extra points, while failing to convert into first downs four out of five fourth-down attempts.
Enter Badgers sophomore Jaxon Rice, whose touchdown passes in the first and third quarters made the difference in just his second start. While scrambling to the Bears 4 to set up Prescott's only points Nov. 5, junior starter Alex Vaughan, who remains questionable for his quarterfinal at top seed Poston Butte, suffered a fourth-quarter concussion inflicted by the Bears defense.
"We learned that they were a harder team than we expected," said Rice, who had thrown two touchdowns total for Collett prior to his first start, a 28-point win in Prescott's Nov. 12 regular-season finale at Mingus Union High School. "He just said, 'Relax, have fun, and just play how you usually do.'
"He's such a good coach. He loves us so much. He brings us together as a team, and we went out and played for him."
Rice gradually expanded his targets from senior tight end Ethan Ammerman, whose 10-yard catch gave the Badgers the game's initial first down after nearly nine minutes had elapsed in the first quarter, to juniors Jake Hilton and Ryan Smith. The latter fullback curled open a minute later, collecting Rice's 20-yard toss off the rollout and beating Bradshaw's defenders the rest of the 15 yards to the end zone with 2:13 left in the first quarter.
"The receivers did a great job, Jaxon did an amazing job...we did a lot of really, really good things," Collett said. "He's got great moxie. I'm really impressed with him."
Moxie that revealed itself most after Bradshaw Mountain closed the deficit to 7-6 within the first two minutes of the second half. Bears junior running back Malakai Stephenson had finally capitalized on one of five Badger fumbles on the evening, sweeping around left end from the Prescott 20 to walk into the end zone.
A virtually turnover-free performance by both teams three weeks ago had fallen into a fumble-fest that, it was becoming clear, was going to be won in spite of losing the turnover battle.
After kicker Tanner Mitchell missed the Bears' extra point, and his kickoff was returned to the Prescott 38, another junior, two-way Prescott warrior Jake Wright, saw his opportunity.
"In the locker room, the coaches told us to man up, just play our hearts out and leave everything on the field," said Wright, who responded with over 60 yards receiving of his own, including the pivotal 21-yard touchdown reception from Rice. "We're a very, very run-heavy team, except for this game. Luckily, I think our run game opened up the pass a lot."
Aided by a 15-yard personal foul penalty against the Bears defense following their next offensive play, Wright and Rice struck back quickly. The sophomore rolled out, while the junior curled down the middle of the Bradshaw secondary, hauling in Rice's pass inside the Bears' 40-yard-line and shedding tackles nearly 20 more yards to their 21.
"Him being a sophomore and stepping up like that, it's wonderful," Wright said of Rice. "Biggest heart I've ever seen. Just totally ready."
After Rice's subsequent pass found Wright again in the flat near the Bears' 15, from there it was simply a race to the corner of the end zone Wright won.
"It was a total team effort," he said. "It would take nothing less to beat an amazing team like this."
While Bears head coach Bob Young's defense was successful at playing for the strip, his offense would not advance further than the Prescott 20 for the rest of the night, attempting no field goals, as Young instead elected to go for the tying touchdown on two subsequent opportunities at the door of the Badger red zone.
By that point, Collett's defense, coordinated by assistant coach Branden Johnson along with assistants Joe Mccarty, Aaron Gronewald and Cody Colville, would not let go of their opportunity.
"I'm really proud of them, too," Collett said of his "amazing" defensive staff. "We're really excited to practice on Thanksgiving. It's going to be fun."
With 90 seconds to play and Bradshaw driving at the Badger 45, they had a little help from Wright, playing defensive end and getting deep penetration all night on the blitz.
"I noticed that their left guard pulled basically on every play," he said. "So I would just try and get on that center's hip, and just make the tackle."
With this knowledge, senior Cian McKelvey streaked around the left guard, pressuring quarterback Grady Rose into a fumble that junior linebacker Landen Francis recovered at the Bears' 30-yard-line to seal Collett's return Friday, Nov. 26, to top seed Poston Butte High School at 7 p.m.
Collett was head coach for the Broncos in 2016, when they were in the 5A Conference, before returning to Prescott for four more years. He was succeeded there by current head coach Dain Thompson, who retained Collett's former Badger assistant Rod Holmes.
"Dain and Rod are two of my closest friends in the whole world," Collett said. "They've got a great team, so we're really looking forward to going down there."
After touching each other for touchdowns in an off-season seven-on-seven scrimmage, the Broncos, with a little help from a last-second touchdown that eked out their first postseason win in their tenure, 39-37, over 16th-seeded Northwest Christian, stand in the Badgers' way to the 4A semifinals.
"If we play like we played [Nov. 19], but with a few less mess-ups and blips, I think we'll have a great game, no matter what," Wright concluded.
---