Army National Guard connects Northwest Christian football players after high school
November 22, 2021 by Jonah Krell, Arizona State University
---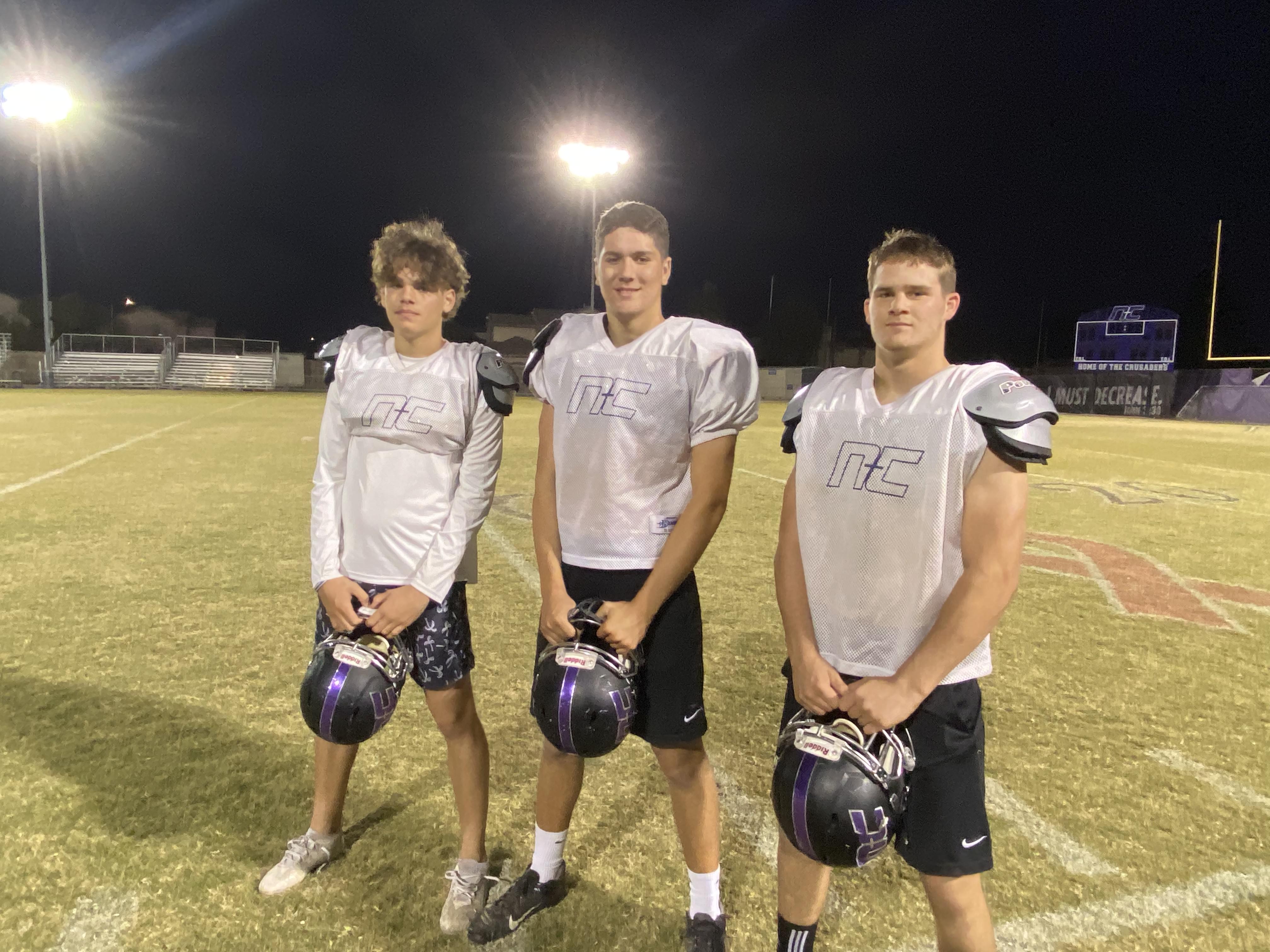 Jonah Krell is an ASU Cronkite School of Journalism student assigned to cover Northwest Christian for AZPreps365.com.
Several parallels can be drawn between the military and the game of football. It requires toughness and courage, as well as a camaraderie and shared goal amongst a collective unit.
Three members of Northwest Christian's football team – Seth Buzbee, Nathan Metzger and Grant McWilliams – will all be switching uniforms to fight for a different team. They won't be playing the same positions or be in front of a crowd, but they will be sticking together and have a shared purpose.
Upon graduating this May, the three Crusaders will enlist into the Army National Guard. With a push from his twin sister, who is also joining the Guard, Buzbee convinced the other two to join, and apparently it wasn't that complex.
"The funny thing is, the first thing [Buzbee] told me was, '[You] get paid to shoot guns on the weekends,' " Metzger said.
The three Crusaders are valuing this opportunity as an important step in their post-high school journey.
Buzbee and Metzger hope to pursue a career as firefighters, and Buzbee says the experience gained from serving is a major "stepping stone" to reach their goals. After a year in the Army National Guard, McWilliams plans on attending Northern Arizona University in December 2022 and majoring in construction management or business. He values the skills learned from serving for life in general.
All three are close friends and plan to stay together once they become guard members. They are scheduled to ship out to Fort Benning, Georgia, in late June for infantry and basic training.
While they may be split up after arriving, the three friends eventually will be stationed at the same company in Prescott, Arizona, called the Charlie Company 1-158th Infantry Battalion.
McWilliams, a wide receiver and defensive back at Northwest Christian, values this unique opportunity to stay with his teammates.
"It means a lot, like [we've] kind of built a brotherhood out here," McWilliams said. "Having to stick together just kind of seems right."
Despite not coming from a military background, Buzbee grew up always wanting to be a soldier. However, at one point when he was younger, he grew wary.
"He put the brakes on it one time when he came up to me, and he was like, 'Mom, do you know you can die if you go into the Army?' " said Tabetha Buzbee, Seth's mother. " 'Yes, son, you can.' And so that was a realization he came to and he was like, 'I'm not sure that's what I want to do.' "
His position changed when his twin sister, Emma, fully committed to joining the Army National Guard. Tabetha said Seth's thought process also changed, thinking "Well, I can't let her do this without me."
After Emma convinced Seth to see a recruiter, he was hooked. He then persuaded Metzger, an offensive and defensive lineman on the football team, to join him and McWilliams soon followed.
Metzger will be the first in his family to enlist, which he said is a special opportunity to set an example for his future children. Both McWilliams' grandfather and great-grandfather served in the military, while other family members served their communities as nurses and doctors. These elements played a partial factor in his decision, he said.
David Inness, Northwest Christian's head football coach, said the Army National Guard is "perfect for their character."
The Army National Guard presents obvious danger and risk, but that has not fazed these young adults. For Metzger and Buzbee, their lack of fear comes from their faith.
"God has given us a great and wonderful Earth, and he's given us a very short time on it," Metzger said. "I feel like putting my life on the line to ensure the safety of others is very important to me … and just really getting to help people – that's just a great opportunity.
"Like I said, if the time comes, and something happens while I'm out in the field, and God calls me home, then I mean, hey, that's a party still."
Only 13% of young adults today feel positively inclined to serve in the military, according to the U.S Department of Defense. 79% of Army recruits in 2019 said they had a family member who served, signaling that there are fewer "new" recruits coming in. Since the early 2000s – with the onset of a draining war and the budding options within today's economy – the appeal of serving one's country has faded for today's youth.
What perhaps is more impressive is the players' willingness to join when two of the three don't have a connection to the armed forces. The gloss surrounding serving is possibly still alive with these Crusaders.
"I'm just really proud that these young kids at this day and age still have a heart to serve the country," Tabetha Buzbee said. "I feel like a lot of that's been lost. I'm just happy that they have each other and they have that heart."
---