McClintock victorious in season opener, 95-39
November 22, 2021 by Kris Morales, Arizona State University
---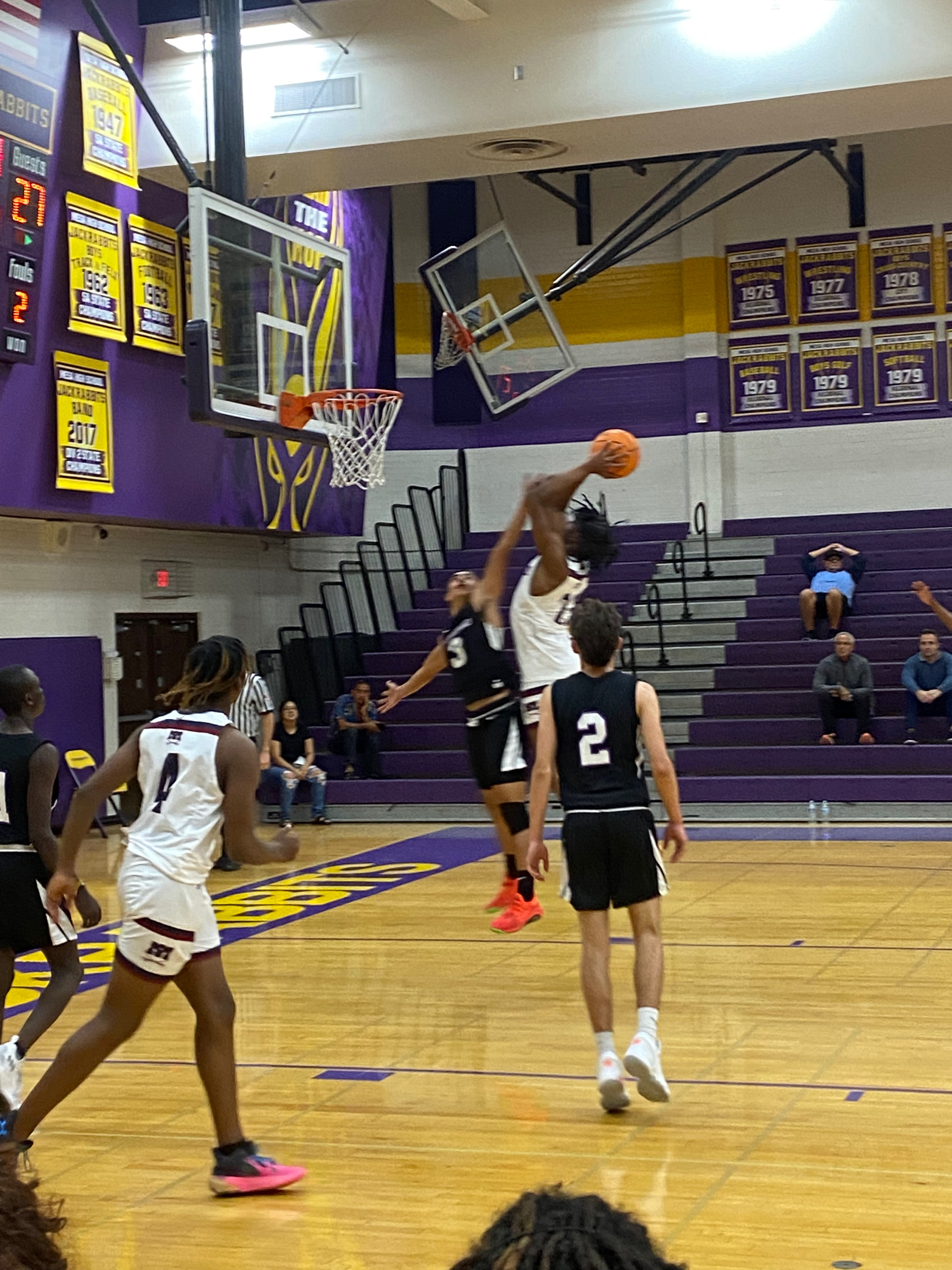 Kris Morales is a Cronkite Arizona State University student assigned to cover McClintock High School for AZPreps365.com
MESA- McClintock's boys basketball team is off to a hot start. The Chargers blew out the Washington High Rams Tuesday, 95-39, in the first game of the Fear The Hop Thanksgiving tournament.
'McClintock wasted little time creating a torrid pace, surging to a 19 point-lead with 3:53 left in the first quarter. Charger junior Erenzo Scroggins dished three assists in the first eight minutes. On a break away, Scroggins crossed over a defender and passed it to Desean Strong, who caught the pass, adjusted himself, and hit the three-pointer.
At the end of the first quarter the Chargers led 30-3. Head coach Samuel Dentz was the voice for the team from assisting his players on when and where to block to making the right adjustments when needed. The Chargers seemed to always have the freshest legs on the court.
"The way Arizona basketball is set up right now there's not really any type of off-season," said Dentz. "We meet everyday during school as we have a basketball class built into our school day. We are always meeting and working on things to get better at. We have a fall league and play every weekend in June. It's non-stop. The guys put a lot of work in as well as time and you can see the result when they work together."
At halftime the Chargers held a commanding 55-18 lead, thanks to a suffocating defense. Senior Pascal Volz was a wall. Nothing got past him. If he didn't have a steal, then you saw him on a breakaway dribbling down the court laying it up.
"I think defense is just a mindset," said Volz. "You have to be a dog on defense. I'd rather focus on more defense because if I'm out there getting steals I'm lifting my team up, getting blocks, getting rebounds on the defensive end it will transfer over to offense."
The Chargers maintained the pressure throughout the entire game, scoring 40 points in the second half. Jaylen Wesley lead the Chargers in scoring finishing the game with 22 points.
The Chargers next play Wednesday, when they will take on the winner of Tuesday's Boulder Creek-Raymond S. Kellis contest at Mesa High School. "We talked about as the competition gets tougher and you continue to advance in the bracket," said Dentz, "continuing to accept the challenge on defense continuing to dig deep and defend against teams that are going to make us work a little bit harder to get what we want. That will be the next best for us."
---