High-powered coaching staff leads Notre Dame Prep football's success
November 23, 2021 by Finn Garrison, Arizona State University
---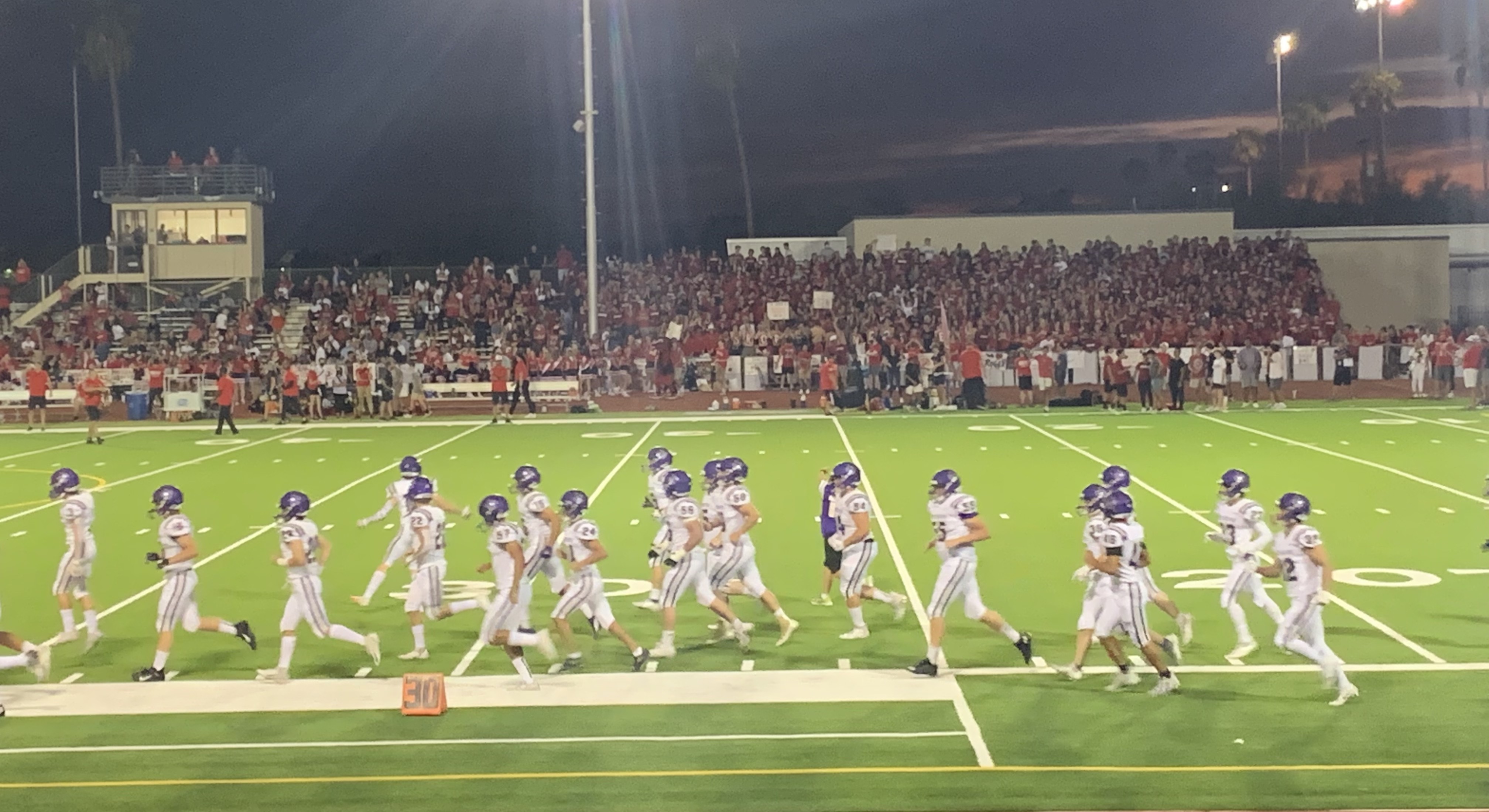 Finn Garrison is an ASU Cronkite School of Journalism student assigned to cover Notre Dame Prep for AZPreps365.
The Notre Dame Prep Saints (8-3) made the 5A conference playoffs this year and the different backgrounds and experiences of the coaching staff are a principal reason for the team's success.
George Prelock was named head coach of the varsity football team in 2017 and has been an English teacher at Notre Dame Prep for the past 17 years. Since being named the head coach, Prelock has emphasized the addition of coaches with different backgrounds and experiences while maintaining continuity.
To build upon last year's coaching staff, Notre Dame Prep added first-year running backs coach Dominick Mastro, who played football for Notre Dame Prep before graduating in 2020.
A major reason for the offensive success this year is because of Mastro's influence on the running backs' development. In last year's pandemic-shortened season, the Saints finished their eight-game schedule with 196 carries for 929 rushing yards. Through their first 10 games this year, the Saints finished the regular season with 278 carries for 1,811 rushing yards with starting running back Andrew Vines accounting for 159 of those carries and 1,062 rushing yards.
Quarterback Braden Wells said, "Our running backs coach, Dom, is great as well. He teaches Andrew [Vines] everything he needs to know."
The other first-year coach on the staff who is also a former Notre Dame Prep player is defensive line coach Parker Zellers. Zellers graduated in 2013 and played college football at the University of Arizona.
Prelock said, "Any time someone wants to come back and contribute and give back to the school, I always make sure I have a spot for them. … Here at Notre Dame Prep, it's about serving others and because the school provided so much for them, they understand that concept and want to give back to the generations below them in some way, shape or form."
The Saints' coaching staff also consists of three former NFL players in defensive coordinator Nick Smith, offensive line coach Steve Bush and coach Jeff Fox.
"I think the most important thing is to be able to relate to the kids and have them understand what it is you're trying to do and try to teach them," said Fox, who was a prolific quarterback at Grand Valley State in Michigan under then-coach Brian Kelly, who now coaches at the University of Notre Dame, before stints with the Detroit Lions and other U.S. and European pro clubs. "And then the bigger picture is helping them to grow, not just as football players, but as students."
Having coaches on the staff who have played football professionally and can teach through their own experiences and knowledge of the game, is only beneficial.
"The way it's helped me the most is understanding the details of the plays and giving the kids a little more insight," said Bush, an Arizona State alumnus who played tight end with the Cincinnati Bengals, St. Louis Rams, and Arizona Cardinals. "Instead of just footwork and the play, we're able to go over the concepts behind the play, the details of what the defense is doing. Just more intimate knowledge of the football game really helps me the most."
With a well-rounded coaching staff consisting of young coaches and former NFL players, Notre Dame Prep has paved its way to the 5A playoffs.
The seventh-ranked Saints routed Apollo 56-21 in a first-round game on Nov. 19 and continue their postseason run at 7 p.m. Friday on the road against No. 2 Salpointe Catholic.
---