Welcome to the Jungle Day 3 boys hoops
November 24, 2021 by Les Willsey, AZPreps365
---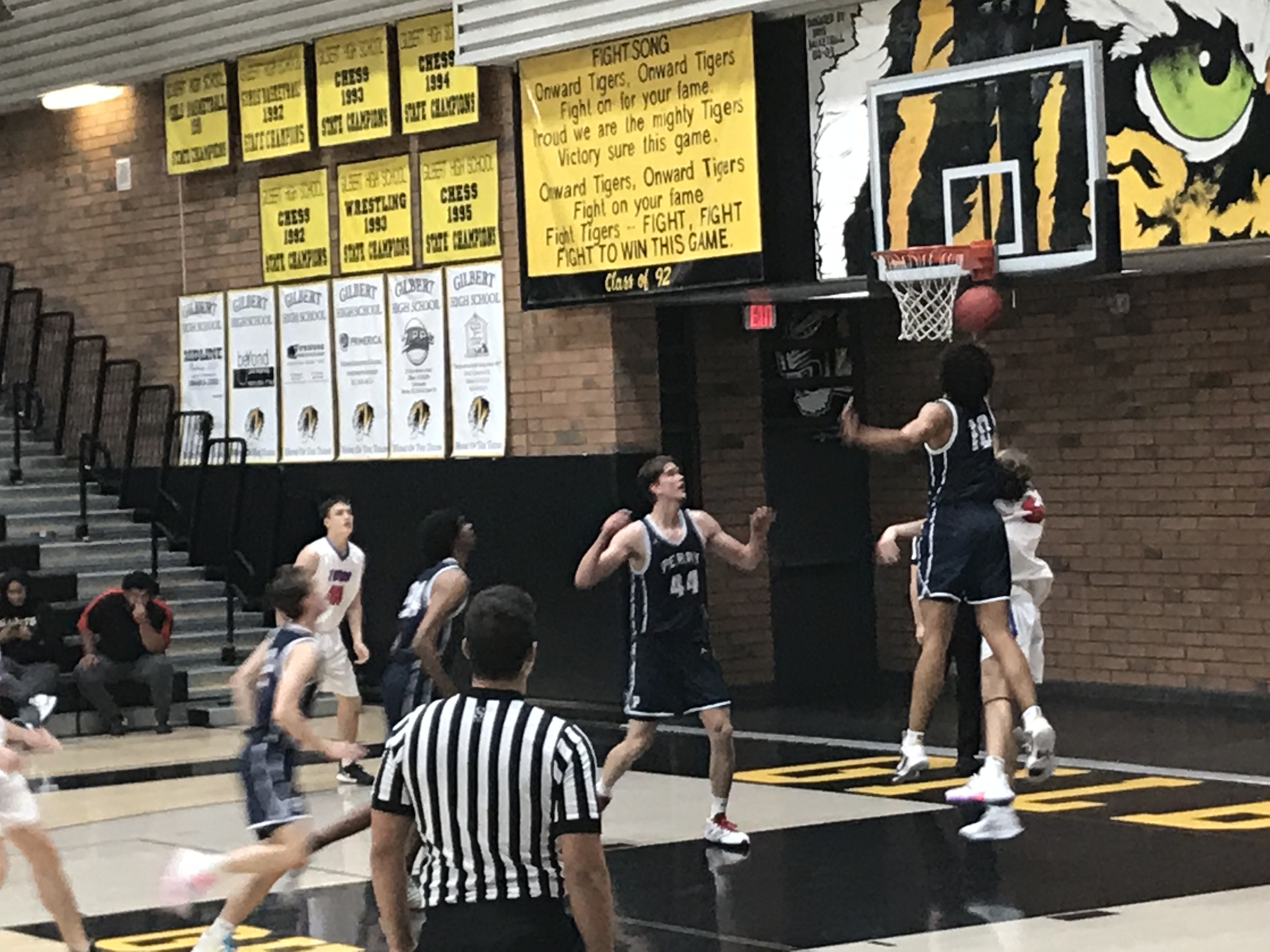 Perry and Gilbert continued to bludgeon opponents on Day 3 of the Welcome to the Jungle Holiday Tournament at Gilbert High.
Both schools finished 3-0 and earned the right to face off in Friday's tourney title game at 5 p.m. at Gilbert HS. Gilbert took down Corona del Sol, 58-42. Perry followed that with the last game of Day 3 by punishing Mesa Mountain View, 72-34.
Gilbert won its three games by an average of 18 points. The Tigers knocked off Chandler, Pinnacle and Corona. Perry was even more dominating with an average margin of victory a whopping 37 points. The Pumas victims were Desert Ridge, Valley Vista and Mountain View.
Gilbert took the suspense out of its game Wednesday with Corona del Sol jumping to an 18-2 lead after the first quarter. The Tigers lead never dipped below double digits nearly the entire game. Senior guard Nikko Pentelute paced Gilbert with 20 points and got ample assistance from fellow starters KJ Perry, Reed Shuey and Golden Thibaudeau. Perry and Shuey scored 11 points apiece and Thibaudeau added nine. All nine of his were in the first half. Corona del Sol's top scorers were Quinn Thorne (9 points) and Raymond Lam (8 points).
Perry had six players score in the first quarter in its win over Mountain View. Koa Peat (6), Dylan Anderson (5) and at least a basket or free throw from Elijah Burlend, Kyle Waters, Cody Williams and Ben Egbo forged a 19-6 advantage after the first eight minutes. Anderson and Williams got cooking in the second period, combining for 16 of the Pumas 24 points in the quarter. Their lead at intermission was 43-14. Anderson finished with a game-high 16 points and Williams and Peat tallied 14 points each. Peyton Rule led Mountain View with 13 points.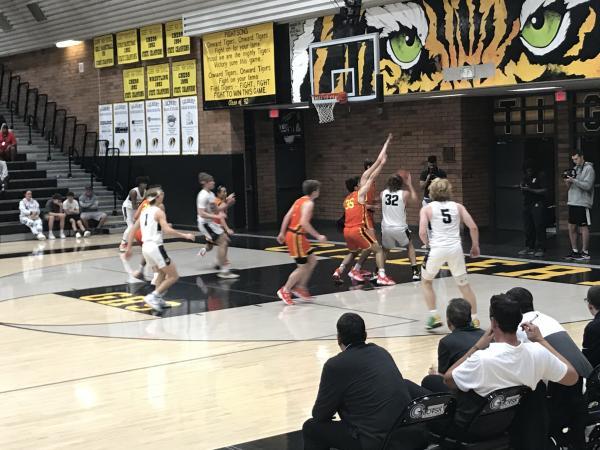 Gilbert's Reed Shuey (32) works down low in the Tigers' 58-42 victory over Corona del Sol. (AzPreps365 photo)
The tournament takes a break Thursday for Thanksgiving and concludes Friday with an earlier four-game schedule. Here's the slate:
12:30 p.m. - Desert Ridge (0-3) vs. Chandler (0-3); 2 p.m. - Pinnacle (1-2) vs. Mountain View (1-2); 3:30 p.m. - Corona del Sol (2-1) vs. Valley Vista (2-1); 5 p.m. (Championship) - Gilbert (3-0) vs. Perry (3-0).