Arizona Lutheran Academy aced final test
November 28, 2021 by Jose Garcia, AZPreps365
---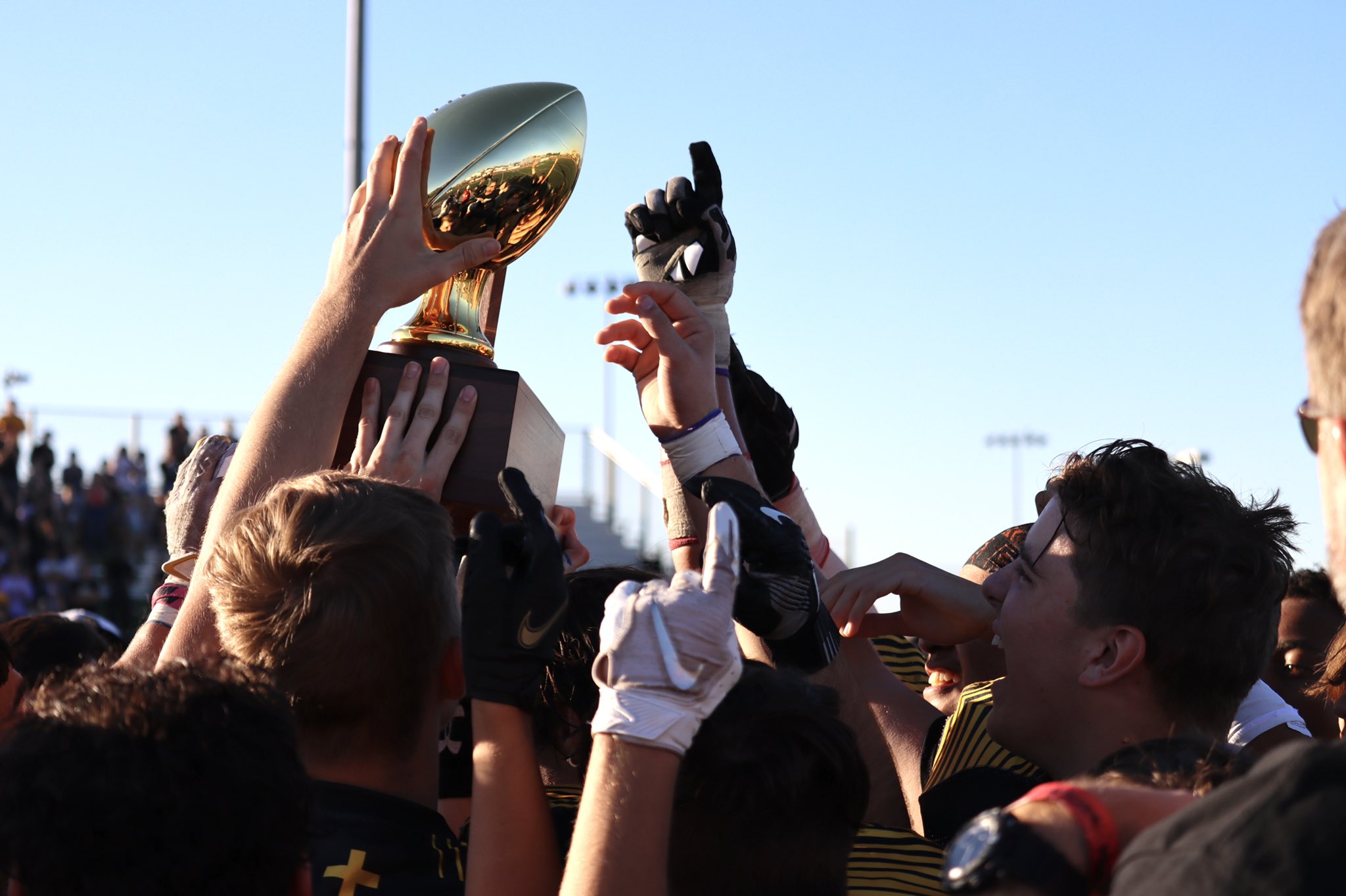 Saturday's final exam presented a challenge in a season filled with many for Arizona Lutheran Academy.
How to stop Morenci's potent run attack was the problem. The answer was simple: together.
That's how ALA aced its tests this season and did so again Saturday to retrieve something that was missing at the Phoenix school—a state football championship trophy. Spurred by big third quarter plays at Campo Verde High School, ALA defeated Morenci 28-14 to claim its first 11-man football title.
"Our guys are a resilient, unselfish group," ALA coach Dave Peter said.
"Relationships matter, and these seniors are a very close group. One of the things that I encouraged them to do way back in June, July and August was to embrace not just their friends but also all the other guys on the team. They really bought into that family mentality. When you truly have a group that really cares about each other, they are willing to sacrifice for one another, and that's exactly what happened this whole season."
Morenci featured the leading rusher, Michael Casillas, in the 2A Conference.
For ALA, it started the game without its injured starting quarterback, Jackson Indahl. But ALA is greater than the sum of its parts.
ALA's defense kept Casillas, a sophomore who is just getting started, from running away. It also stole the momentum and the ball from Morenci during the key moment in the game. After a timeout and with Morenci facing a fourth-and-9 from ALA's 23-yard line, Morenci's quarterback rolled to his right for the first time in the game.
But his pass was tipped by defensive back Jack Schaumberg, allowing his friend since second grade, ALA's Jacob Ryan Holguin, to wind up with the ball. Holguin's return and a Morenci personal foul then set up the game's longest play from scrimmage.
On the very next play, Holguin, ALA's leading rusher, found a lane up the middle and sped away for a 66-yard touchdown to put ALA up 21-7.
"There was nothing on the right side and saw a bunch of green on the left and just took it home," Holguin said.
ALA's leading rusher last year, Gabriel McKenney, suffered an injury in his team's 2021 season opener, but Holguin carried the load until McKenney returned. On Saturday, McKenney, with the help of his offensive line, kept drives alive with his power running.
The senior scored a touchdown in his final high school game on a 2-yard run to send his team to halftime with a 14-7 lead.
Despite the loss, Morenci (11-3) put the 2A on notice this season with its first final's appearance since 2012.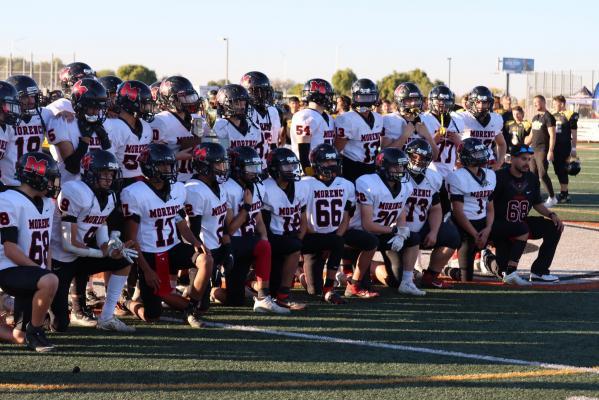 Morenci reached its first final since 2012. With the players it's returning, Morenci can make another run. Another player who will return is ALA sophomore quarterback Jorge Lomeli, who stepped in in the second half of the semifinals and didn't allow his team to skip a beat.
Lomeli scored the game's first touchdown, when ALA opened the game with a 13-play, 61-yard scoring drive. Morenci responded with a long scoring drive of its own in the first half, when it seemed like the team that had the ball last would win the game.
But the third quarter changed everything. ALA (13-1) added its final score with 4:04 remaining in the game when Gideon Enter, another sophomore who stepped up this year, scored on a short run.
ALA deserves some extra credit for what it did after Enter's touchdown. Some of ALA's players helped take the injured Indahl to the field to hold the snap for the extra point.
The snap from Jay Schroeder was perfect. So to was the hold by Indahl and the kick by Luke Grippo.
ALA looked out for each other this season. As a result, it finally ended with what it was looking for.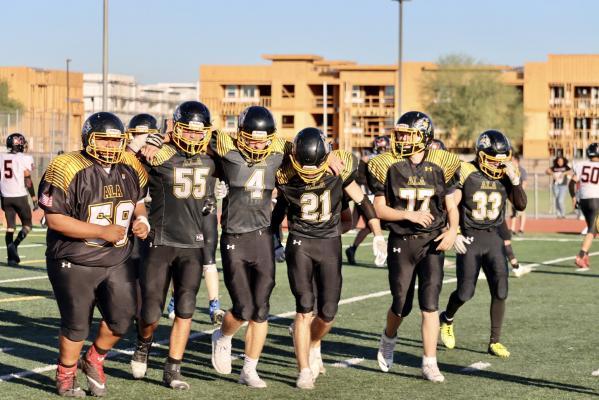 Arizona Lutheran teammates help injured quarterback (No. 4) Jackson Indahl return to the sideline after Indahl held the snap for the final point of his team's championship season. Photo by Jose Garcia/azpreps365.com.
Your Coyotes are the 2021 2A state football champions!

Our football team completed a 13-1 season with a thrilling victory over Morenci. This is our first 11-man football title. Thank you to our coaches and the Coyote Nation who came out and supported our team all year. pic.twitter.com/dNNXZ4w6Bd

— Arizona Lutheran (@ArizonaLutheran) November 27, 2021
---