Talbert led the district in sacks and has only played football for two years
December 1, 2021 by Alex Gelman, Arizona State University
---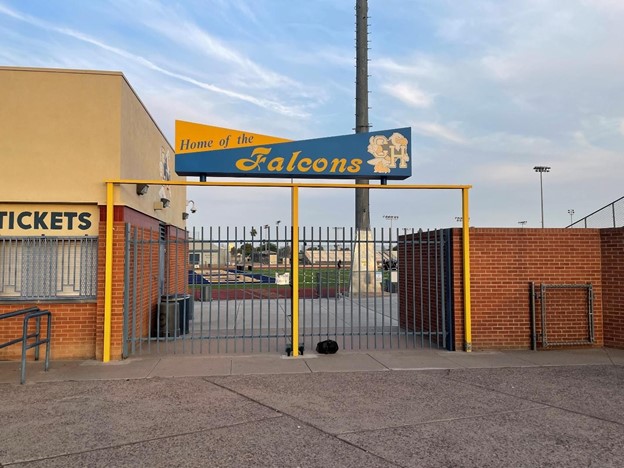 Alex Gelman is an ASU Cronkite School of Journalism student assigned to cover Carl Hayden Community High School for AZPreps365.com.
Not often do you see a 6-foot, 4-inch defensive end in high school football. Jordan Talbert is exactly that.
Talbert has only been playing football for two full years. He played in his freshman year of high school but then took a break his sophomore year. As a junior, he transferred to Carl Hayden Community High School.
Ready to play his junior year, the season was quickly cut short due to the COVID-19 pandemic. The team only played one game.
Despite Talbert playing only one game in his first season as a Falcon, head coach Steven Arenas could see his ability on the football field.
"Just upon seeing his physical attributes. He is 6 foot, 4 inches, really really long. We only had one game last year due to the pandemic and just seeing his ability to just chase down plays from the backside — that's what sets him apart, his speed," said Steven Arenas.
As his senior year approached, Talbert wasn't just focused on football. He plays basketball also.
"Basketball was my favorite until I came out onto the football field this year doing pretty well," Talbert said in an interview on Nov. 11.
"Pretty well" is one way to describe Talbert's senior season. He currently leads the district with 16.0 sacks this season.
"It's great. I never thought I'd be the leader in sacks. As the season went on, I thought I could really do this," said Talbert.
Three games into the season, Talbert led the district with 7.0 sacks. That is when he realized college football could be an option.
"I realized that midway through the season. After my third game, my numbers started to raise up and all I needed was to train and get better," said Talbert.
According to his Twitter profile (@JordanTalbert11), the defensive end has received three college offers from Bethany College, Ottawa University Arizona and Kansas Wesleyan.
In college, Talbert plans on majoring in either business management or art design.
Matt Arenas, offensive and defensive coordinator for Carl Hayden, said Talbert's best quality is his character. "His ability to be himself and just be the leader that he is on campus and on the field. To me, that translates throughout the whole team. I feel like we can really play our style, our game, when we are being ourselves, and no one exemplifies that more than Jordan Talbert," Matt Arenas said.
Talbert's success on the field doesn't come from just raw talent, but also his football insight.
"During the game, he's another coach. He's in charge of that defensive line. … He lets us know what the offensive tackles are doing, what they like to do, don't like to do offensively. He's definitely the Energizer Bunny of the defense. Quite frankly, if I'm an offensive coordinator, I have to plan around this kid cause he is so athletic. You don't see many 6 foot 4 inch, tall, lanky, defensive ends who run a 4.60 (40-yard dash). He definitely provides a lot of problems for coaches and also a lot of insight for his own coaches," said Matt Arenas.
Jordan Talbert and the Carl Hayden Falcons finished this season 6-4, the program's best record since Steven Arenas was hired.
---