Kim Dever took on a new swing this fall with Desert Mountain girls golf
December 11, 2021 by Kaitlyn Parohinog, Arizona State University
---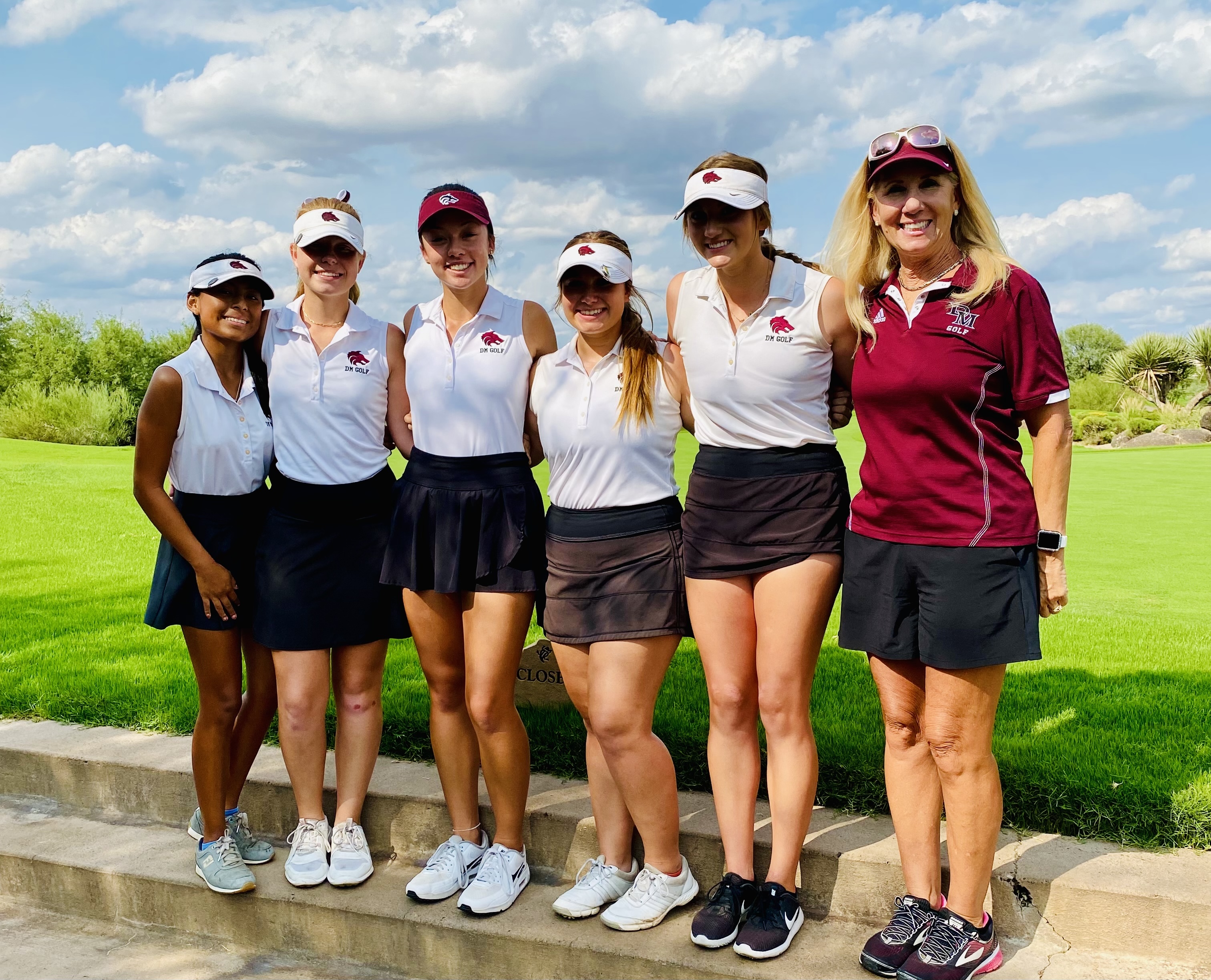 Kaitlyn Parohinog is an ASU Cronkite School of Journalism student assigned to cover Desert Mountain for AZPreps365.com.
As the sun rises over the horizon, Desert Mountain coach and teacher Kim Dever is starting her lengthy day. Dever spends those days teaching several physical education classes and the nights coaching various sports teams throughout the year.
She started playing sports at a young age. Her family was very into tennis, but she didn't get involved in the sport until her adult years. She played soccer for her high school back home in Virginia. She also swam while attending college.
A few years later, Dever moved out to Arizona and continued playing soccer in a coed league for five years. Once her children were old enough to play, she started to referee for their soccer games.
This is Dever's first season coaching a soccer team for Desert Mountain, as she heads up the JV girls team. She had previously coached five seasons of high school soccer, both boys and girls JV teams.
Dever continued to play soccer throughout her adult years until she started to notice some of her friends start to get injuries. She realized that she didn't want to risk getting an injury herself and decided to stop playing soccer competitively.
Once she decided to quit soccer, Dever picked up tennis. Her parents, siblings and close relatives all played tennis while Dever pursued soccer when she was growing up. She got involved in playing tennis competitively after learning the fundamentals.
She became part of the United States Tennis Association and she still competes in tournaments to this day. She recently made USTA's National Championships for the southwest region in Surprise, Arizona.
She has earned certificates for playing and participating in tennis through the USTA. This has helped her develop a deep understanding of the sport. She decided to start coaching tennis to high schoolers and has been successful within the past few years.
The Desert Mountain tennis program has had a history of being one of the best in the state of Arizona. The team has won state championships in the 2014-15, 2015-16 and 2020-21 seasons. Dever was brought to Desert Mountain in the 2019-20 school year to coach the varsity and JV tennis teams.
In the 2018-19 season, Desert Mountain was disqualified in the semifinals of the state championship due to an illegal lineup change during the tournament. They ended up forfeiting against Hamilton which ultimately led to their elimination from the competition.
The school looked to bounce back and capture a state championship in Dever's first season but the COVID-19 pandemic disrupted these plans. The season was cancelled and Dever was unable to display her coaching talents to the fullest extent and lead the team back to the championship.
The following season, Dever took Desert Mountain all the way, winning the girls singles and doubles tournament in May 2021. Both the boys and girls varsity tennis teams finished the season at the top of the rankings in Division I. Senior Savanna Kollock has been a key piece in the dominant girls team.
Kollock's four-star recruit talent and Dever's extensive coaching resume allowed Desert Mountain to come on top of the girls state championship.
"I know the team definitely deserves it. We've been wanting this for a really long time so it was a great feeling after finally accomplishing it," Kollock said.
Just three months after coaching Desert Mountain to another state championship, Dever took on a new role at the school: girls golf coach.
Dever plays golf in her free time and her husband participates in tournaments. She decided she wanted to try something new and got involved with another sport.
Golf team co-captain Madie Hepner helped Dever through the process of learning how to coach a new sport.
"A lot of things changed but I think it was for the better … she came to me most often because she trusted that I knew what was going on," Hepner said.
Hepner got help alongside co-captain Baylor Vrabel. Both led the team on and off the course and helped Dever bond with the team.
As the season went along, Dever reached out to her co-captains for ways to get the team more involved and increase the chemistry between the starting five and up-and-coming JV players.
"The highlights were bringing the team together and playing and cheering for everybody … it was a balancing act [between] JV and varsity," Dever said.
Vrabel said she enjoyed spending her senior season with the team, helping out with the coaching change and getting the girls back together after COVID-19 restrictions prevented them from interacting with each other outside of practices last season.
"It felt a lot more involved overall … being able to have the JV and varsity practice together was amazing … it was just really nice to just have everyone together again," Vrabel said.
One thing Dever said she enjoyed about the golf season was how hard the girls worked on their game and getting to know more student athletes from the school.
"All the tournaments were really fun … seeing the girls really fight hard for 18 holes … and afterwards having lunch with them, just getting to know them individually as wonderful students," Dever said.
The Wolves finished the season qualifying for state championships and finishing seventh in the two-day tournament at Tucson National Golf Course.
After spending the fall season with the golf team, Dever then transitioned to coaching the JV girls soccer team. She works with the girls after school practicing drills and getting them prepared to start the season.
In Dever's coaching debut for Desert Mountain soccer, the team traveled to Chaparral and won by a score of 4-3.
The team then came back home on Dec. 2 and defeated Sierra Linda. The game was heavily controlled by Desert Mountain as they defeated the Bulldogs 20-0.
Dever's work with the team is showing in their recent play, as they have been able to find and capitalize on scoring chances. They look to continue their success in their next matchup on Dec. 12 against Millennium.
Once the soccer season is over, Dever will look to defend her team's state championship in tennis with Kollock graduating in spring 2022.
Dever worked with some of the members of the tennis team in the fall to continue sharpening their skills after the summer break, with drills in the early morning before school started.
"We're hoping to repeat [winning the championship] this year and I really think we have a stronger team this year than we did last year," Dever said.
As Kollock enters her senior year, she looks forward to defending her girls singles and team state championship by holding herself and her teammates to the same standard as last season.
Dever prepares the tennis team just as she did with both golf and soccer, by promoting activities off the court and having fun with the sport. Kollock attributes Dever's positive and caring attitude to helping the team get through the season.
"She's really organized in helping us prepare for [the season]," Kollock said.
Most of the Desert Mountain players go to the same clinic, The Players Association at DC Ranch Village Tennis Center in Scottsdale, to work on their swing mechanics and improve their game. They also compete in tournaments outside of school which helps them prepare for the season through training and high levels of competition.
This has allowed the team to already have chemistry as they have become familiar with one another over the years outside of school.
Kollock recently committed to Davidson College in North Carolina with a full scholarship. She said that Dever was a big support system throughout the recruiting process as she provided the encouragement for Kollock to pursue colleges she was interested in.
"There were some times where I wasn't confident that I was gonna get a school that I really wanted to go to but she helped with … believing in myself and trying to get myself out there for coaches to see," Kollock said.
Both Dever and Kollock are excited to try and defend their championship this upcoming season and prove they are the best school on the court in the state of Arizona.
Even through coaching three sports across three seasons, Dever still makes the time to be mindful and teaches other student-athletes to do the same through her yoga class offered at Desert Mountain.
As a physical education teacher at the school she has made many connections with the other coaches. She loves working with the students and staff at Desert Mountain and "hopes to keep it up as long as [she] can."
She also teaches every student-athlete that playing sports should be about having fun with the game while they can. No matter what sport, Dever believes, it should always come down to being a team and helping each other at the end of the day.
"I want [them] to do the best and bring them together as a team no matter if it's an individual sport or a team sport but my main goal is for them to all have fun," Dever said.
---