Titans girls soccer victorious over rival Valley Christian
January 7, 2022 by Caleb Gottry, Chandler Preparatory Academy
---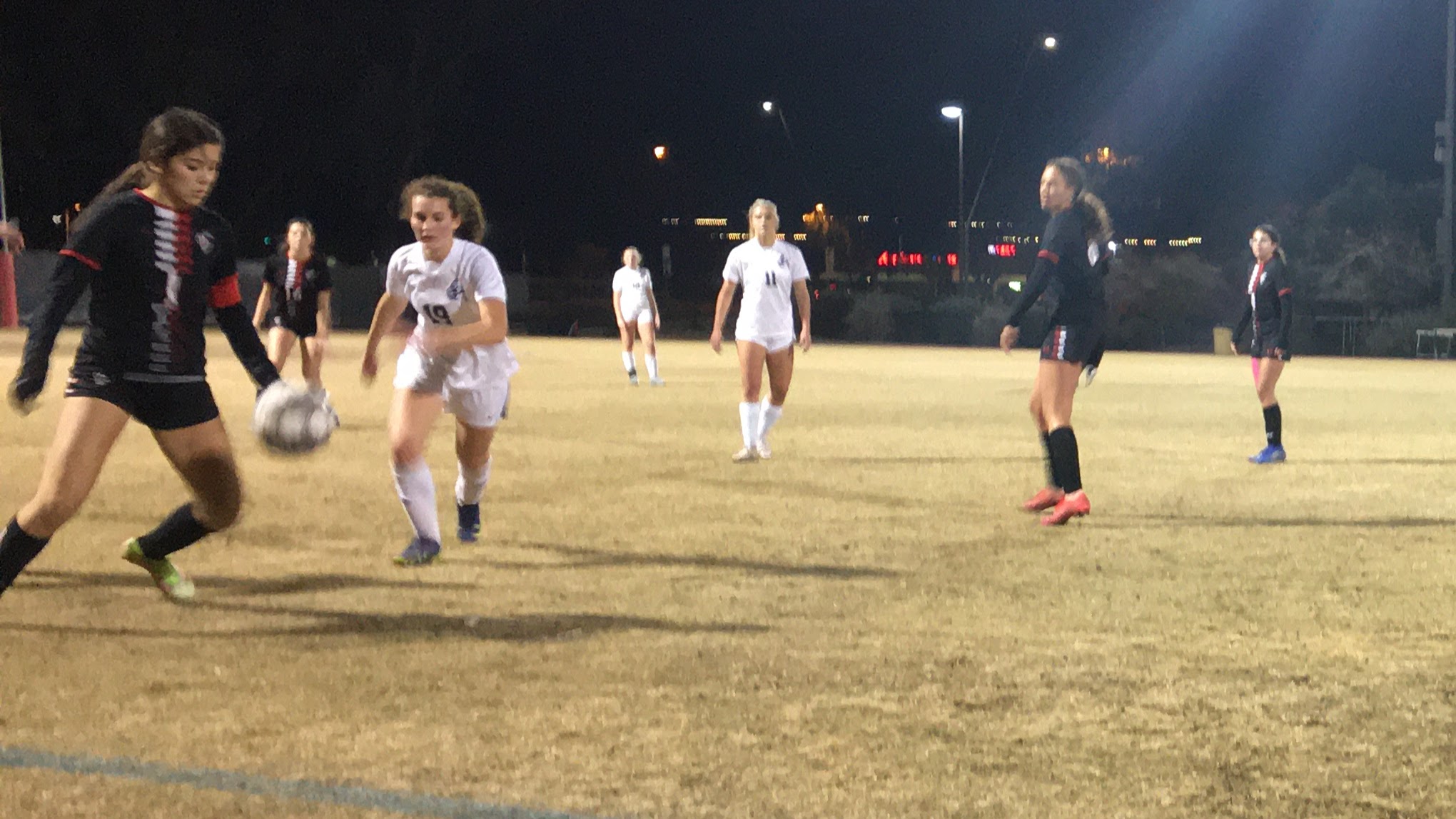 Caleb Gottry attends Chandler Preparatory Academy and is a member of the AIA's Student SID program.
On Thursday, January 6, the Chandler Prep Titans took the field for their first girls soccer game of the new year. After two convincing blowouts in Chandler Prep's first two regular season games, Thursday's game provided a stark contrast. Facing their biggest rivals, the Valley Christian Trojans, the Titans were determined to protect their home turf.
Not much domination occurred on Thursday night. Soon after the Trojan forwards charged the goal, there would be a Titan forward doing the same. Just as soon as the Titans saved a shot-on-goal, the Trojans would protect their own net in the same way… but not always.
The Trojans had already narrowly missed scoring the first goal just five minutes into the game. A corner kick put the ball close enough to the net for a quick Trojan header, but senior goalie, McKenna Possehl snatched it up just in time. Junior forward, Ali Estrada made several good drives after that, but did not score. However, on one drive she drew the goalie to one side of the net and sent a push pass to senior midfielder Lois Brodnik for the first Titan goal. Head Coach Vilaboy spoke about the leadership of Estrada and others after the game:
"Ali (Estrada) is definitely a leader. She is upbeat. She is a baller. She is always on. But, today and the past few games, it's been Grace Hathaway. She has controlled that middle and she holds the other team's attacking forward in check. Without that, we fall apart. Today, though, it was a collective effort because we did everything right. From a defensive standpoint, pressure, then we had cover and balance. One after another, our players were there, supporting each other. I can't ask for anything better."
Junior Hathaway's pressure in the midfield led to the Titan's second goal of the night. On a Trojan throw-in, Hathaway got the first touch and got the ball quickly to Estrada, who weaved expertly around the few defenders and quickly scored. Estrada led the team in shots-on-goal with eight.
The Trojans returned from halftime better prepared to stop the Titan drives and were mostly able to keep the action on their offensive side of the field. Valley Christian did score once in the second half with a high kick over the goalie's reach near the 30-minute mark.
Possehl, goalie for Chandler Prep, made sure the Trojans could not tie the game with an incredible save in the last minute of the game. Valley Christian was awarded a penalty kick and Possehl was able to tip the ball into the crossbar and then immediately recover the ball. The Chandler Prep Titans held on for a 2-1 victory.
The Titans play their next game at home versus Tempe Prep on January 8th at 12:00pm. Titan Up.
---