Video: Apollo didn't let up start to finish in blowout win over 17-2 Sunrise Mtn.
January 13, 2022 by Jose Garcia, AZPreps365
---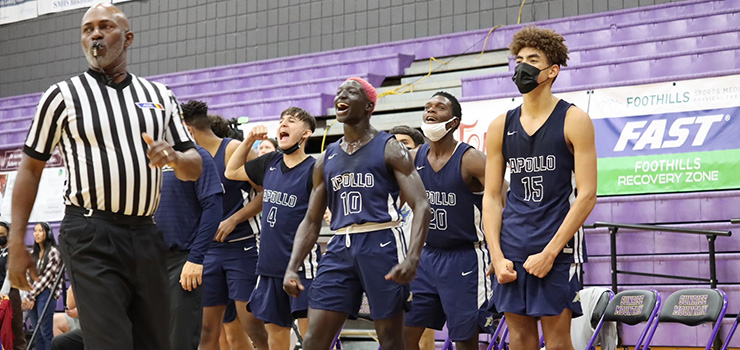 Apollo and Ahamed Mohamed continue to roll.
The Hawks took control from the outset Thursday and didn't relinquish it throughout their 85-61 win at Sunrise Mountain. Leading the charge once again for Apollo was Mohamed, a senior guard with speed to burn and an accurate shot.
The confident leader scored 39 points. It's the seventh consecutive game in which he has scored at least 25 or more points.
Junior guards Bobby Holcombe (14 points) and Lashy Perez (13 points) also helped keep the game's pace to Apollo's liking.
"Our guys are playing with a lot of confidence right now," Apollo coach Jacob Marin said. "Their focus is at a really high level. Our last two practices were phenomenal."
The 12-6 Hawks, ranked 8th in the 5A power rankings, have lost five of their 5A games by only six points or less. They will play the only other undefeated team in the Northwest Region, Ironwood, on Tuesday for first place in the region.
azpreps365.com and 1580 AM The Fanatic will broadcast the big game between the Glendale rivals. The programs met on Dec. 30 at McClintock in a tournament, with Apollo winning 60-41.
Highlight video of Thursday's game:
---