Valley Christian's Greg Haagsma continues to build a tradition of success
May 12, 2022 by Paul Schulz, Arizona State University
---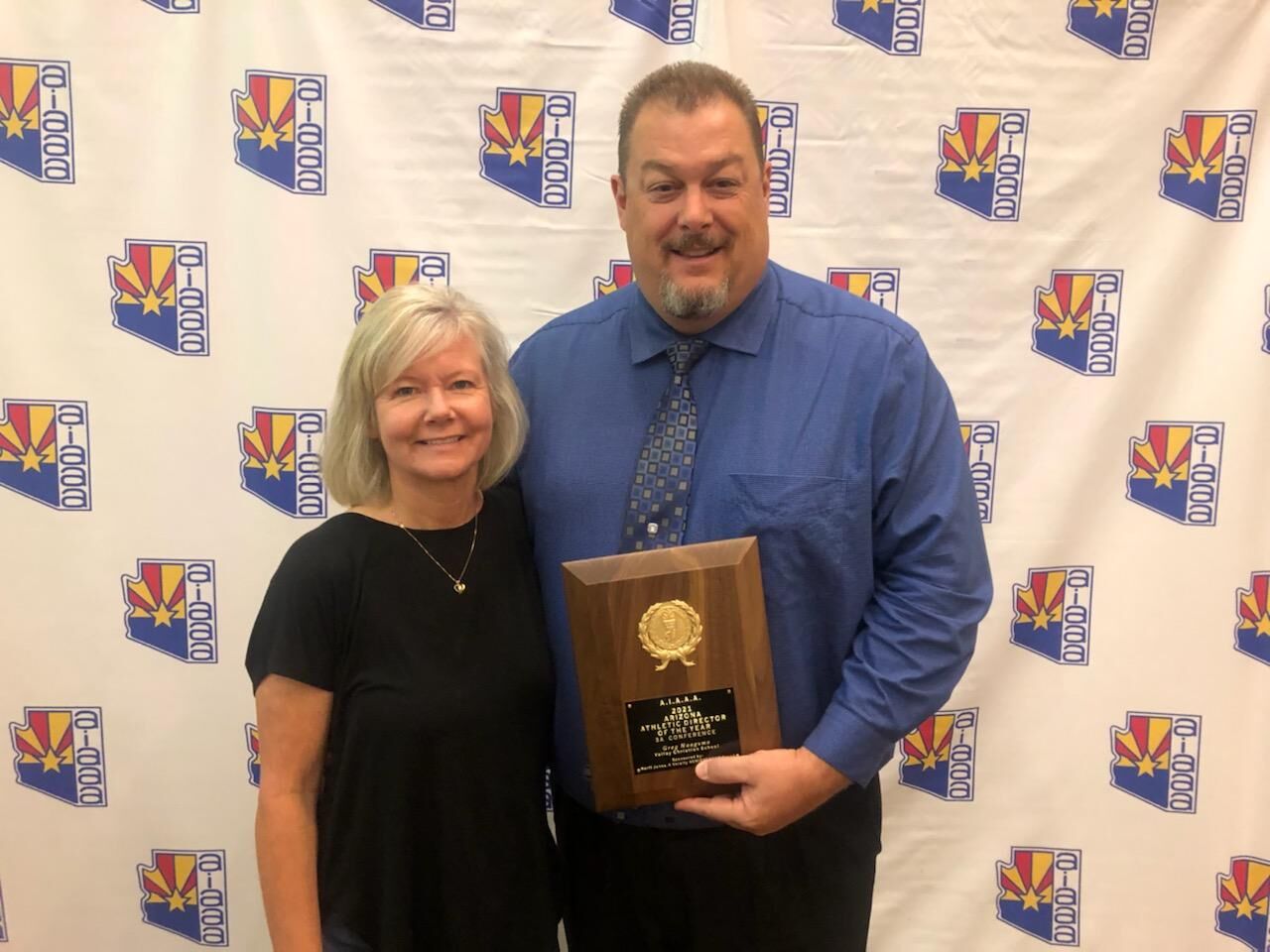 For Greg Haagsma, coaching high school sports is a dream job.
Haagsma has been around high school sports for most of his life. As a child of a schoolteacher in Iowa, he often attended high school baseball and softball games because his parents were avid fans. After being involved in youth sports, Haagsma decided to play basketball and baseball while attending Pella Christian High School. When it came time to choose a career, he became interested in the business world.
"I went to college with the intention of getting into accounting, and about halfway through college I sat back and reevaluated and remembered how much I loved being around kids and coaching," Haagsma said. "At that point I decided to go back…and go into high school education."
After graduating from college in 1991 with a degree in Accounting and Business Education, Haagsma started the search for his first coaching job. With a few different offers in Washington and Iowa, he and his wife decided on a change of scenery and moved to a small, new school in Arizona called Valley Christian. He started his career coaching the baseball and girls basketball teams and transitioned to coaching boys basketball in 1997, a role which he still holds to this day.
"It was a good opportunity for me," Haagsma said. "I could come in and get involved in coaching and teaching right away."
Now that he has been at the school more than 30 years, Haagsma credits the administration for creating an enjoyable work environment, as well as a welcoming place for students and families to become involved.
"Valley Christian is an incredible community and it's a family," Haagsma said. "I love my family back in Iowa, but this is home."
The life of a coach comes with a unique set of challenges. For Haagsma, in the month of June, between summer camps and team training, most days begin at eight in the morning and don't end until 10 at night. Especially for a coach with a wife and kids, the time commitment can become a challenge in one's personal life. Haagsma's oldest son, Brandon, grew up watching his dad coach at Valley Christian and would come with him to school and shoot hoops in the gym when he had the chance.
"Once I got to fifth through eighth grade and was playing sports in middle school, [Dad] would try to make it to as many games as he could," Brandon said. "His schedule was just too busy sometimes to be able to come."
While Haagsma was coaching and teaching, his wife Myrna made sure the kids were taken care of, working on homework and feeding them each day, all while working part-time herself.
"My wife is phenomenal," Haagsma said. "When we got married, she was not planning on marrying a teacher. She was marrying someone who was going into the financial world."
Eventually, Haagsma's family and professional life intersected on the basketball court, when Brandon went to high school at Valley Christian and joined the basketball team
"Every kid wants to go professional in sports, play in college, in the NBA, or whatever it may be," Brandon said. "My ultimate goal was to be able to play for my dad and be successful and hopefully win a state championship, which we were able to do."
During Brandon's senior season in 2013-14, Valley Christian won the school's fifth boys basketball state championship, defeating Cortez High School 64-53.
Another challenge Haagsma faced was how to approach coaching his kids in a manner that didn't show any favoritism. From Brandon's perspective, he felt an added responsibility to perform well to earn his place on Valley Christian's team. Haagsma coached both of his sons in basketball, and he has shared his experience with other coaches in the same situation.
"Coaching your own kids – the highs are higher and the lows are lower," Haagsma said. "One of the biggest challenges is learning how to separate being a dad and being a coach."
Haagsma and his kids separated the intensity of the game from their familial relationship by taking separate cars on the way home to remove themselves from the game before talking to each other. No matter the final score of the game, Haagsma always prioritized his responsibility of being a devoted father.
"He's been a really loving dad, a guy that's going to let you know that he's supporting you no matter what and loves you no matter what. Basketball is a game. It's important to us, but it's a game," Brandon said. "And he always let us know that his love for me and my siblings went much farther than just the game of basketball."
Much like his role as a father, Haagsma places importance on developing his players to be not only competent on the court, but good men off it, as well. Caleb Shaw was the star of this year's state championship basketball team. Shaw transferred to Valley Christian after moving to Arizona from Tennessee. During the pandemic, he recovered from a knee injury as he prepared to play his senior season for the Trojans and take on the challenge of being one of the team's leaders.
"[Haagsma] did a good job giving me a leadership role and teaching me how to lead a team to a state championship," Shaw said. "He taught me how to talk to (my) teammates, how you motivate them."
Richard Obert, a high school sports reporter who has worked for the Arizona Republic for more than forty years, admires Haagsma's patience and positive encouragement.
"He's able to bring out the best in his players and letting them know it's okay to make mistakes, that he's not going to be all over them," Obert said. "He's a very positive influence on the kids and keeps them from feeling pressure in big games."
Some of the big games Obert mentioned were battles between Valley Christian and Scottsdale Christian Academy, where Bob Fredericks was the head boys basketball coach for 35 years. Fredericks led SCA to 782 wins and seven state championships during his tenure and matched up with Haagsma's Trojans teams many times. Fredericks first met Haagsma at a tournament hosted by Scottsdale Christian called the Christian Classic Shootout.
"He was super committed to what he did. He definitely had some philosophies," Fredericks said. "He was a guy that was committed to his school, committed to Christian education and to producing a great basketball team."
Haagsma's dedication to his players and their development has led to great success. During his tenure, he has won more than 650 games, ranks fourth all-time in career wins among Arizona boys basketball coaches and is the second-winningest active boys basketball coach in the state. He was inducted into the Chandler Sports Hall of Fame in February 2022 in recognition for his success.
"I think it speaks to the fact that I have been blessed with some really good players. I've had parents that have been very supportive. I've had a very consistent coaching staff–a handful of assistant coaches in over thirty years," Haagsma said. "When one person gets an award like that, it's really about a team that has accomplished some really good things."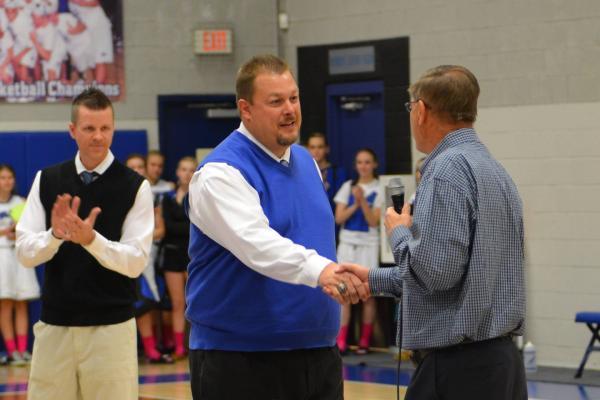 Greg Haagsma shakes hands with his former athletic director, Marlin Broek. (Photo Credit: Valley Christian Schools Facebook)
However, Haagsma's success isn't confined to the basketball court. In 2012, he took over as Valley Christian's athletic director, succeeding the man who hired him, Marlin Broek. In 2021, he was recognized as Arizona's 3A Athletic Director of the Year. In his role as athletic director, Haagsma followed in the footsteps of his predecessor.
"Marlin Broek always said, 'I want to be your biggest cheerleader and I want to help you through things, and I've taken that advice," Haagsma said. "I want to be these coaches' biggest cheerleader. I want to provide them with whatever I can to help them to be the most successful they can be."
In his current roles, Haagsma continues to mentor his student-athletes. Though he has had much success, he continues to set new goals for his basketball team and athletic department.
"I think part of my job is to get our programs to be able to play at a 4A level," Haagsma said. "We have work to do to get all our sports ready to handle that. It's part of our vision. It's not something we're ready for today, but it's something we want to do."
One of the most important components of athletic success is support from the administration. Haagsma credits consistent encouragement from Valley Christian's leadership for his achievements over the years.
"Valley Christian, in its essence, is a school that's trying to provide excellence in all areas academically, physically, certainly spiritually as well," Haagsma said. "In order to have excellence in an athletic area, you have to have the support from administration, and I have been blessed."