Scottsdale Christian wins rematch with Benson for 2A title
May 14, 2022 by Adam Noel, AZPreps365
---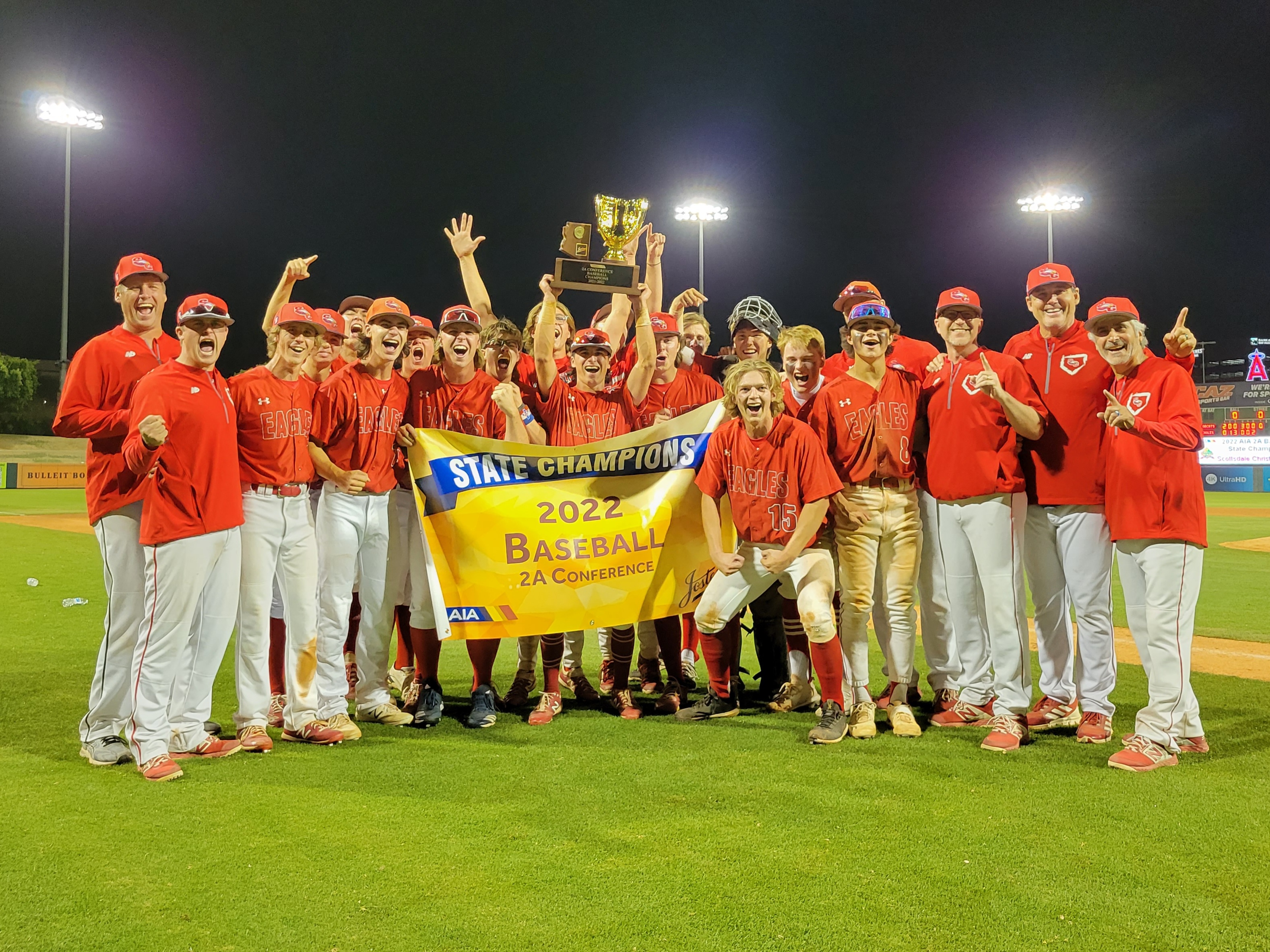 The Scottsdale Christian Eagles are avenging a loss with a state championship banner.
The Eagles stormed back in the sixth inning to pull out a 6-5 win over Benson in the 2A state championship on Saturday night at Tempe Diablo Stadium.
In a game that featured both teams from last year's title game, it was Scottsdale Christian that got revenge and prevented the Bobcats from repeating as champions.
"They got great pitching, great defense and timely hitting," Eagles head coach Tim Salmon said. "It was a dog fight all night long."
And of all the ways the game was decided, it came down to a balk. That fateful call came after Benson pitcher Angel Rigney entered in the bottom of the sixth inning. Scottsdale Christian had tied the game even at five-apiece, but with a runner on third, Rigney was called for the balk and the go-ahead run scored.
That run also signaled the fourth lead change to occur in the back-and-forth title game.
Benson would take control early with a two-run first inning, though the Eagles would take advantage of a pitching change in the third. After starter Tristan Martinez was pulled with the bases loaded and no outs, Dalton Crockett went on to surrender three runs to give Scottsdale Christian a 4-2 lead.
That wouldn't hold long as Benson bounced back with a big fourth inning. The Bobcats benefited from a Zach Laura leadoff triple, his second hit of the game after a double earlier in the contest. Laura would later score the run as Benson plated three runs to grab back the lead at 5-4.
Even more important was the decision by Salmon to put senior pitcher Jack Montgomery in during a tough fifth inning. The right-hander struck out three straight batters and went on to pitch the final three innings for the Eagles. His stable arm proved to be crucial for the team's victory.
"It just felt amazing," Montgomery said. "I've been waiting for that for a year, last year I was in a boot. I broke my foot before playoffs, so I didn't get a chance, I had to watch us lose last year."
Montgomery's strong pitching set up the final push by Scottsdale Christian to tie and take the lead in the bottom of the sixth. Corwin Hemmingsen also played a vital role as he evened the game at 5-5 with an RBI single. That was followed by the balk call tto plate the go-ahead run.
Scottsdale Christian survived the seventh after Benson put its first two batters on base before Montgomery retired the next three Bobcats he faces, and the celebration was on.
And for the Eagles, bouncing back from last season's tough loss meant everything as they won their second 2A title since 2019 and fifth overall.
"It was huge. Last year felt like one that slipped away," Salmon said. "This year, against this Benson team, they're tough, we knew were going to have our hands full. They gave us everything."