Cross Country: Allie Schadler destroys course record & Hopi wins 26th title
November 7, 2015 by Andy Morales, AZPreps365
---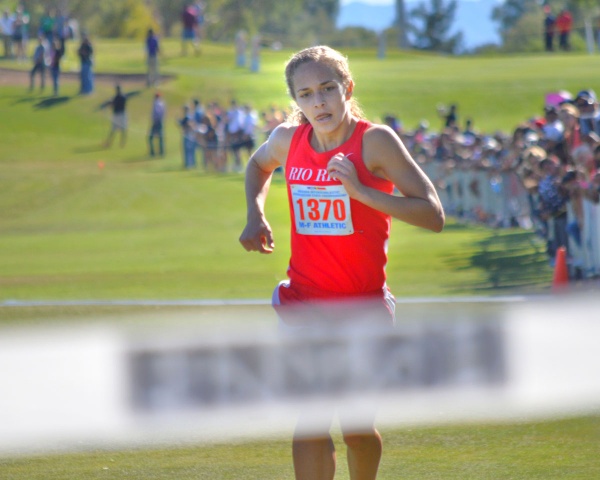 State Cross Country Meet
Saturday, Nov. 7: Cave Creek Golf Course
Former Desert Vista championship runner Dani Jones was awarded the Gatorade State Cross Country Runner of the Year after she broke the course record at the state championships last year.
Her time of 17:26 lasted three days short of one year after Rio Rico standout Allie Schadler destroyed it in the Division III race Saturday with a time of 17:04. The win gave the junior her third straight title.
"My main goal was to help my team win today and the best way was to try to set a high individual finish," Schadler said. "My role was basically to win."
Schadler beat Ganado senior Daangoiina Haven (18:35) by a wide margin. Although spectators were yelling to her that she was on pace to break the record, Schadler ignored the crowd because she has what her coach and father calls an "amazing internal clock."
Simply, Schadler has taught herself to know where she is and how fast she is going on a course without the benefit of having opposing runners pace her.
"People were yelling but I could feel my legs giving out a bit," she added. "But I knew I had to push myself. If I made it that would be great but if I didn't then that would have been good also because I tried."
Haven improved from a third palce finish last year to second this year.
"The heat got to me last year but nothing hurt me much this year," Haven explained.
Schadler's younger sister Samantha came in third. The freshman was in fifth palce at the two-mile marker but was able to make a run in the final 200 meters.
"This was a great team atmosphere," Samantha Schadler said. "I knew I had to try to run faster with people screaming. I had to try."
Page won the girl's team title with 64 points while Window Rock (110) came in second and Rio Rico (115) followed.
The top three teams for each division are listed below along with the top three runners and times. A quick breakdown of each division is as follows: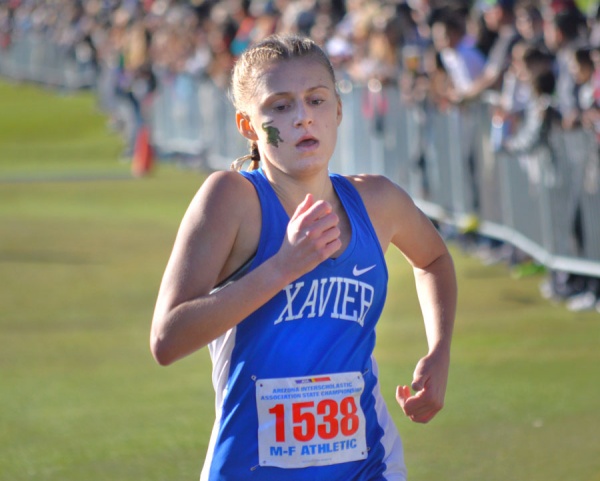 Division I Girls
Xavier junior Sarah Carter led from beginning to end according to the electronic marker. Although she was favored to win, Carter still came in with plenty of motivation:
"A lot of my running is mental and once I became consistent then I knew I could be the best I could really be," Carter explained. "I told myself I had this race I just had to push harder. I love to run," she added.
Desert View standout Emily Crall improved from 11th to second.
"I noticed about four girls around me and I felt the pace was comfortable," Crall said. "I'm glad I finished. It was tough but I credit my fitness improvement."
Jesselyn Bries improved from fifth to third this year. "My confidence was high and I knew I could get it if I worked harder," she said.
As a team, Chandler (43) upset Xavier (51) and Desert Vista (56) to claim the title.
"I knew we could be top three today but it takes a lot of luck to win it," Chandler head coach Matt Lincoln said. "We came this far because we work together as a team.
"But, honestly, I didn't know if we could pull this out. Things had to go our way," he added.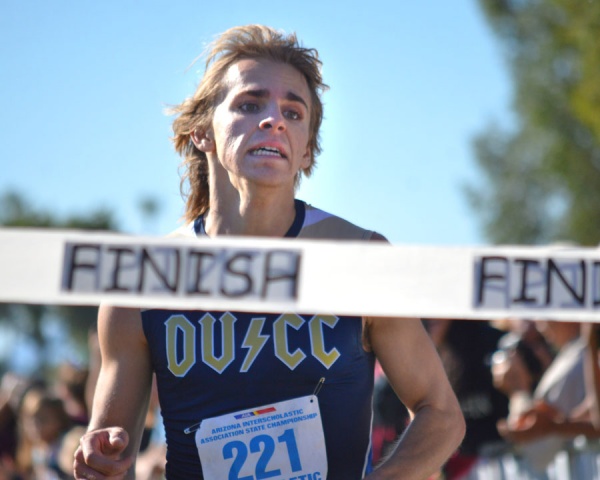 Division I Boys
Desert Vista senior DJ Harris won the individual title after finishing in fourth last year. "I knew there were older guys who weren't here this year and my confidence has also increased," Harris explained.
"I slowly started to pick it up after the two-mile mark."
Perry senior Cade Burks made a huge leap from ninth last year to second his year.
"I am way more confident and this has been the best season I have ever had. DJ is the only runner who has beaten me more than once," Burks said.
Brophy junior Luke Mason took third after coming in way back at 21st last year, "I improved my abilities from last year. I would have liked first or second but I'm happy."
Desert Vista (43) won the team title while Brophy (124) took second and Mountain View Mesa (126) came in third.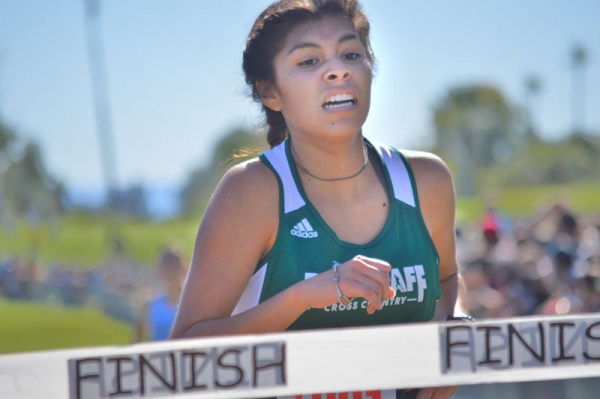 Division II Girls
Flagstaff champion Courtney Lewis helped her team sweep the girl's and boy's titles.
"My coach showed me how good I could be and he told me I deserved this more than anyone else," Lewis said.
"I love to compete. It's my passion."
Dear Valley's Kassidy Deardorff just completed her first year of cross country yet the junior took second place.
"I'm glad I decided to run," She said. "I played volleyball, basketball and ran track last year."
Gila Ridge sophomore Clara Haynes also completed her first year of competition and she did it with a third place finish.
"My sister was unable to finish when she ran because she was injured," Haynes explained. "I wanted to make Madison proud."
As mentioned before, Flagstaff (59) won the team title, Sunrise Mountain (156) took second and Catalina Foothills (158) third.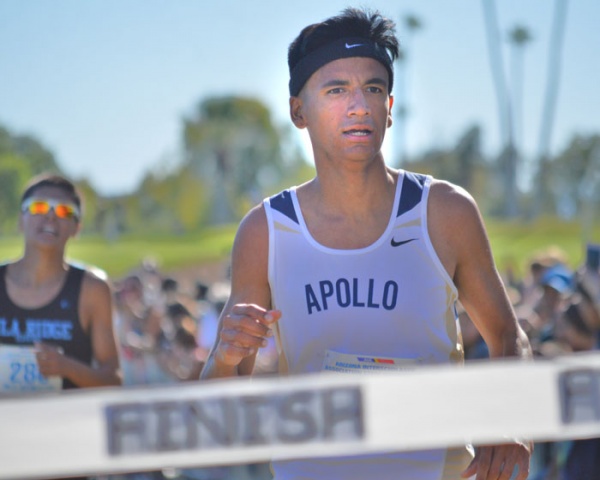 Division II Boys
Diego Lopez is a senior at Apollo and, although he has run for most of his life, Lopez completed his first year of high school competition and he did it with a state championship.
"I can't just sit back like a lot of the other guys," Lopez said. "I want to race. But I didn't feel I had it until I crossed the line."
Aldo Marquez finished in fifth place last year for Gila Ridge. "At the two-mile mark I knew I had a shot," he said. "I'm happy with second place."
Central sophomore Aron Orar is in his first year of cross country and he took third. "I am really glad I had a good showing," he said.
Flagstaff (68) completed the sweep, Gila Ridge (101) took second and Greenway (149) was third.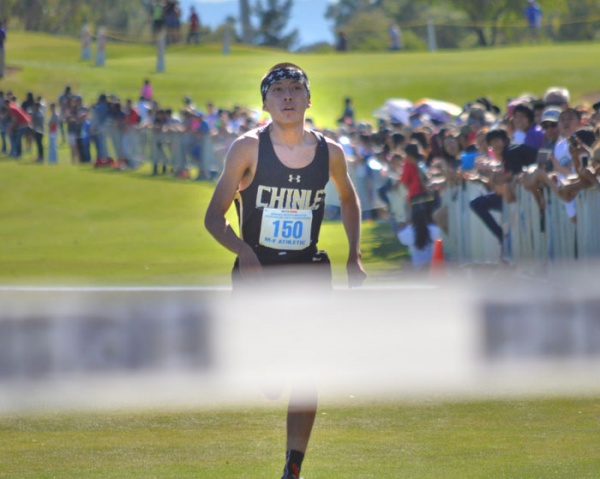 Division III Boys
Chino's Santiago Hardy won the championship and the junior credited his increased confidence.
"My times have improved over the summer and my training got better and I have a lot more confidence in myself," he explained. "I had the confidence to breakaway today."
Snowflake senior Jordan Gardner is another athlete competing in his first year in cross country. "This is pretty exciting," he said on taking second place.
"I am glad to be here. My team hasn't qualified for state in 13 years and running was seen as a punishment but I see it as a blessing. It's a blessing to be able to run everyday," Gardner added.
Ganado sophomore Jalen Chee improved from ninth to third.
"I struggled up to the second mile," he said. "I told myself to keep going and I got better."
Page (61) won the team portion while Chinle (65) took second and Tuba City (70) third.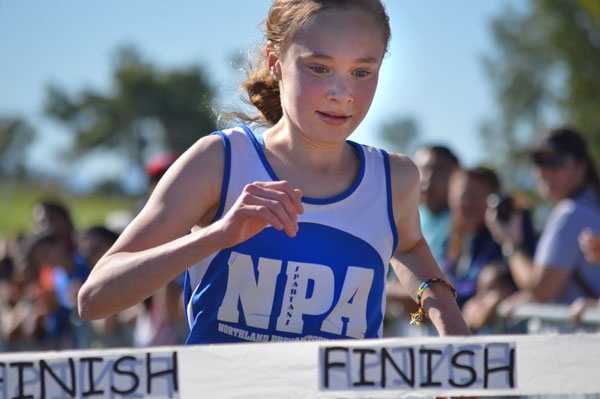 Division IV Girls
Northland Prep sophomore Maya Smith won her second title in a row. Like Schadler, Smith runs within herself.
"I try to just focus on what is ahead of me," she explained. "I feel relaxed and it's good to be our here."
Hopi freshman Jaeda Honani came in second place.
"It was a good accomplishment," she said. "I missed part of the year and a couple of meets because I didn't want to run.
"I didn't like it in junior high but my coach asked me one more time and I gave it a try," Honani added.
Scottsdale Prep senior Haley Everroad took third.
"I was focused more this year and all glory goes to God. He allowed me to be my best," she explained.
"Running was my dad's idea," she added. "I played softball but my school doesn't have a team so he asked me to run. In the beginning I couldn't even run two miles."
Scottsdale Prep features a couple of sisters who will be playing Division I soccer. Kathryn Jaobellis will be playing for Lehigh and Josee for Sam Houston State. The sisters are competing in cross country as part of their rehab from ACL injuries both suffered playing soccer.
The duo refused to just go through the motion as ordered by their physical therapist and the result was a state team championship.
Scottsdale Prep (64) took first and Northland Prep (74) second while Hopi (112) took third.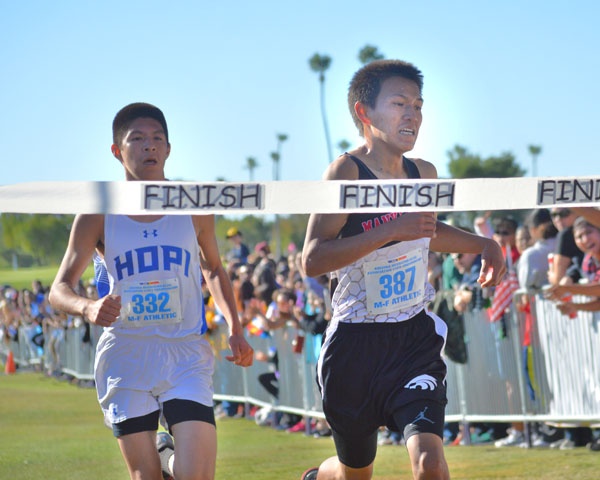 Division IV Boys
Many Farms senior Zhariff Lee won the championship in the closest race of the day over Hopi sophomore Diome Talaswaima.
"I was behind a good ten seconds and I told myself I needed to win this so I sprinted and gave it may all," Lee explained.
"I could hear him behind me. I had to do this for my family and my dad."
Talaswaima felt he still had some kick.
"This as fun and I placed in the top three but I lost it when we turned," he explained.
Glendale Prep senior Chase Chittester made a huge leap from 26th to third. "It took more and more work and nothing feels better than improving and getting better."
Hopi (59) extended their win streak to 26 championships in a row. It is the longest streak in the nation.
Many Farms (129) took second and Pinon (154) third.
Division I Boys Team
1 Desert Vista 43
2 Brophy 124
3 Mountain View Mesa 126
Division I Boys Individual
1 DJ HARRIS Desert Vista 15:50
2 Cade BURKS Perry 16:03
3 Luke MASON Brophy 16:06
Division I Girls Team
1 Chandler 43
2 Xavier 51
3 Desert Vista 56
Division I Girls Individual
1 Sarah CARTER Xavier18:08
2 Emily CRALL Desert Vista 18:17
3 Jesselyn BRIES O'Conner 18:24
Division II Boys Team
1 Flagstaff 68
2 Gila Ridge 101
3 Greenway 149
Division II Boys Individual
1 Diego LOPEZ Apollo 16:14
2 Aldo MARQUEZ Gila Ridge 16:17
3 Aron ORAR Central 16:22
Division II Girls Team
1 Flagstaff 59
2 Sunrise Mountain 156
3 Catalina Foothills 158
Division II Girls Individual
1 Courtney LEWIS Flagstaff 18:36
2 Kassidy DEARDORFF Deer Valley 18:41
3 Clara HAYNES Gila Ridge 18:52
Division III Boys Team
1 Page 61
2 Chinle 65
3 Tuba City 70
Division III Boys Individual
1 Santiago HARDY Chino 15:58
2 Jordan GARDNER Snowflake 16:27
3 Jalen CHEE Ganado 16:39
Division III Girls Team
1 Page 64
2 Window Rock 110
3 Rio Rico 115
Division III Girls Individual
1 Allie SCHADLER Rio Rico 17:04
2 Daangoiina HAVEN Ganado 18:35
3 Samantha SCHADLER Rio Rico 18:46
Division IV Boys Team
1 Hopi 59
2 Many Farms 129
3 Pinon 154
Division IV Boys Individual
1 Zhariff LEE Many Farms 16:34
2 Diome TALASWAIMA, Hopi 16:34
3 Chase CHITTESTER Glendale Prep 16:42
Division IV Girls Team
1 Scottsdale Prep 64
2 Northland Prep 74
3 Hopi 112
Division IV Girls Individual
1 Maya SMITH Northland Prep 18:20
2 Jaeda HONANI Hopi 19:11
3 Haley EVERROAD Scottsdale Prep 19:45
---