WRESTLING: Chino Valley wins Mountain View Duals
December 20, 2015 by Andy Morales, AZPreps365
---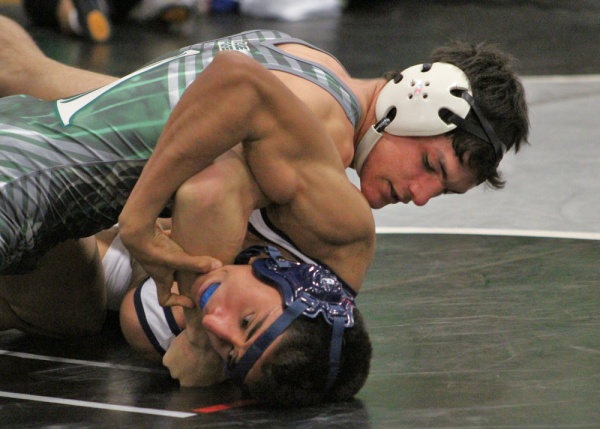 Chino Valley won the Marana Mountain View Duals Saturday with Kendall Foster leading the way with a win in the 126-pound weight class. Mountain View took second and Safford came in third.
Foster was named Outstanding Wrestler along with Trey Waltz (145) of Mountain View and Saul Payan (160) of Amphitheater. Foster moved up from the 120-weight class last year where he took fourth at state and 106 two years ago when he came in third.
Payan wrestled in the 152-lb weight class last year and he came away with a second place finish for the Panthers. As a team, Amphitheater came in second in Division III. Waltz has also moved up in weight class with his highest finish coming during his sophomore season when he took second wrestling at 126.
Mountain View came in third in Division II last year and Chino valley came in ninth in Division III.
"I want to make the best of my time I have left at Mountain View," Waltz said. "I want to leave it all on the mat and have no regrets."
The senior has a couple of college options next year but his obvious goal is to win a state championship first. "Everyone has room for improvement," he added. "There is always something to work on and winning state is everyone's goal."
Amphitheater came away with five championships out of the 14 weight classes.
Team Champions: Chino Valley
Runner Up: Mountain View
Third Place: Safford
Outstanding Wrestlers
Kendal Foster (Chino Valley) 126
Trey Waltz (Mountain View) 145
Saul Payan (Amphitheater) 160
Champions
106 Javier Ortiz (Mt. View)
113 Armando Valencia (Sahuaro)
120 Ryan Henkel (Mt. View)
126 Kendall Foster (Chino Valley)
132 Tino Murillo (Sahuaro)
138 Yarhoski Aldiva (Amphi)
145 Trey Waltz (Mt. View)
152 Dawon Andrew (Safford)
160 Saul Payan (Amphi)
170 Rafael Paredes (Amphi)
182 Shaw Boutte (Boutte)
195 Kyle Rodriguez (Amphi)
220 William Walker (Cienega)
HWT Cristian Sanchez (Amphi)
---