BOYS HOOPS: Salpointe outlasts Sunnyside in overtime
January 6, 2016 by Andy Morales, AZPreps365
---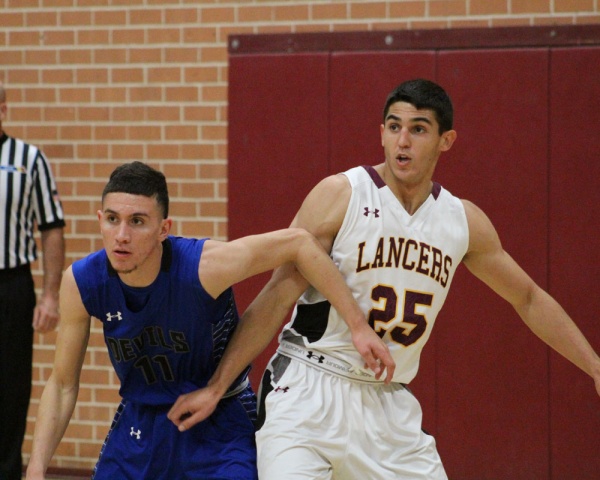 They say basketball is a game of runs and that was the case Tuesday night when Salpointe Catholic came back from nine points down only to give up an 11-point lead before outlasting Sunnyside 74-68 in overtime.
Sunnyside (11-5 overall, 6-1 in ranking games) came into the game as the top-rated Division II team in the state according to the latest AIA/MaxPreps rankings while Salpointe (11-4, 6-1) held down the 10th spot but none of that matters with about five weeks left in the regular season.
Both teams, in a sense, are still learning things about themselves and this game will help as they prepare for sectional play. Then it will matter.
"A couple of our guys have never played in a game like this and they got some good playing time tonight," Sunnyside head coach Rob Harrison explained. "We showed some grit and still had a shot to win it."
Three Blue Devils fouled out of the game, including senior standout Jacob Inclan, causing Harrison go deep into his bench but the Lancers responded at times with uneven play. It seemed like no one wanted to win and no one wanted to lose.
"We couldn't shoot well at the beginning but then we responded after taking one possession at a time," Salpointe coach Brian Holstrom said. "We were hot and cold but we chipped away when we were down and Jacob Inclan came up big when we were up. It was a great atmosphere."
Inclan hit a 3-pointer with 3:30 left in the second quarter to give Sunnyside a 26-17 lead and it looked like the Lancers were going to crumble at that point. It was Inclan's third 3-pointer of the game to that point and his 11th point overall but the game changed quickly with the Blue Devils going scoreless for two minutes while Ethan Parkhurst went to work at the free throw line.
Parkhurst made six straight free throws to cut the lead down to 26-23. Parkhurst would go on an hit two 3-pointers to start out the third quarter and the Lancers took a 36-32 lead with 4:23 left in the period.
Cesar Ozuna sparked another run with a quick bucket and that was followed by back-to-back 3-pointers from Carlos Lozoya and Inclan. The mini-run put Sunnyside back up 40-36 but Cameron Miller, Parkhurst and O'Brien closed out the quarter with three straight 3-pointers to give the Lancers a 45-40 lead.
The 3-pointers kept on coming and a bucket from Isaac Cruz gave Salpointe a 56-45 lead with 5:06 left in the game. It looked and sounded like it was over. The Lancer student section responded to every 3-pointer as expected but Inclan was still on the floor.
A basket from Lozoya and two more 3-pointers from Inclan made the score 57-53 with 3:08 left. A free throw from Eddie Krasinski made it 58-53 with 1:35 left. Inclan had fouled on the play but the Blue Devils were still in it after Salpointe had a turnover and some missed free throws down the stretch. Lozoya hit two free throws to cut the Lancer lead down to 58-55 and then Mikey Silva nailed a 3-pointer with 1:13 left to tie the game up 58-58.
Salpointe turned the ball over and Sunnyside held on for the last shot but it came up short. Overtime.
The two teams battled back and forth and Sunnyside took a 63-62 lead with 1:41 left on a pair of Ozuna free throws but then came Miller. Miller converted on an old-fashioned 3-point play and then made four more free throws to give Salpointe a 69-63 lead with 33.6 seconds left and he did it with his father, Sean Miller, sitting in the stands. Miller is the head coach of the University of Arizona. Ozuna fouled out in the process but Sunnyside was still in it.
Lozoya hit a 3-pointer with 25.2 seconds left and the lead was down to 69-66 but then Francisco Betancourt fouled out. O'Brien responded with three free throws and the Lancers led 72-66 with 8.2 seconds left.
Incredibly, Sunnyside still had a chance after a Lancer turnover. Lozoya converted on two more free throws and the Salpointe lead was down to 72-68 with 11 seconds left but Krasinski put the game away with two free throws to preserve the 74-68 win.
Inclan finished with 20 points to lead Sunnyside while Lozoya added 17 and Ozuna scored 10 more. Parkhurst led all scorers with 21, Cruz had 14 and Miller and O'Brien scored 13 each for Salpointe.
The loss was the Blue Devils third in the last four games. Two came in overtime and another was by one point. Only a last-second shot prevented a fourth loss.
"I can't wait till we win one by double-digits," Harrison said jokingly. "We have to stop fouling with the score tied and take care of some other things. But we were still in this game."
Sunnyside hosts No. 31 Tucson (10-7, 5-4) on Friday. The Badger's overcame a 13-point deficit to Sahuaro in the fourth quarter Tuesday night to win the game 57-55 so the Blue Devils better not overlook their rivals.
Salpointe will visit No. 18 Rincon/University (11-6, 6-2) on Friday. The Rangers feature 6-foot-10-inch Brendan Rumel. It should be another great game.
"The fans saw two of the best teams in the state play tonight," Holstrom added. "We were fortunate we played this game in our house. Sunnyside is a great program."
---