BOYS HOOPS: Pusch Ridge wins with secret weapon on the bench
January 29, 2016 by Andy Morales, AZPreps365
---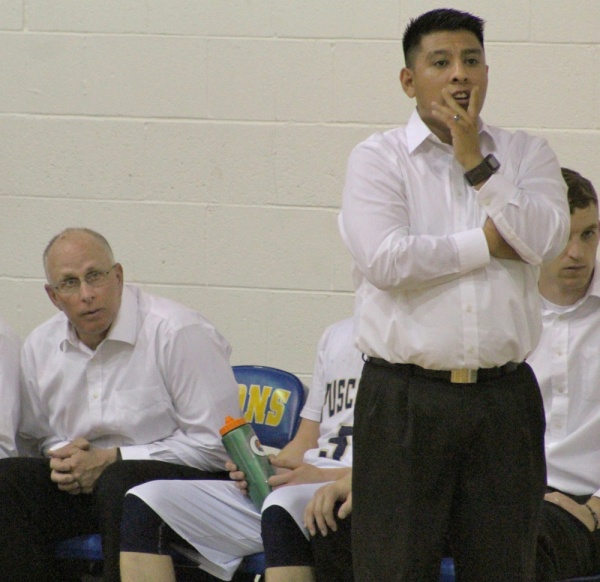 Pusch Ridge overcame a rough start Friday night but the Lions eventually pulled away from Sahuarita for a 52-37 win. The Lions (18-7) are ranked 12th in Division IV while the Mustangs (2-20) are struggling in D-III.
The game was one of the few remaining "Freedom" games on the schedule which means sectional tournaments are drawing near. Six teams will qualify for the section tournament in D-IV, Section II and Pusch Ridge (6-1 in section) appears to be safe along with Thatcher (7-0) and Pima (7-1). Douglas (4-3), Morenci (4-3), Tanque Verde (3-5) and Catalina (2-5) are positioning for the remaining three spots.
Sahuarita has three games remaining in the regular season with virtually no chance of playing in the postseason but the Mustangs forced Pusch Ridge to play a complete game from beginning to end.
Pusch Ridge led 8-6 after the first period but the Lions went on an 11-0 run to start the second to build a 19-6 lead. That run proved to be the difference in the game although Sahuarita would eventually cut the lead down to 27-22 with 3:50 left in the third.
Aaron Noller scored eight points to help the Lions rebuild a 42-26 lead heading into the fourth and Pusch Ridge held on for the 52-37 final margin.
The Lions have a lot of weapons on the court but one of the reasons for their success can be found on the bench sitting next to head coach David Thomas.
Thomas is in his first-year coaching at Pusch Ridge and he hit the lottery when Jim Reynolds agreed to be his volunteer assistant coach.
Reynolds is a Hall of Fame coach from Cincinnati where he retired from coaching Madeira High School after 25 tears. He had 22 straight winning seasons, he won 11 Cincinnati Hills League titles, 10 sectional titles and six district titles. He was named the Coach of the Decade for the 1990s.
His son, Ryan Reynolds, is the Director of basketball Operations at the University of Arizona and has been on the Arizona staff since 2010.
"Madeira was phasing out physical education classes so I was basically out of a job after 25 years," Reynolds explained. "We have a daughter in California and a son here so it was always in the back of our minds that we would one day move out west so we decided to give it a try."
Reynolds is now a Physical Educator at Wilson K-8 in the Amphitheater School District. As it turns out, former UCLA standout and University of Arizona women's head coach Judi LeWinter is an assistant principal at the school and his son, Ryan, knew Thomas through the club circuit.
"My son asked me to give David a call and we went from there. "I agreed to be a volunteer coach because I wanted to be able to do the things I wasn't able to do when I was coaching," he explained.
"My sister is having a birthday party in Florida, we want to visit our daughter when we can and we can watch some Arizona games. I couldn't have done any of those things if I was still coaching. Besides, I cheated my wife out of all those years when I was coaching."
Reynolds had to step in and take more of a head coach role when Thomas was ill last week but that's part of the luck of having a legend on the bench.
"I may give it another try next year," he added. "I will turn 61 next week and I have almost 30 years of experience in my head. I hope that some of the stuff I offer is helping us. I love this school and the players. I'm glad I'm here."
Reynolds is one of several "secret weapons" disguised as assistant coaches who have made quiet but important contributions in the last few years.. Legendary Sunnyside head coach Dwight Rees sits besides current head coach Rob Harrison. Rees is a Hall of Fame coach who guided the Blue Devils to s ate championship. His presence on the bench has gone mostly unnoticed.
Former Wildcat and current NBA standout Rondae Hollis-Jefferson was a volunteer assistant at Cienega three years ago while former Arizona standout and current Phoenix Mercury coach Julie Brase sat unnoticed on the Catalina Foothills bench.
Finally, Reggie Geary went almost totally unnoticed when he sat on the Salpointe bench a few years earlier. The former Arizona and NBA player is now coaching in Japan.
NOTE: Sean Elliott's nephew Lucas Elliott is a freshman at Pusch Ridge.
The AIA Basketball Selection Show is scheduled for Sunday, Feb. 14.
---