SOFTBALL: Canyon del Oro wins Dorado Classic
February 28, 2016 by Andy Morales, AZPreps365
---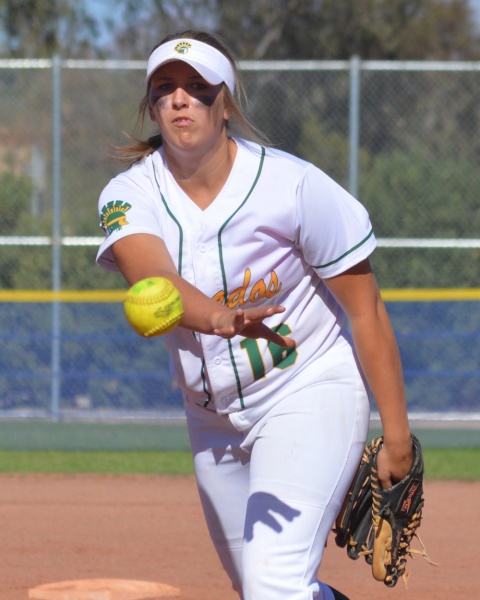 Dorado Softball Classic
Feb. 25-27: Marana Sports Park
Canyon del Oro defeated Ironwood Ridge 7-4 Saturday afternoon to capture the 14th edition of the Dorado Classic. The field included 20 teams including reigning Division I state champion Sandra Day O'Connor.
Canyon del Oro (7-0-1) defeated Desert View 8-4 in the semifinal round earlier in the day while Ironwood Ridge (5-1) took care of O'Connor 8-5 in the other semifinal game.
The Dorados jumped out to a 2-0 lead after Carli Campbell led off with a single and Nene Campos and Ellessa Bonstrom reached on back-to-back walks. Ari Acedo followed with a 2-RBI single to score Campbell and Campos but Mandy Lorenson limited the damage by shutting down the next three batters.
The Nighthawks had a similar result in the bottom of the first with Jaiden Reid, Reina Bondi and Isabel Pacho reaching on consecutive singles to start things off. Pacho knocked in Reid to cut the lead down to 2-1 but Halle Morris erased three straight batters to protect the lead.
The Dorados stranded five runners in the second and third inning but Ironwood Ridge cashed in on two runs in the bottom of the third to take a 3-2 lead.
Bondi led off with a single and Pacho singled again. Annika Baez sacrificed Bondi home and Morgan Haft singled in Pacho one out later for the lead.
Both teams were scoreless in the fourth but Canyon del Oro took the lead back in the fifth on a pinch-hit double from Arianna Felix and RBI singles from Shelby Hotchkiss and Wendy Castro.
Up 4-3, the Dorados added another run in the sixth on an RBI single from Acedo to score Bonstrom. The Nighthawks got one run back in the bottom half of the sixth after Emily Hartzler doubled and then scored one out later on a groundout from Reid.
Ironwood Ridge was down 7-0 to Marana Mountain View earlier in the day but the Nighthawks scored eight runs in one inning to win that game so no lead was safe and Bonstrom came up big in the top of the seventh to provide a couple of insurance runs.
Castro was walked with two outs in the top of the seventh and Campbell reached on another walk. Campos reached on an infield hit to load the bases for Bonstrom and the sophomore delivered on a 2-run single to put CDO up 7-4.
"Our team is gifted defensively and I think we are going to have another great season," Bonstrom said. "We work well together and we seem to cheer more for each other this year."
Bonstrom's sister is former Dorado ad current Stanford great Kayla Bonstrom. Kayla Bonstrom has been named to numerous All-American teams and is on the USA Softball Collegiate Player of the Year Top 50 Watch List this spring. Ellessa has committed to play for Utah after a breakout freshman year last season.
"I expect to do everything I did a as freshman," Bonstrom added. "Anything I can do to help my team."
Gabi Blevins replaced Morris in the fourth and she put two on with one out in the bottom of the seventh but she ended all threats with back-to-back strikeouts for the win.
Bondi went 3-4 for the Nighthawks and she will be playing for UNLV next year. She is one of 12 seniors on the Ironwood Ridge roster.
"We have a good squad with lots of talent," Bondi said. "With 12 seniors we seem to be more motivated to have a successful year. I think we will do well."
Also leading Ironwood Ridge were Pacho (2-3, Double) and Emily Turecek (2-2, double).
For CDO, Campbell went 2-4 with a double and Acedo went 2-4 with 3 RBIs.
O'Connor defeated Desert View 9-1 in the third place game.
---