GOLF INVITATIONALS: Salpointe standout Annabelle Huether wins Nighthawk Invitational
August 28, 2016 by Andy Morales, AZPreps365
---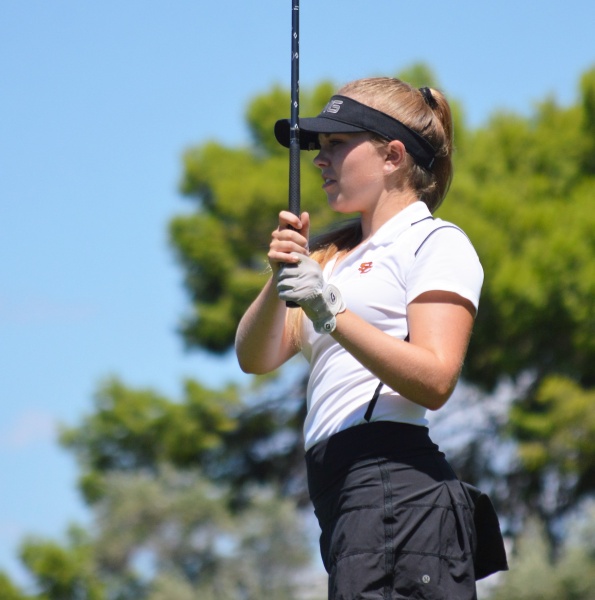 Salpointe junior Annabelle Huether won the Ironwood Ridge Nighthawk Invitational by ten strokes (156, +10) over her Lancer teammate Alexandra Quihuis (166, +20). Huether led the pack by two strokes after day one but then shot a tournament-best 77 on Saturday to clinch her victory.
"I was really happy with the way I played this weekend," Huether said. "I felt like I was steady and Tucson National is obviously not the easiest course."
Salpointe only had four golfers take part in the inviational but Huether sees good things happening this year.
"I really love playing team golf," she added. "We have a small group this year but my teammates and coach (Scott) Evans are awesome. I plan to enjoy the time I get to play and practice with them and get my game in the best possible shape for the state tournament."
Notre Dame won the team title with Catalina Foothills coming in second.
.
Ironwood Ridge Nighthawk Invitational
Omni Tucson National: Aug. 26-27
TEAM SCORES
1 Notre Dame Prep +118 365 337 702
2 Catalina Foothills +177 397 364 761
3 Ironwood Ridge +213 391 406 797
4 Salpointe Catholic +248 418 414 832
5 Perry +278 417 445 862
6 Marana +287 451 420 871
Buena +279 365 352 717
INDIVIDUAL
1 Annabelle Huether, Salpointe +10 79 77 156
2 Alexandra Quihuis, Salpointe +20 81 85 166
3 Brianna Lewis, Buena +21 83 84 167
4 Katherine Wilson, Notre Dame +22 87 81 168
4 Marisol Benavidez, Marana +22 83 85 168
6 Kassandra Tejeda, Catalina Foothills +27 87 86 173
7 Cloe Eckert, Notre Dame +30 91 85 176
8 Jordan Weaver, Notre Dame +33 94 85 179
8 Makayla Sugidono, Notre Dame +33 93 86 179
8 Dakotah Kreil, Perry +33 90 89 179
11 Allison Acosta, Ironwood Ridge +35 87 94 181
12 Aspen Thies, Ironwood Ridge +39 92 93 185
13 Alexis Pico, Marana +42 95 93 188
14 Maddie Conway, Catalina Foothills +55 103 98 201
15 Elizabeth Miller, Catalina Foothills +56 104 98 202
15 Sofia Blavatsky, Notre Dame +63 101 101 202
17 Katherine Gloss, Perry +59 102 103 205
18 Cody Hutchison, Catalina Foothills +63 103 106 209
20 Alexa Nunns, Notre Dame +67 103 110 213
21 Nikkie Gonzalez, Ironwood Ridge +68 108 106 214
22 Felesha Vargas, Ironwood Ridge +71 104 113 217
23 Elizabeth Satterfield, Ironwood Ridge +80 109 117 226
24 Victoria Howell, Buena +82 115 113 228
25 Brielle Ruscitti, Notre Dame +84 116 114 230
26 Caitlyn Clark, Perry +91 117 120 237
27 Ashlynn Henry, Perry +95 108 133 241
28 Anna Rasoumoff, Salpointe +100 125 121 246
29 Lauren Scott, Marana +106 131 121 252
30 Neha Blair, Salpointe +118 133 131 264
31 Brooke Reed, Marana +127 142 131 273
32 Mckenzie Slattery, Buena +176 167 155 322
DNS Maya Benita, Catalina Foothills +9 82
DNS Analysa Martinez, Marana +48 121
DNS Corrin Greer, Catalina Foothills +51 124
DNS Megan Tenorio, Perry+58 131
DNS Kelsie Contorno, Marana +73 146
---