VOLLEYBALL: Bill Lang reaches 400 wins with victory over Rincon
September 13, 2016 by Andy Morales, AZPreps365
---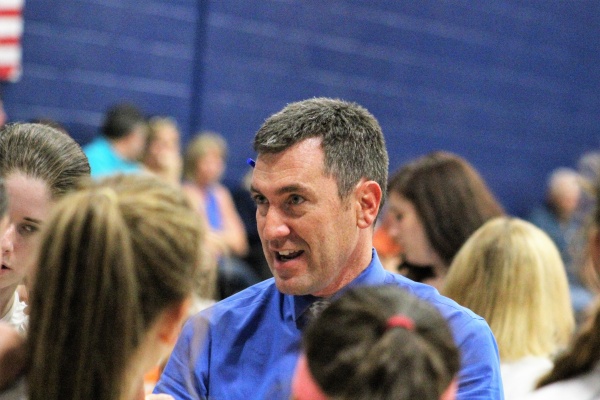 Ironwood Ridge improved to 5-0 on the year after beating Rincon/University 3-1 (25-21, 17-25, 25-13, 25-22) Tuesday night at home. With the win, head coach Bill Lang joined Juanita Kingston and Sandy Novak in the 400-win club for girls' volleyball from Southern Arizona.
Kingston led the Rincon/UHS girls to a state championship in 1993 and she still holds the record for Southern Arizona at 455 wins. Novak led Sahuaro to 402 wins before concentrating solely on the boy's program at the school. Kingston retired in 2008 and Novak will retire this spring.
Lang should move past Novak on the win list in the coming week and will most likely challenge Kingston for the top spot sometime next year. As it is now, Kingston has 671 total wins between the boys and the girls, Novak has 637 and Lang has 618. In terms of total matches coached, Kingston leads with 972 and Lang is second with 933. Lang should be the first coach from Southern Arizona to coach in 1,000 matches if he stays in it for a couple of years.
"It means I'm old," Lang joked about reaching the 400-win mark. "It means our system works. Work hard, hold yourself accountable and have your players buy in."
Lang also credits the assistant coaches he has had along the way along with the many All-State players that have played in his gym.
"I'm most proud that we won this many matches with the kind of schedule we have played over the years," Lang added. "We played in our last Tucson tournament in 2009. We tested ourselves by playing the big Phoenix teams. We see how the Phoenix coaches make adjustments. It just makes your program better."
The Nighthawks beat Phoenix power Notre Dame Prep (3-0) last Tuesday at home and will play at Hamilton on Tuesday, Sept. 20. The team will also take part in the Tournament of Champions in Phoenix this weekend (Tucson and Mountain View are also lasted to take part) as well as the mega Nike Tournament of Champions at the end of the month. Sabino will also take part in the Nike Tournament.
Playing as many Phoenix-area teams in the regular season as you can is imperative because the last "Big School" championship from Southern Arizona was the one won by Kingston in 1993. Smaller schools such as Benson, Thatcher, Bowie/San Simon and St. David have had more recent success.
Lang recorded the last runner-up finish from Southern Arizona in 2014.
Ironwood Ridge and Rincon battled to a 19-19 tie in the first set but the Nighthawks closed the set out 25-21. The Rangers cruised to a 25-17 win in the second set before dropping the third set 25-13.
Rincon took a commanding 15-11 lead in the fourth set but Lexi Orth recorded five of her team-high 15 kills down the stretch to give Ironwood Ridge a 21-18 lead and Makenna Ohlmaier put down three of her 13 kills to close the set out 25-22.
As dominant as Orth and Ohlmaier were for Ironwood Ridge late in the match, Jen Angier was equally impressive early on for Rincon. Angier appeared almost unstoppable and finished with 16 kills on the night. Her teammate Victoria Corona added 11 kills and 21 digs.
"We are getting there," Rincon head coach Nick Mata explained. "We are progressing towards the end of the year where we want to be. Ironwood Ridge had a solid attack all the way around and forced us to use a defense we are not used to. They took us out of our comfort zone and hampered our ability to move the ball."
Rincon is now 3-2 in power-ranking matches and the Rangers will also face a couple of teams from the Phoenix area this year with Highland visiting Thursday, Sept. 15 and Mesa on Sept. 27.
Rincon will also take part in the La Jolla Coastal Classic next weekend along with Catalina Foothills and Vail Empire.
More Rincon leaders from the Ironwood Ridge match include Camille Hanzlick with 25 digs, Hannah Parrish with 28 assists while Cate Webb and Corona added seven blocks each. Jaclyn Inclan had 38 assists and 20 digs for the Nighthawks and Orth added 14 digs.
---