FOOTBALL: Mountain View with big 60-37 win over Desert View
October 8, 2016 by Andy Morales, AZPreps365
---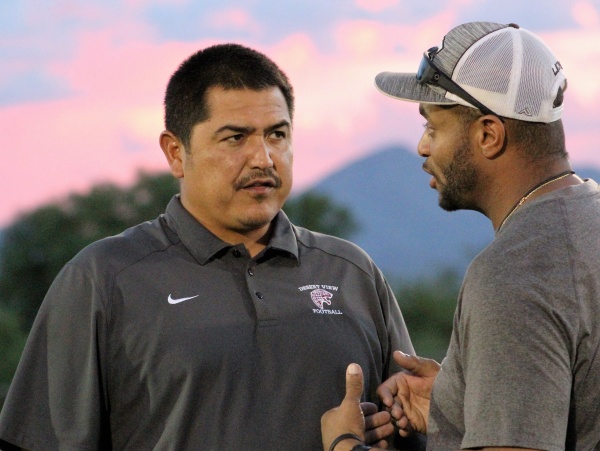 Mountain View scored 39 points in the second half of what was once a close game to defeat Desert View 60-37 in an important 5A match between two highly-ranked teams positioning themselves for the final run to the state playoffs.
Mountain View moved to 5-2 on the year and the Mountain Lions will most likely improve upon their No. 12 ranking with the victory over No. 6 Desert View (6-1). The Jaguars remain 1-0 in the Sonoran Region and Mountain View will stay at 0-1 in the Southern Region. This was the last non-region game for both squads.
Desert View will host No. 17 Flowing Wells (4-3, 1-1) next Friday while Mountain View will travel to Sahuaro (2-5, 1-1). Seven wins has historically been the benchmark for making the state playoffs so the margin of error is slim for both teams with three games remaining on the schedule.
Down only 28-21 with 6:03 left in the third quarter, Desert View was unable to stop Mountain View on a long fourth down and the Mountain Lions added another score to go up 35-27 heading into the fourth. The 12-yard run by Mountain View QB Caleb Ryden on the 4th and 8 from midfield kept the drive alive and Desert View was unable to respond. It turned out to be the turning point of the game as defense on both sides gave way to 41 combined points in the fourth quarter.
Desert View senior running back Alex Courtemanche finished with 168 yards rushing and four touchdowns to improve to a state-best 1,516 yards rushing and 24 touchdowns. He gave Desert View a 14-13 lead on an 11-yard run in the second quarter but Mountain View was able to respond each time Desert View made a move.
Ryden rushed for a game-high 182 yards and threw for 285 more to pace the Mountain View offense. In all, Ryden accounted for seven touchdowns. His main target, Isaiah Lovett, finished with 148 yards receiving with three TD catches while Sebastian Spencer had 108 yards receiving and two scores. Desert View QB Cesar Olivas finished with 112 yards passing and 37 yards rushing with one touchdown.
Even with the loss, this has been a dream season for the Jaguars and Courtemanche saw it coming sometime last summer.
"It's been a group effort," Courtemanche explained. "Everything I have been able to do is because of my teammates. We worked hard in the offseason and I saw the effort then and knew this was going to be a special year."
Mountain View lineman Kai Golden was invited to play in the Offense-Defense All- American Bowl game to take place in late December in Atlanta. Golden learned of the invitation right before the game. Only a junior, Golden stands 6-foot-2 and weighs 285 pounds.
"I went to camp in California last summer and I got invited to play," Golden said. "This win puts us back on track even though we still aren't perfect," he added. "We need to take care of what's ahead of us."
---