GIRLS VOLLEYBALL: Salpointe wins Falcon Invite over Rincon
October 8, 2016 by Andy Morales, AZPreps365
---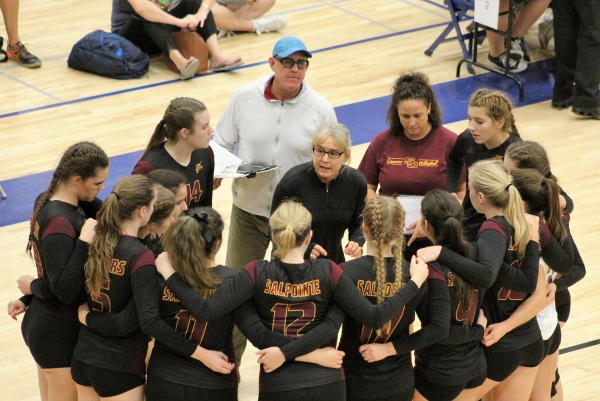 Salpointe went 5-0 to capture the championship of the Catalina Foothills Lady Falcon Invitational. The Lancers beat Rincon/University 3-1 in the final on Saturday afternoon.
Salpointe took the first set 25-21 but Rincon/UHS (4-1) forced a third set after winning the second set 25-23. The Lancers built a 5-2 lead in the third set but the Rangers battled back to tie the deciding set up 9-9 despite giving up two service errors.
Salpointe went on a 6-0 run to close out the set and match 15-9 with sophomore hitter Madison Sundholm providing the final two points.
Matches during invitationals do not effect power-rankings but Rincon/UHS is No. 12 in the 6A Conference and Salpointe is ranked No. 6 in the 4A Conference.
Canyon del Oro beat Cienega 2-0 to take third place in the Gold Bracket and Amphitheater beat Walden Grove 2-1 to take third in the Silver Bracket.
3A Conference power Tanque Verde continues to shine under second year coach Michelle Malis. The Hawks came up with what is arguably the biggest win in program history when the team beat Cienega 2-1 in pool play on Friday. The Bobcats are ranked No. 5 in the 5A Conference. (Tanque Verde came up with a big win against Catalina Foothills last year.)
But the lack of consistency caused the Hawks to fall to Las Vegas Palo Verde in their next match, sending the team to the Silver Bracket.
"We have three freshmen and two sophomores on the court so it's difficult to be consistent," Malis explained. "We are looking for sustainability but the girls are doing a good job staying within the system."
A former standout at the University of Arizona, Malis was named Outstanding Female Coach by USA Volleyball last May. Her freshman daughter, Ainsley Malis, led the team with 11 kills in the final against Mesquite, Nevada.
Tanque Verde won the first set of the Silver Bracket championship 25-13 and held on to win the second set 26-24 after giving up a 13-5 lead. Mesquite actually took a 24-22 lead in the second set but Malis put down two scores to tie the set up 24-24 and then senior Becca Walton put the match away with two more scores.
---