D-III CROSS COUNTRY: Allie Schadler wins 4th title, sets new record
November 5, 2016 by Andy Morales, AZPreps365
---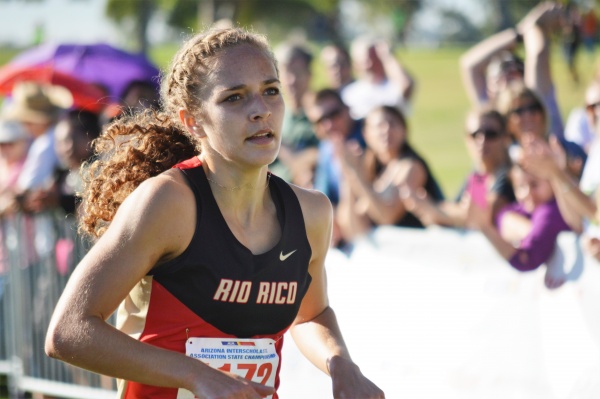 DIVISION III
Rio Rico senior Allie Schadler ran a record 17:03 at the Division III state meet on Saturday to win her fourth state championship in a row. Her younger sister, Samantha Schadler took second (17:58) and Salpointe junior Ana Alvarez-Tostado took third (18:54).
Alvarez-Tostado set the pace for a team championship by the Lancers with 97 points. It is the second state championship for Salpointe.
"I had a mindset to just win the state tournament last year," Allie Schadler explained. "I wanted to break 17 minutes this year but I'm very happy with the results."
Schadler will be running for the University of Washington next year.
The Schadler sisters were the only girls to break 18 minutes on Saturday on the course run on the Cave Creek Golf Course in Phoenix. Only a sophomore, Samantha is preparing herself for a life without her sister on the course.
"She is my role model and I have always looked up to her," Samantha said. "It's going to be disappointing to me to not have here there for me"
Alvarez-Tostado finished in 41st place last year and she set high goals for herself in what was one of the most remarkable jumps in position in recent history.
"I worked even harder after last year," Alvarez-Tostado explained. "I changed my mindset. I told myself, 'I can do it' and I discovered running is 90 percent mental and only 10 percent physical. I'm just proud of my teammates and happy to be a part of them."
On the boy's side, Page won the team title with 77 Points to capture the program's third trophy in a row and 13th overall.
Chinle senior Santiago Hardy won his second championship with a time of 15:27.
"My first championship was unexpected and it came out of nowhere," he explained. "I worked hard for this one and now I'm ready for whatever comes at me."
---