4A BOYS SOCCER: Coronado outlasts Salpointe through PKs to win championship
February 11, 2017 by Andy Morales, AZPreps365
---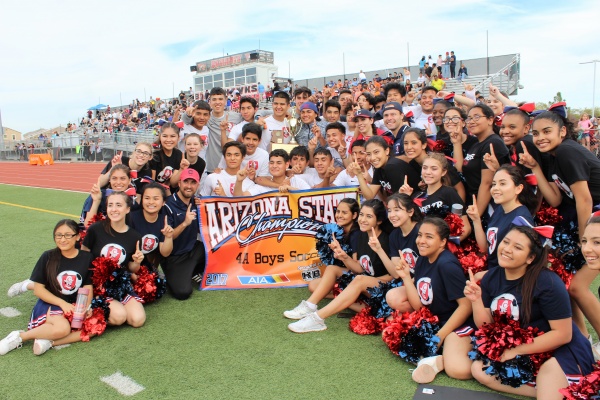 Top-seeded Coronado held on to defeat No. 3 Salpointe 4-3 in the 4A state championship match held at Williams Field Saturday afternoon. The two teams went to PKs after surviving through 110 minutes of regulation play, two overtime periods and two "Golden Goal" periods. The Dons outscored the Lancers 5-3 in the PK round to win the second state championship in program history.
The Lancers outshot Coronado 23 to 14 in the match but the Dons capitalized early on a rebound in the 19th minute by Adan Valle to put Coronado up 1-0. Valle had just entered the game moments earlier.
Alfonso Cabrera evened things up in the 51st minute on a penalty kick and Francisco Manzo put Salpointe up 2-1 in the 64th but Coronado wasted little time and scored on a PK of their own 24 seconds later.
Irvin Garcia provided the PK goal and the 2-2 tie lasted until Carlos Mendoza put Coronado up 3-2 in the first overtime period (85th). Reed Foster came up with a header in 87th to send the match to the two five-minute periods, otherwise known as "Golden Goal."
"We fought and fought back every time," Coronado head coach Nick Barker said. "We did everything we needed to do to make the plays. We beat Amphi by one, we beat Catalina Foothills by one and we beat Gila Ridge by one and we just beat one of the best programs and one of the best coaches in the state.
"I'm so happy and proud of our guys."
Just as Barker had explained, the Dons advanced through the 4A bracket by the slimmest of margins and the PK round proved no different.
Ramon Palafox hit the lower-left to put Coronado up 1-0 but Cabrera responded with a shot to the right. Edgar Hernandez put Coronado up 2-1 but Jesus Noriega tied things up 2-2.
Raul Roa hit upper-right to put Coronado up 3-2 but Reed Foster hit right to make it 3-3. Garcia scored to put Coronado up 4-3 and Michael Sanchez blocked the next offering from Salpointe to provide the slim cushion Coronado needed.
Bryan Delgado found the net and the Dons won the championship.
Only a sophomore, Cabrera looks to be a major part of the Lancer future. "We worked really hard but it didn't go our way," Cabrera said.
"We just couldn't get the ball in the net. We always said we could get here and we did. Our hard work paid off, we just came up short."
Barker led Coronado to a state title in 2014 and the program has three runners-up finishes since 2012. Wolfgang Weber has six state championships with Salpointe and is approaching 640 career wins.
Game photos will be available on MaxPreps by Monday.
---