5A hoops roundup: Apollo asserts itself in 2nd half
February 23, 2017 by Jose Garcia, AZPreps365
---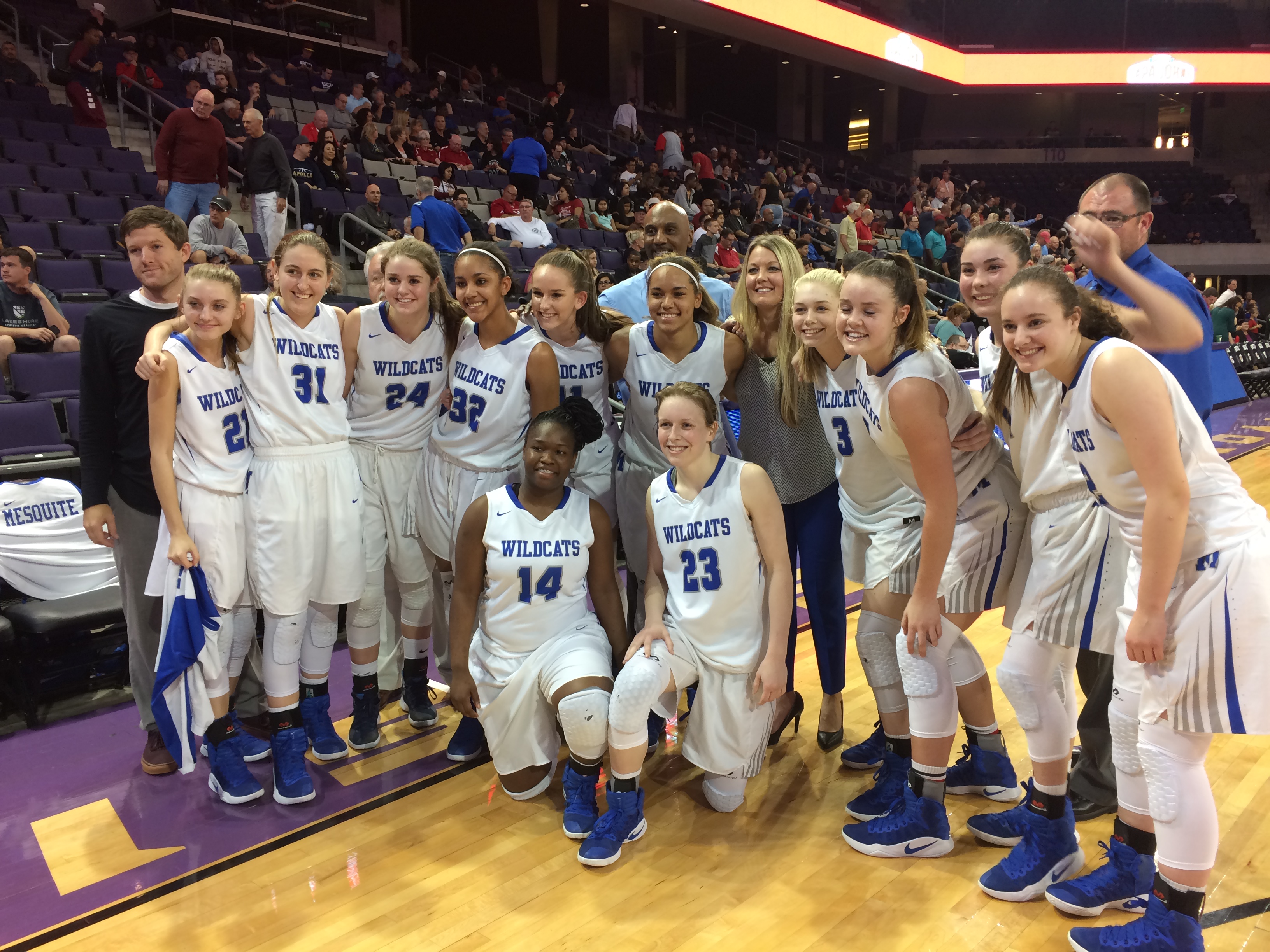 Dre Marin received the final pass of the game, placed the ball on his hip and flashed an ear-to-ear smile that could have lit up Apollo High Wednesday night.
Before the final seconds ticked off, Marin dribbled his way toward the other dynamo guard of Apollo, Holland Woods, to celebrate. A strong second half performance at Grand Canyon University Arena propelled Apollo to a 76-62 victory over Chaparral and into the 5A Conference state championship game.
Apollo will meet region and Glendale District rival Sunnyslope Monday at GCU to see if it can defeat its district mate for the third time this season.
"This is really satisfying," said Apollo coach Jacob Marin, Dre's father. "We've worked hard for so long to finally get to this point."
Dre (game-high 29 points) helped keep Apollo in the game in the first half, when Woods, Apollo's leading scorer and arguably the best point guard in the state, didn't make a field goal.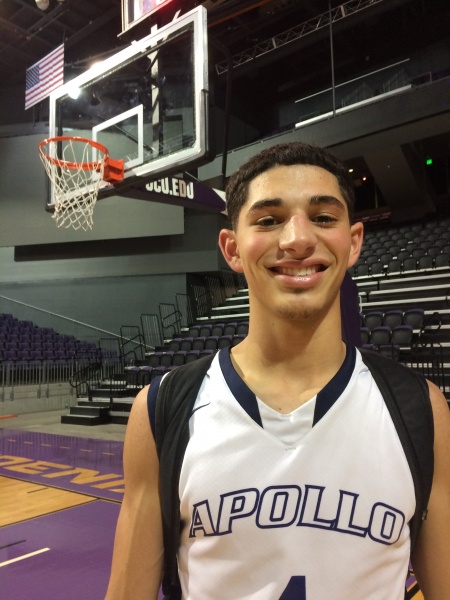 But Woods and Apollo didn't get frustrated. After halftime, the Glendale team tightened up its defense and spread the floor more.
It helped Apollo that Chaparral's leading scorer, senior guard Colten Kresl, sat from about the 6:11 mark of the third quarter until 5:49 remained in the game after receiving his fourth foul.
Kresl's exit hurt Chaparral on both ends of the court and made it easier for Woods to find space. The point guard made his first field goal with 2:40 remaining after converting an and-1, giving Apollo its first lead, 39-38, of the game.
Apollo (27-3) didn't give up the lead during the remainder of the game. Woods ended his night with 22 points.
"A younger Woods would have forced the action," said Jacob about how Woods waited until the right time to take over along with Dre.
Veontray Smith chipped in 10 points and a game-high 10 rebounds for Apollo, which went 26-31 (83.9 percent) from the free line thanks to Holland and Dre. The guards converted a combined 24 of 27 free throws.
GCU coach Dan Majerle watched Apollo advance from courtside.
Mesquite runs away in 3rd quarter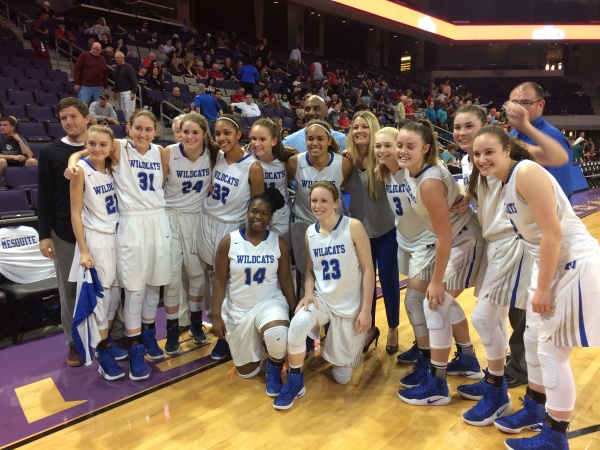 Opponents can't lose sight of Mesquite.
Blink and the girls basketball team from Gilbert is off and running.
Chaparral was in the game at halftime, trailing only 33-31, but the first six minutes of the third quarter was all Mesquite needed to help it sprint away with a 72-49 win. Mesquite scored 28 points in transition.
Chaparral was hitting three pointers in the first half and made 12 field goals, but it only made five of its second half shots.
"We got off to a slow start," Mesquite's Lindsey Vanallen said. "But we got back to our style of play in the second half. Our defense also picked up."
Mesquite (30-1) lost last year's big school title game to Hamilton, but it will head into Monday's 5A Conference title tilt against Sierra Linda as the favorite. What was missing last year was a low post presence but not so this season for Mesquite.
Forward Lauren Gustin had a monster game Wednesday, collecting 24 rebounds and 20 points and also led the Mesquite with six assists in 28 minutes of work.
Shaylee Gonzales (19 points) and Vanallen make up one of the top guard combinations in the state and had a big hand in breaking open the game Wednesday. Maddie Vick scored 20 points for Chaparral.
Sunnyslope is headed to 2nd consecutive final
Sunnyslope is returning to a state championship game again to see if it can return home with a different trophy.
Last year, Mesa's victory in the big school title game left Sunnyslope with a runner-up finish. Sunnyslope punched its ticket to its second consecutive final Wednesday after defeating Liberty 69-38 at GCU.
"The expectations were even higher this year after playing for a championship last year," Sunnyslope coach Ray Portela said.
Liberty never really got into an offensive flow, but it was an entirely different story for Sunnyslope, which seems to be peaking at the right time.
Sunnyslope shot 71.4 (10-14) from beyond the arc and 59.6 percent overall in the game. The team was patient in the first half, finding the open man every chance it got during its half-court sets.
Four players tallied double digits in points, including Sunnyslope's Chris Orozco (18 points, 9 rebounds). Ray Connor was the high man for Liberty with 10 points.
Liberty (21-9) played better than the No. 15 seed it received in the 5A Conference tournament. Sunnyslope (24-4), which doesn't dress a senior, lost its two games to Apollo by the scores of 85-77 and 57-53 this season.
Sunnyslope gave up a season-high 85 points to Apollo during their first meeting, but that game went into triple overtime.
Sierra Linda vs. Mesquite, Round II
Sierra Linda's girls advanced to the program's first basketball state championship game, where they'll face Mesquite, a team it lost to by almost 30 points during the regular season.
But that game was played at Mesquite. Monday's 5A Conference state championship game will be played at GCU, where Sierra Linda made quick work of its state semifinal opponent, Cienega, Wednesday.
Sierra Linda outscored Cienega 15-2 and 17-9 in the first and second quarter, respectively, en route to a 56-29 win.
"We came out with a lot of energy," Janae Gonzales said. "Our ball movement was great."
Sierra Linda scored 17 points off Cienega's 17 turnovers.
Raenesha Wills led Sierra Linda with nine rebounds and four steals, and Jenay Bojorquez and Gonzales combined for 27 points.
NaKeva Mack had a team-high eight rebounds and seven points for Cienega.
---