BOYS VOLLEYBALL: Tucson outlasts CDO 3-2 (25-19, 25-10, 15-25, 19-25, 15-9)
March 28, 2017 by Andy Morales, AZPreps365
---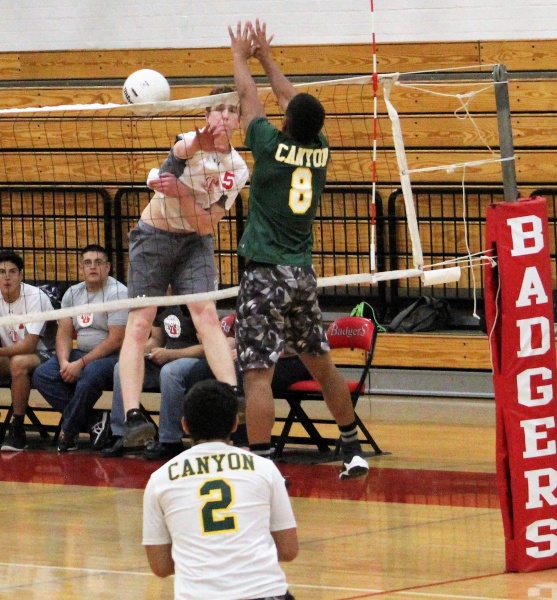 The Dorados were on the ropes. No, it was actually worse than that, the Dorados had a knee on the mat and it didn't look like they were going to get up and survive the match. Canyon del Oro was down 2-1 at Tucson High Tuesday night and the Badgers were leading the fourth set 16-12 but the Dorados were saved by the bell thanks to an incredible run.
The Badgers let three straight shots fly long, Jack Call put down one of his team-high 10 kills and the Badgers couldn't get the next ball over the net. The Dorados were suddenly up 17-16 and went on to win the set 25-19.
It was an impressive 13-3 run by the Dorados to tie the match up 2-2 but the Badgers responded in the fifth and deciding set to take the match 3-2. It was the second time Tucson High has survived a five-set match this year en route to a 12-6 record but it was also the third time Canyon del Oro has dropped a 3-2 match to fall to a disappointing 2-7 record. What a difference a fifth set can make.
"We fought back because we are tired of losing," Call explained. "It just shows we have the ability to fight but we have to keep on playing like we want to win. We have a lot of energy, we just don't want to lose these anymore."
Canyon del Oro led the first set 7-2 but Tucson battled back and slowly pulled away to take it 25-19. Tucson went up 2-0 thanks to a 25-10 win in the second set but Call came through in the third set to help his team cut the lead down to 2-1.
Up 5-3 in the third, Call put down a kill and then served three straight aces to give CDO a 9-3 lead. The Badgers were unable to recover and CDO won the set 25-15.
Cris Lopez led all players with 15 kills and he helped lead the Badgers to a 15-9 win in the fifth set thanks to four kills and an ace.
"I feel good with how I played tonight," the junior said. "They had a really tough server on their side and we had to work harder. We just played our game in the end and we trusted each other on every ball."
Senior captain Elias Baer recorded eight kills for Tucson to go along with 12 digs. Lopez led his team with 16 digs. Cristian Equihua had 19 assists.
Senior outside Brian Mencke recorded 12 digs for CDO and David Salinas had 24 assists.
Canyon del Oro is scheduled to take part in the Marana Mountain View tournament this weekend while Tucson is set to play in the Salpointe tournament in April.
---