BEACH VOLLEYBALL: Ironwood Ridge is playoff eligible; Xavier wins section
April 6, 2017 by Andy Morales, AZPreps365
---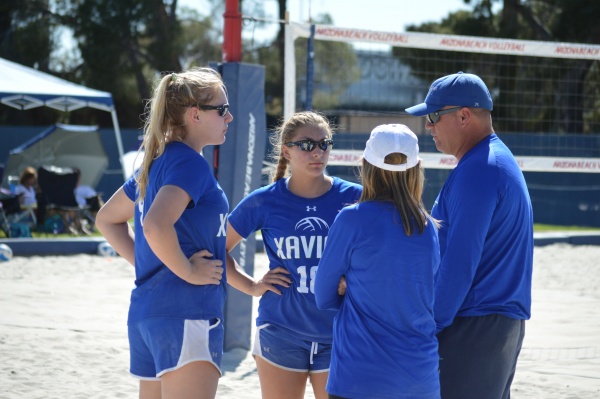 Ironwood Ridge (10-1 overall, 8-0 in Section III), became playoff eligible for the first time in program history on Wednesday by virtue of competing in the 11th game of the year. The 5-0 win over section opponent Queen Creek (2-6, 2-5) on Wednesday also put in the Nighthawks in the driver's seat for the section title.
Teams in Division I must play a minimum of 11 games this year to be playoff eligible and teams in D-II must play in 12. The top five teams in each section for D-I will move on to the 16-team state playoff, with the 16th team (there are three sections) being decided by the next best overall division record. The top eight teams in D-II will move on.
The Nighthawks played in nine games last year which was below the minimum standard of 10 games set for D-I at the time. Salpointe played in 10 games last year in the Lancer's first full year of competition and the Lancers went on to finish runner-up in the D-I state playoffs.
This year, Salpointe (9-1, 8-1) and Ironwood Ridge are both guaranteed a playoff spot but the two programs will meet next Wednesday, Apr. 12 for a shot at the section championship. The Lancers lost to Perry to give the program their only loss in the section but the Nighthawks beat Perry so the section title will go to the winner of the Salpointe/Ironwood Ridge game.
Perry (8-2, 6-1) is out of the running for the section title due to the two overall losses.
In Section I, Coconino (6-0, 6-0) is leading but there are too many section matches left to make any judgments. Xavier Prep (11-0, 8-0) has already won the section title.
The top three teams in D-II, Horizon Honors (10-0, 10-0), Fountain Hills (9-1, 8-1) and Trivium Prep (8-1, 7-1) all play each other next week to set up the regular season section title and seeding for the state playoffs.
The state tournament bracket for both divisions will be based on overall division record.
---