BEACH VOLLEYBALL: Salpointe & Mesquite advance to quarterfinals
April 19, 2017 by Andy Morales, AZPreps365
---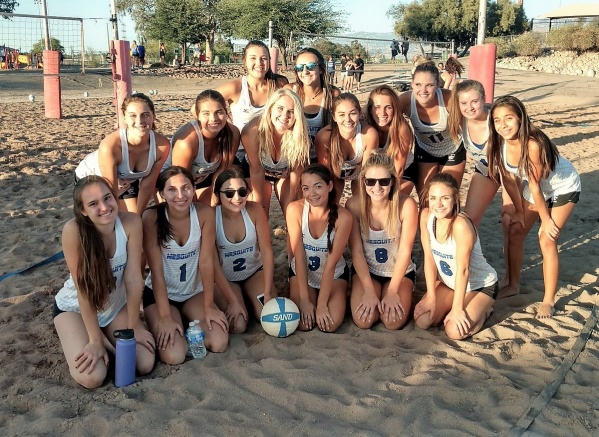 No. 3 Salpointe beat No. 14 Boulder Creek 5-0 in the first round of the Division I Beach Volleyball playoffs on Wednesday. The Lancers will host No. 11 Mesquite in the quarterfinal round next Tuesday, Apr. 25 at 4:30 p.m.
Boulder Creek (6-6) dressed out three pairs for the match against Salpointe which meant the Jaguars had to win all three pairs to win the match but it was not to be.
Salpointe (11-1) beat Mesquite in March but the Lancers squeaked by with a 3-2 win. Mesquite (9-3) beat No. 6 Ironwood Ridge 3-2 in the first round to set up the rematch with the Lancers next week.
Ironwood Ridge finished the season with a 10-3 record, the first full season and playoff appearance for the program.
"Reality is that we're still a year away," Ironwood Ridge head coach Bill Lang said before the match.
"Every match we get stronger learning the finer points of the Beach game. We still play like indoor players and are learning when to swing and when to cut. The later part of the season, we've been working on our blocking game which has been difficult.
"Either way, we're proud of what we started as a public school. The Amphitheater District has recently approved Beach Volleyball as an official sport so there will be a budget for uniforms, volleyballs, travel and a coaching staff. We didn't have this before so this will help pave the way for Amphitheater and Canyon del Oro to start programs. We're also getting closer to breaking ground for our own Sand Volleyball Facility that we hope is just as special as our Volleyball Gym."
Salpointe junior Peyton Lewis teamed up with Alanna Duarte to defeat Hayden Nielsen and Dani Beebe 2-0 (21-6, 21-4). Lewis recently committed to play beach for Pepperdine.
"I'm incredibly excited," Lewis said. "It's a great program and it's been a dream of mine ever since I visited the campus when I was in seventh grade."
Lewis and Duarte were part of the Lancer's magical playoff run last year that saw the program bring home the runner-up trophy.
"Our team chemistry is a lot better this year and I think that will give us a better chance if we are fortunate enough to get back to the championship," Lewis added.
Madison Sundholm and Alex Parkhurst defeated McKenna Ross and Jenna Griffin 2-0 (21-9, 21-7) and Claire Dunn and Isabella Ali defeated Justine Thompson and Bailey Wood 2-0 (21-8, 21-9) to round out the scoring for Salpointe.
---