Hot stretch continues for Arcadia
May 9, 2017 by Jose Garcia, AZPreps365
---
A team meeting in early March cleared the air and path for a state semifinal run for Arcadia's baseball team.
The team was on a three game losing streak when the players voiced their complaints. Since then, Arcadia has been Team Harmony.
On Tuesday, the merriness continued at least for another game. Strong pitching and clutch hitting permitted Arcadia to win its 18th game in its past 22 outings and defeat Chaparral 6-1 at Maryvale Baseball Park.
The victory kept 21-10 Arcadia alive in the 5A Conference state baseball tournament, where it needs to defeat Campo Verde twice to reach the May 16th title game.
"This was our fourth time playing (Chaparral) this season," Arcadia's starting pitcher Max Siegel said. "We knew what we had to do. We are feeling great about moving on."
Siegal's game plan was to stay on the outside against Chaparral's pull hitters.
It helped that Siegal's (4-2 record) command of his fastball was excellent also. Chaparral (23-7-2), which split its four games against Arcadia this season, scratched just one hit off of Siegal through the first five innings.
The senior struck out six and scattered six hits but left with the bases full with no outs in the sixth inning. However, Matt Schroer, Arcadia's ace, moved from first to the mound to keep Chaparral from rallying in his first relief appearance of the year.
A pass ball in the sixth inning scored a run, but that and a hit in the seventh inning was all Schroer gave up. Arcadia's No. 7 hitter, Jake Walshire, has struggled this year but sure didn't look like it at Maryvale.
Walshire's two-out triple to right field on a 2-2 pitch in the fourth and sharp grounder to third in the sixth inning plated Arcadia's first three runs.
Junior Clay Wasson, Arcadia's No. 2 hitter, missed the game but his picture was up in the visitor's dugout. Wasson is in a hospital resting after a blood clot that formed in a shoulder traveled to his heart and then lung.
Roberts pitches Liberty into semifinals
Travis Roberts lost his grandfather the night before the biggest game of his high school career.
What better way to honor one of his closest relatives than to pitch a complete game and send Liberty to the state semifinals.
Roberts did just that Tuesday to eliminate Mesquite, 5-2, at Maryvale Baseball Park.
"He (Roberts) battled," said Liberty first-year coach Chris Raymond after Roberts' complete game performance. "And to do it after what he's battling, I can't say enough about him."
Roberts' 75-year-old grandfather, Gary, died Monday, but on Tuesday Roberts, motivated by the passing of his grandfather, completed his longest and best outing of the season.
The senior held Mesquite to four hits and retired the last 10 batters he faced. Grant Lung, one of a handful of senior leaders for top-seeded Liberty (25-7), went 3 for 3 with three RBIs against a Mesquite team whose core players are sophomores.
Up next for Liberty is Raymond S. Kellis, which defeated Liberty 7-2 on Thursday. Liberty needs to defeat Raymond S. Kellis twice to advance to the 5A Conference final.
Back-to-back RBI hits by Holden Breeze and Jacob Henderson spotted Mesquite (22-11) a 2-0 lead in the second inning before Roberts settled down.
"This is crazy, especially after what happened on Monday," Roberts said.
Liberty scored a run in the third inning, added two more in the fifth after hits by Sam Stewart and Brady Welch and scored two more in the sixth.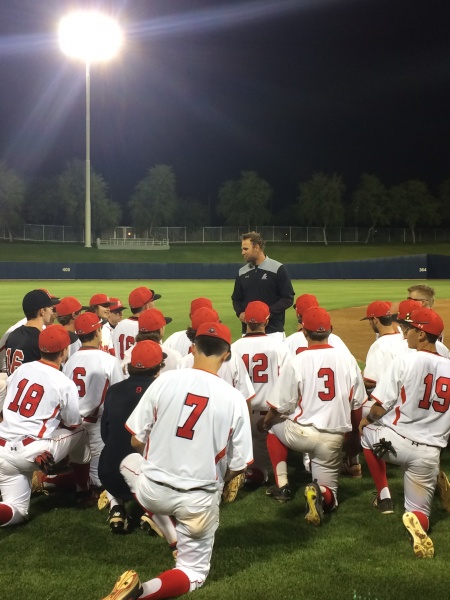 (Liberty coach Chris Raymond congratulates his team after Tuesday's victory. No. 7, Travis Roberts, pitched a complete game. Photo by Jose Garcia/azpreps365.com)
---