VOLLEYBALL: Valley Union mounts comeback against Immaculate Heart to keep pace in the 1A South Region
October 3, 2017 by Andy Morales, AZPreps365
---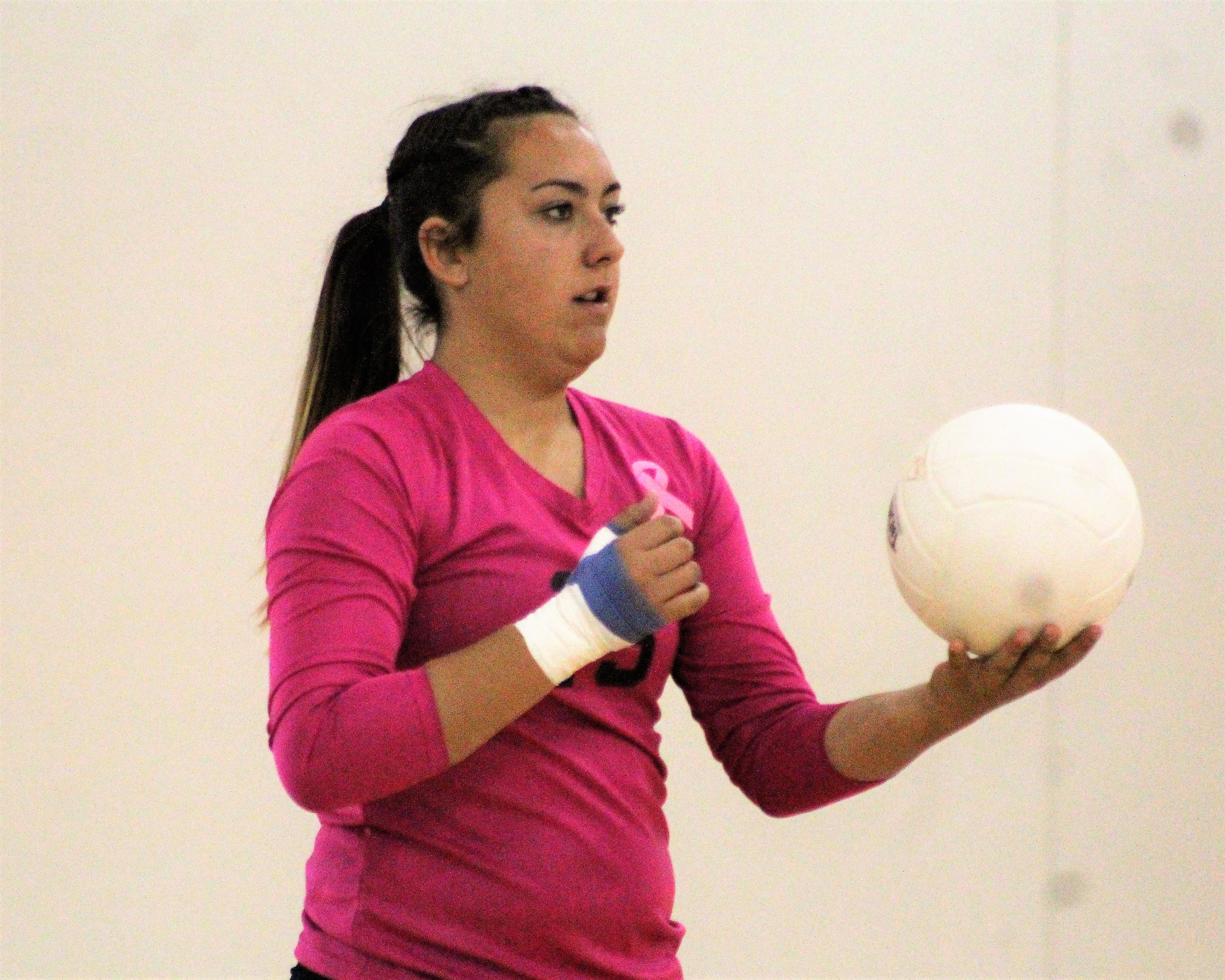 Destinee Hageman recorded 11 aces to fuel Valley Union's comeback win. (Andy Morales/AZPreps365.com)
No. 13 Valley Union survived a scare in the 1A Conference race Tuesday night by mounting a five-set comeback to defeat No. 26 Immaculate Heart, 19-25, 19-25, 25-23, 25-20 and 15-7. The win improved the Blue Devils' record to 7-4 overall and 4-0 in the 1A South Region while the Knights dropped to 2-7 and 0-2.
No. 6 St. David (10-2, 6-0) is still in control of the region with No. 8 Bowie/San Simon (7-1, 3-1) keeping pace. The top two teams in 1A South Region will get an automatic bid to the 16-team state tournament and there will only be six at-large berths available.
No. 14 The Gregory School (5-5, 1-2) and No. 16 Patagonia (5-3, 2-2) are also in the mix which makes the 1A South the most competitive region along with the 1A Central Region which has four teams currently ranked in the top 16 including No.1 Mogollon (11-0, 10-0).
Immaculate Heart took the first two sets over Valley Union 25-19 and 25-19 with Valley Union only leading six points in the process. The third set proved more competitive with each team battling back and forth to a 17-17 tie. Destinee Hageman finished the match with 11 aces and the Valley Union senior was the difference in the third set when she delivered on four straight aces to push the Blue Devil lead to 21-17.
The Blue Devils held on for the 25-23 win to stay alive but both teams battled again in the fourth set which each team fighting to a 19-19 tie but Hageman delivered on two more aces to pace a 6-1 run to close out the fourth set 25-20.
The Blue Devils took advantage of three straight unforced errors in the fifth set to build a 6-0 lead. The Knights were unable to recover and Valley Union went on to win the set 15-7 to complete the comeback.
Ally Bohlender led Valley Union with nine kills and Audra Stinson added seven. Grace Aroz and Emily Haynes led Immaculate Heart with six kills each.
Valley Union will host Bowie/San Simon on Wednesday night and Immaculate Heart will travel to The Gregory School.
---