CROSS COUNTRY CHAMPIONSHIPS
November 4, 2017 by Andy Morales, AZPreps365
---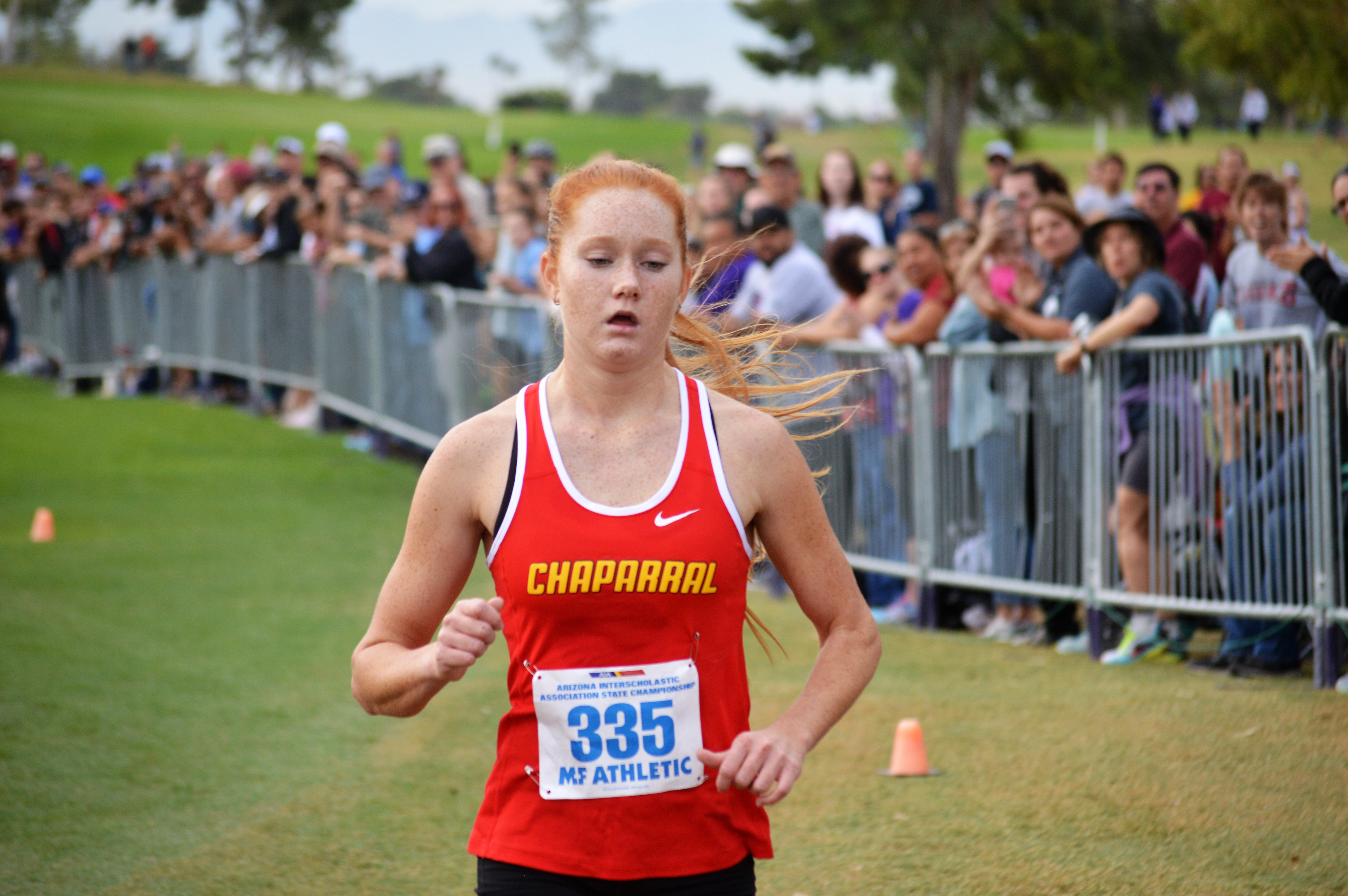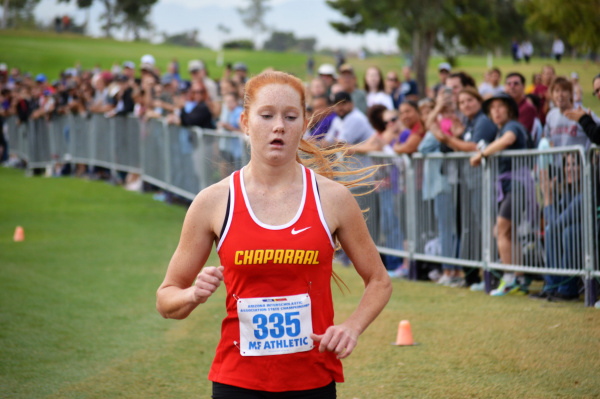 Chaparral standotu Abi Archer (Andy Morales/AZPreps365.com)
What a difference a year makes. Highland standout Leo Daschbach finished in 51st place as a freshman, with a time of 17:18, but the sophomore jumped 50 spots to win the Division I championship held Saturday afternoon at the Cave Creek Golf Course. His time of 15:13 outpaced a slew of seniors including Desert Vista standout Habtamu Cheney (15:16) and Desert Mountain runner Caden Hercules (16:00).
Daschbach was one of several new faces on the medal stand Saturday but there were also some very familiar old friends from D-I to D-IV:
Daschbach helped Highland (141 points) take third place in the D-I race but Desert Vista won the team title for the fourth year in a row, out-pacing runner-up Brophy Prep 34 to 130. Chandler won the girls race 55-77 over Xavier. It was the second championship in three years for the Wolves.
Desert Vista senior Haley Wolf ran 18:38 to win the D-I championship after taking second place last year. Highland sophomore Caroline McLeskey (18:56) took second and Chandler junior Mihajla Milovanovic (19:17) came in third.
In D-II, the Flagstaff boys (127) won for the third year in a row. Campo Verde (146) took second and Deer Valley (172) was right behind in third place. Campo Verde junior Rylan Stubbs ran 15:54 to capture the boys medal, Gila Ridge senior Christian DeBoard (16:14) took second and Cienega freshman Ayden Schilb (16:15) came in third.
Stubbs took third place last year as a sophomore. "I wanted to go out and run a comfortable first mile and then hammer the last mile," Stubbs explained. "I was pretty confident with about 800 meters to go that I had this."
DeBoard took second place for the second year in a row and the result was frustrating for the highly-competitive runner. "I wanted to go all out and go for it," DeBoard said. "I just couldn't catch him (Stubbs). It's a bit annoying but it's also all good."
DeBoard said he was shutting down his high school career due to injuries and will no longer compete.
Schilb has come out of nowhere to capture the imagination of the Cienega faithful. "Our team blew out expectations. We blew it out of the water," Schilb said. "I'm told this is the best team our school has ever had and it's only going to get better."
Chaparral junior sensation Abi Archer won the D-II girls race once again, and by a wide margin. Archer ran 17:58 while Catalina Foothills senior Richelle Sandin came in second with a very good time of 19:09 and Campo Verde senior Alaina Kautz (19:11) was third.
"There were a lot of expectation for me to win again today," Archer said. "I prepared for the competition just like I would for any other race, big or small. Every opponent is important."
Archer's goal was to go under 18 minutes and she was able to do that despite running the last mile or so without being pushed.
Sandin twisted her left ankle on Thursday and she ran with heavy wrapping but still managed a second-place finish. "I went out and sprinted on it and hoped I wouldn't fall," Sandin said. "I'm grateful for the place I came in.
Sandin improved from third place last year and Kautz improved from eighth.
Kautz felt this was the best race of her life. "I gave it everything I had," She explained. "I knew Abi was going to be out there and it was really strong competition."
Ganado won the D-III girls race 101-108 over Coconino and Salpointe (116) took third. It was the first championship for Ganado since 2005 but the Hornets were right there after taking third place last year, switching spots with the Lancers.
Rio Rico standout Samantha Schadler won the girls race with a time of 18:06. Samantha took second to her older sister Allie Schadler last year and, now, the team is all hers. Rio Rico only had two runners in the state race with her senior teammate Kate Castillo joining her on Saturday.
"It was rough not having a team but we've adapted to it," Schadler said. "It's exciting to win and that was my goal but I definitely miss the energy of my team."
Salpointe senior Ana Alvarez-Tostado took second (18:45) and the Grand Canyon commit, like all the runners, gave it her best shot. "I was anxious to start but I trusted my training and it feels great to get to this point."
Zoey Delgado is only a sophomore but she was able to finish well with a time of 19:13 to take third place. "I really wanted to keep close to Ana and keep her in sight. I've thought about being the leader next year but, really, everyone on the team is strong and we have great leadership."
Page (45) won the boys team title over Tuba City (100) and Chinle (140). It was the fourth title in a row for Page. Prescott senior Matthew Bradley (16:04) won the boys race over Chinle senior Josiah Tsosie (16:07) and Page junior Bowen Martin (16:14). Bradley improved from 15th place.
Northland Prep won the girls team title 70-134 over Hopi. St. Michael (137) came in third. Northland Prep senior Maya Smith (18:01) won her fourth championship in a row. St. Michael sophomore Ali Upshaw (18:56) was second and Northland Prep senior Keelah Barger (19:12) was third.
The Northland Prep boys won the D-IV team title 57-68 over Hopi and Alchesay (149) came in third. Northland Prep snapped Hopi's national record 27th consecutive streak of winning a boys team championship.
Joseph City junior Talon Smith (16:39) won the race while Hopi junior Jihad Nodman (16:46) took second and Pusch Ridge senior Ben Black (16:53) was third.
---