Football: Casteel takes crown over Pusch Ridge
November 25, 2017 by Les Willsey, AZPreps365
---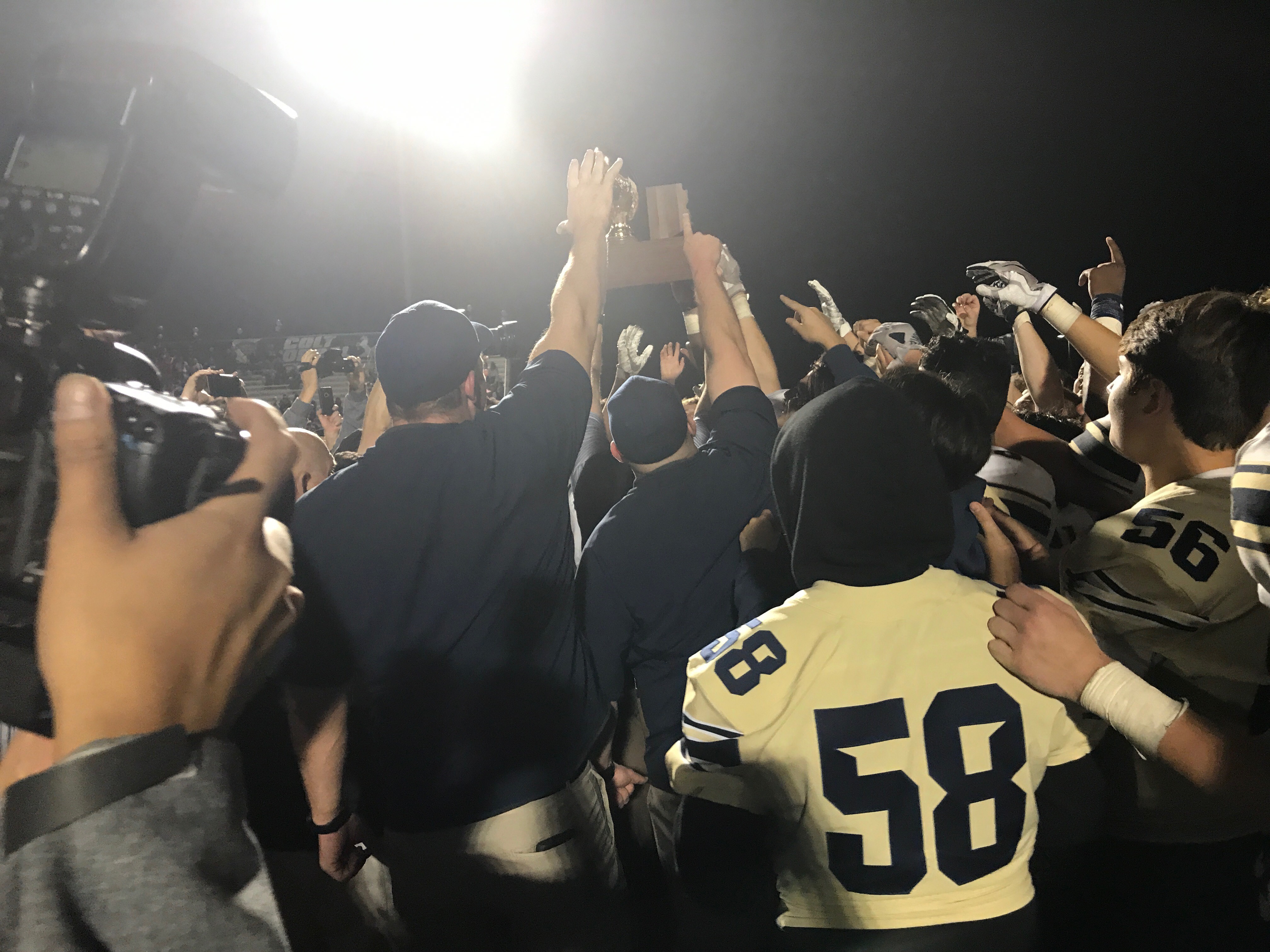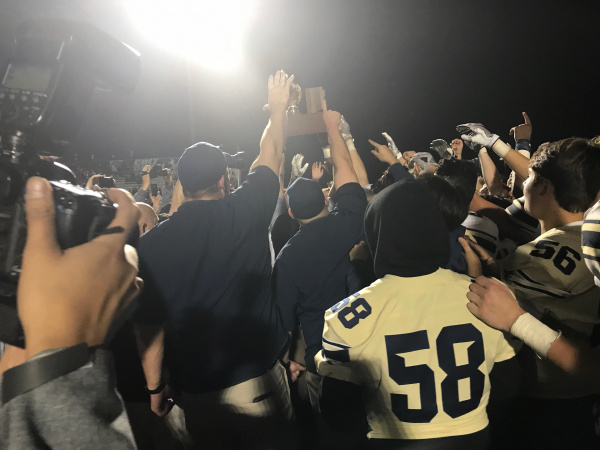 Casteel players raise 3A championship trophy after 35-28 win over Pusch Ridge (AzPreps365 photo)
Casteel's football team got a parting gift Saturday night from the 3A Conference. It wasn't given freely. It was earned.
The No. 3-seeded Colts battled from behind three times in the first half and tallied the game winning touchdown in the final five minutes of play to edge top-seed Pusch Ridge, 35-28, and claim the 3A crown in a battle of unbeaten squads at Campo Verde High School.
Casteel (14-0), playing in just its second varsity season and without seniors, used a full house from junior quarterback Gunner Cruz (three TD passes) and a pair of rushing scores from workhorse junior back Mack Johnson to subdue Pusch Ridge (13-1).
"We knew this would be a four-quarter battle all the way," Cruz said. "Coach said it's not about Xs and Os. Bring your guts and let it go."
The game was tied for the fourth and final time at 28-28 when Pusch Ridge's Tamerat McLeod scored on a 1-yard run with 9:42 to play. That capped a 70-yard, 15-play march that used up more than sx minutes.
Casteel started its game-winning drive immediately after beginning at its 31. Cruz scrambled twice for key gains of 12 and 11 yards. A 22-yard completion to Zach Nelson moved the ball to the Pusch Ridge 11. Three plays later Johnson bulled in from the 1 for tie-breaker.
Pusch Ridge had one possession to try and gain another tie, but it lasted six plays and ended at its 30. Casteel ran out the final 2:23 of clock.
"Our guys were resilient tonight," Casteel coach Spencer Stowers said. "We wanted to finish out 3A this way. Our determination got that."
Both schools scored a ton of points and gave up very fewl this season in posting 13-0 marks. That left fans wondering what kind of game they would see -- a defensive struggle or a high-scoring affair. They got a little of both.
The teams combined for 49 points in the first half; 14 in the second half. Cruz passed for 236 yards and all his TDs in the first half as Casteel rallied from 7-0, 14-7 and 21-14 deficits. His last scoring throw with 44 seconds left before half and second to wide out Khyheem Waleed, put Casteel up for the first time, 28-21. That was the score at intermission.
Pusch Ridge took advantage of two Casteel fumbles in the opening half and scored TDs both times. on short runs by Gavin Davis and Mitch Maas. The Lions also scored on a fourth-and-11 with quarterback Christian Fetsis tossing a 35-yard score to Maas for its final lead of 21-14. Maas had an outstanding game, that also featured the catch of the game -- a 48-yard grab at the boundary and defender draped all over him.
Cruz's final numbers were unofficially 16 of 24 for 304 yards and one pick. Johnson carried 24 times for 116 yards. Waleed caught three passes for 99 yards, Nelson six for 87 and Jamie Lewis four for 56.
Casteel's defense put a crimp in Pusch Ridge's main source of offense -- the run. Pusch Ridge was limited to 117 yards rushing on 40 attempts. The Lions entered the game averaging 333 yards rushing per game.
The Colts were pleased to nab the trophy in support of school principal Sandy Lundberg, who was diagnosed with cancer earlier in the season. Lundberg was on hand for the victory and enjoyed it as much as the players.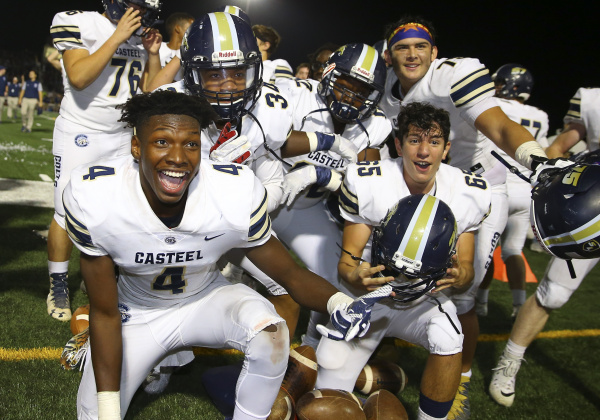 (Khyheem Waleed, No. 4, and his teammates celebrate after Saturday's 3A final. Photo by Kevin French/maxpreps.com)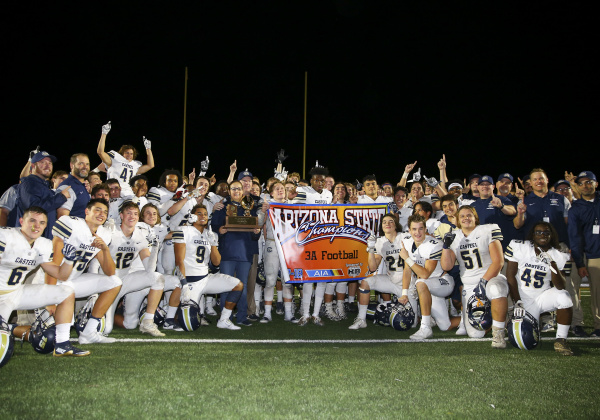 (Casteel's football team won its first football title Saturday. Photo by Kevin French/maxpreps.com)
---