Thatcher defends 2A football title
November 26, 2017 by Jose Garcia, AZPreps365
---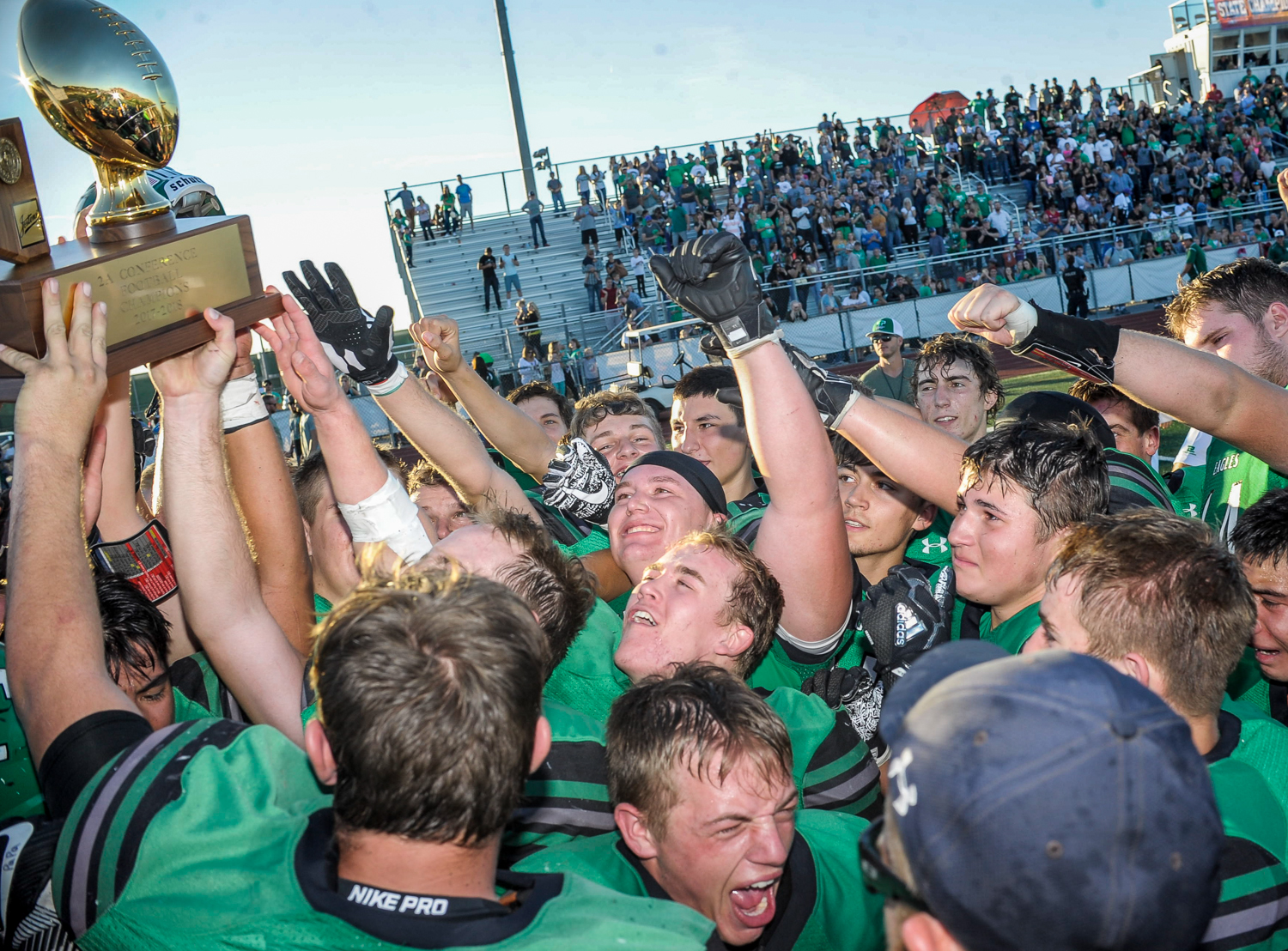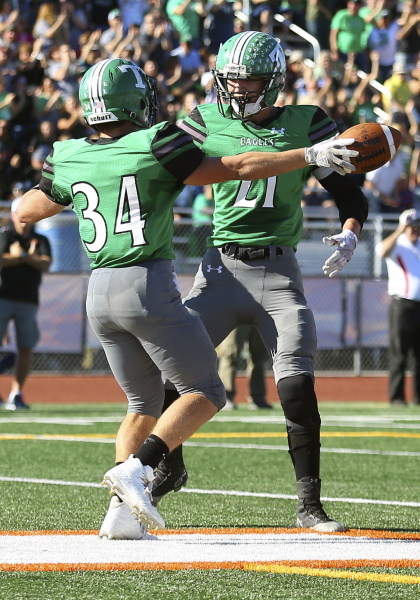 (Thatcher's No. 34, Quinton Turley, and a teammate celebrate during the 2A final. Photo by Kevin French/maxpreps.com)
Thatcher and Santa Cruz went to overtime in the playoffs, again.
What made it extra special this time around was that they met for the 2A Conference championship crown Saturday. Thatcher ended Santa Cruz's season in the semifinals last season at Fountain Hills.
On Saturday, Thatcher squashed Santa Cruz's title dreams at Campo Verde High School in Gilbert. Santa Cruz scored on its first two possessions, but Thatcher rallied from a two score deficit for the second year in a row in the title game to walk away victorious, this time 28-27.
Despite seeing his team give up three long pass plays in the first quarter and accruing 15 penalties, coach Sean Hinton was still a happy man after the game.
Hinton won back-to-back titles as a player at Thatcher, and now he's duplicated the feat as the coach.
"I think I appreciate how hard it (back-to-back titles) is more as a coach," said Hinton after completing his third year as head coach. "As a player I always thought we were going to come back. As a coach I recognize how hard it is to come back. It's definitely sweet. I think I'll enjoy it more."
Thatcher didn't take its first lead until its final touchdown, a 9-yard run in overtime on fourth and goal.
After a false start penalty, Thatcher called a timeout to set up the that eventual winning touchdown play by running back Riley Morris. Morris actually made himself look like a genius while calling his number during the timeout.
"I'm not considered the smartest guy on the team, but (Hinton) trusted me on this," Morris said. "I think he believed in me."
Said Hinton, "He (Morris) calls his number quite a bit, but we always kind of joke every time we run a play or start practice what he wants to run."
The play, rip 36 veer triple option, worked to perfection, largely because Morris ran behind two of the state's best 2A linemen, Quinten Mack and Sam Nicholas, who cleared a path on the right side for Morris.
But Santa Cruz also had a winning call of its own in the first and only overtime of the game. Quarterback Jesus Cosillos kept the ball on the first play of Santa Cruz's OT drive from the 10 and ran it in.
Santa Cruz went for the tie but missed the extra point. Thatcher ran on the field and started celebrating.
But hold on. There was another penalty flag on the field.
It seemed like the flag gave Santa Cruz new life. But the officials eventually waived off the flag, giving Thatcher the 28-27 win.
It's safe to say that there's a budding rivalry between Thatcher and Santa Cruz (12-1) after the two overtime playoff games.
"Hats off to Santa Cruz," Hinton said. "That was a battle. Another overtime. I hear we are trying to schedule them in the regular season next year. So we are trying to get it done. That's should be an interesting rivalry for years to come with Santa Cruz coach (Rishard) Davis over there. It's a hell of a ball team."
Thatcher had a chance to end the game in regulation after quarterback Tyler Roebuck capped a 58-yard drive with a 10-yard run with 24 seconds remaining.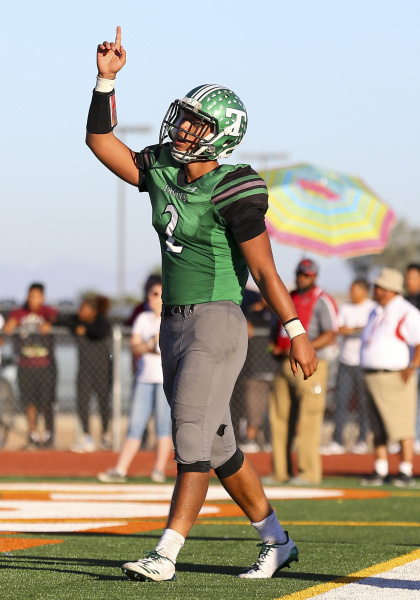 (Thatcher quarterback Tyler Roebuck. Photo by Kevin French/maxpreps.com)
But Santa Cruz partially blocked the ensuing extra point to keep the game knotted at 21-21.
Thatcher trailed early 13-0 and 21-8 with 4:47 left in the third quarter. It was the first time this season that Thatcher allowed more than 20 points in a game.
But with 9:03 left in the game, Thatcher went on a nearly four-minute drive, which ended with a 26-yard touchdown run by Roebuck to keep his team in the game. Santa Cruz's strength is its run game, but it was kept in check for most of the game.
The longest run of Alec Wyble-Meza, Santa Cruz's leading rusher, was for 12 yards. But Cosillos (three touchdown passes) and Santa Cruz's defense played well enough to help their team win the title.
A 23-yard touchdown strike to Nico Flores and a 48-yard passing score to Curtis Banks in Santa Cruz's first two drives caught Thatcher out of position. Santa Cruz wound up missing the extra point after its second touchdown, though.
Santa Cruz's defense didn't allow Thatcher (14-1) to score in three red zone trips and forced its opponent to turn the ball over on down four times. But Thatcher's run game wasn't stopped enough times and might continue to keep running next season.
"This (back-to-back titles) is very special," said Morris, one of the key juniors leaders on this year's Thatcher team. "We knew that we could it, and we are expecting the next one (next year)."
After Thatcher received the state championship trophy, they passed it to 10-year-old Blayze Brown.
One of the players told Brown they won the game for him.
Brown was diagnosed with a form of epilepsy, Lennox-Gastaut Syndrome. When Thatcher's football program learned that Brown needed a service dog, the program pitched in to raise funds to purchase Chip, Brown's golden retriever, who was by Brown's side along with Brown's dad, Jeff, throughout the 2A final on Thatcher's sideline.
Jeff played on Thatcher's 1999 championship team.
"It was cool," said Brown about holding the championship trophy on the field after Saturday's game. "I like how they (players) support me, and they love me. I think they are all heroes to me."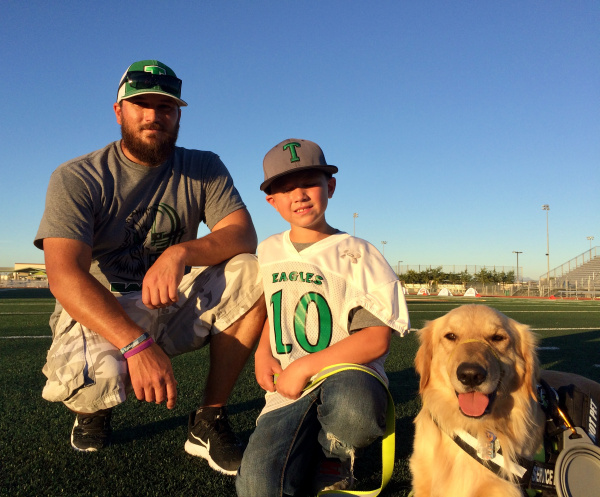 (The heroes of Blayze Brown, his dog Chip and father, Jeff, delivered a state championship and so much more this season. Photo by Jose Garcia/azpreps365.com)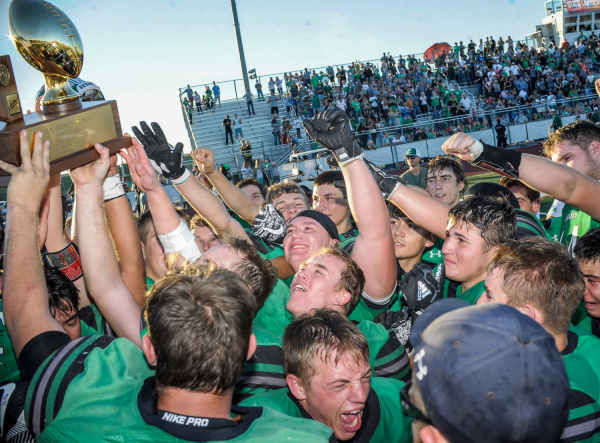 (Thatcher defended its title Saturday. Photo by Darin Sicurello/maxpreps.com​​​​​​.)​
---