800 wins: Highland's Webster joins Mtn. View's Ernst in exclusive club
November 27, 2017 by Les Willsey, AZPreps365
---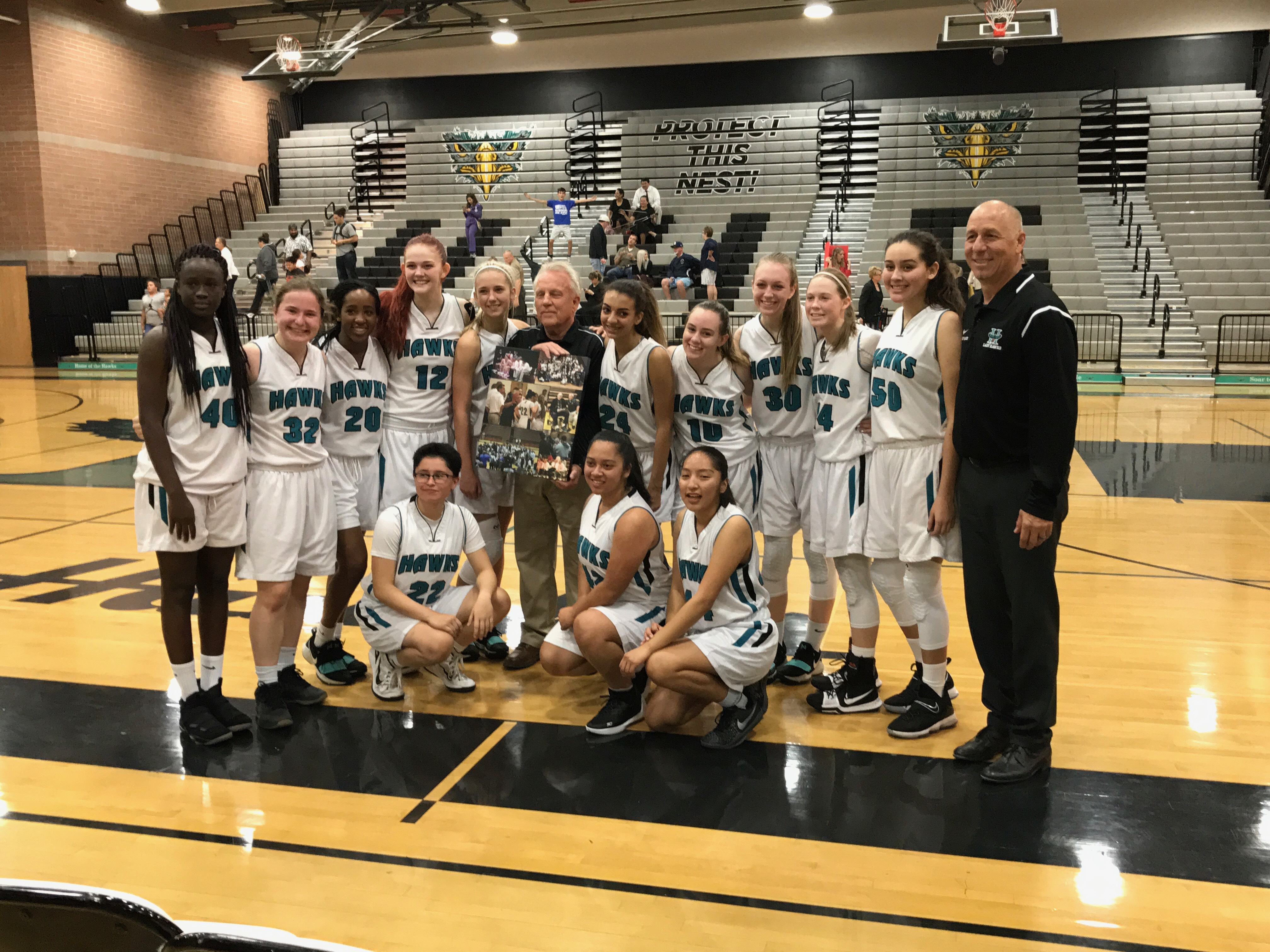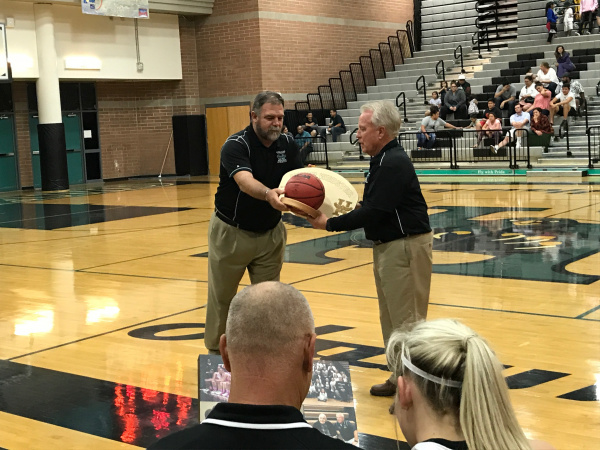 Highland girls hoops coach Miner Webster (right) gets game ball for win No. 800 from AD Rod Huston (AzPreps365 photo)
Arizona's winningest basketball coach -- Mesa Mountain View's boys coach Gary Ernst -- has been alone in the 800 club for nearly four years. No longer.
Ernst was joined Monday night in that exclusive club by the state's winningest girls coach -- Highland's Miner Webster -- as the Lady Hawks defeated Mesa Mountain View, 52-21, before a crowd stocked with Webster well-wishers at Highland High.
Webster, who became the state's winningest coach in the sport last November with win No. 779 to pass Winslow's Don Petranovich, saw the Lady Hawks improve to 4-2 for the young season. Ernst picked up his 878th career win on Monday as the Toros bested Highland's boys, 73-51.. It's not out of the realm of possibility Ernst makes it to 900 this year, but for now he's president of the 800 club and Webster vice-president. Webster's career record is 800-151, a winning percentage of .841 that includes eight state championships.
This is Webster's 30th season coaching girls basketball -- the last 25 at Highland (six state champs) and the five prior at Gilbert High (two state champs). He still enjoys coaching, but admits it's not as easy physically as it once was.
"It can be a grind at times," Webster said. "I have a foot that's been giving me trouble, and sometimes it's hard to get around as much as you have get around. There's a chance I could retire from teaching after this year. Whether that would mean I'd also stop coaching, I don't know. I could retire from the one, and still possibly do the other. A lot of things would have be weighed in making that decision. Right now we have a good group of kids. We're playing pretty well. That's what I'm concentrating on."
Highland athletic director Rod Huston has listened to Webster talk retirement from coaching before.
"Two years ago after the season he came in and said I'm done," Huston said. "I told him to go to Las Vegas like he usually does. Get away. I mentioned he was close to the record. At some point he will retire. I know it hasn't happened yet."
Webster told the fans in attendance as he received a game ball commemorating the 800th win and a photo montage that he was "honored to be in this situation." His wrap-up words were "Let's keep it rolling."
A good sign for Hawks' fans.
---