GIRLS HOOPS: Immaculate Heart is back again
December 6, 2017 by Andy Morales, AZPreps365
---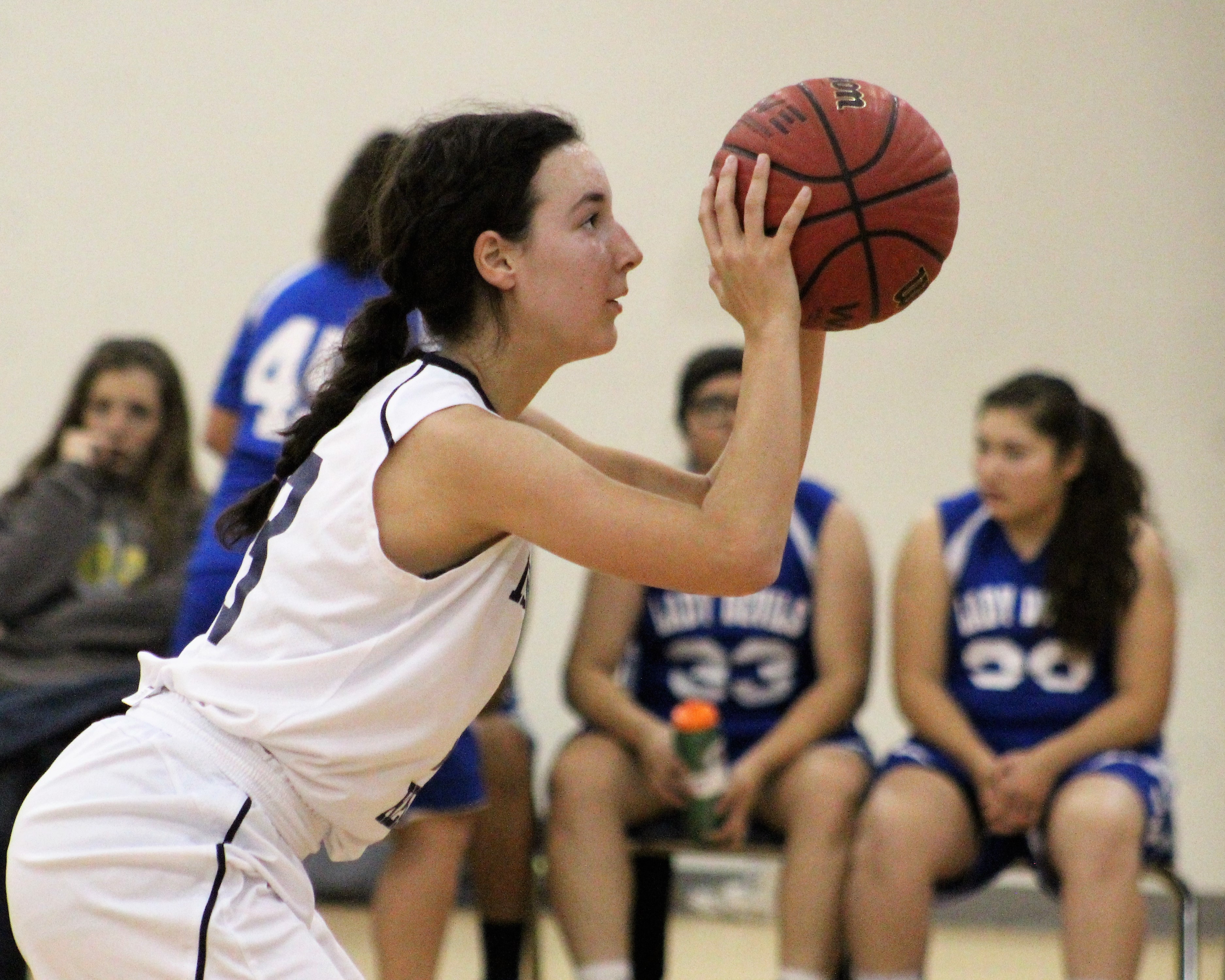 Emily Haynes. (Andy Morales/AZPreps365.com)
There are only 54 students roaming the halls of Immaculate Heart, located in the foothills of Oro Valley, and seven of them play girls basketball. Of the 271 schools that currently make up the bulk of the AIA, only four have fewer students enrolled.
Against those odds, the Knights finished 24-5 last year and took home a piece of the 1A South Region championship with a 7-1 record. That team, however, had 12 girls on the roster. As good as that team was, it started out with a 5-3 record before finishing the season on a 19-2 run that included 18 wins in a row.
The Knights beat Valley Union 40-18 Wednesday night to extend their current record to 8-1 overall and 3-0 in region play. The Blue Devils came in with a respectable 5-2 record and 2-0 in region play but the game was practically over before it started as junior guard Emily Haynes poured in nine of her game-high 20 points in the first quarter to help pace her team to an early 14-0 lead.
"We did a lot of work this summer and I really love the five that we put on the court," Haynes said. "Our defense is what sets us apart. On offense, we work the ball till we find something, but we play great defense and that leads to good offense."
Haynes scored her 20 points, senior Sarah Martin added 10 and sophomore Catie Haynes had eight. The lone senior on the team, Grace Aroz, scored two points but it was her seven rebounds on defense that helped spark the offense, as Emily Haynes alluded to. Aroz finished with 10 rebounds.
Sophomore Rebekah Claus-Walker led the Blue Devils with eight points, freshman Victoria Armijo had four, senior Jazmin Arreola scored three as did sophomore Emely Cuevas.
The Knights' only loss to this point came at the hands of Baboquivari. The Warriors are 6-1 on the year and the team won the preseason Boyd Baker championship. The win over the Knights took place in that tournament and the rematch is set for Jan. 30.
Immaculate Heart will host San Manuel (1-5) on Dec. 11 and Valley Union will host Benson (5-3) on Dec. 14.
NOTE:
Immaculate Heart went by Suffolk Hills from 1971 to 1990 but changed back to Immaculate Heart in 1991. The school won a 1A state football championship in 1982 and is the answer to a difficult trivia question as the fourth high school located in Oro Valley to own a state football championship.
Technically, the land that Immaculate Heart sits on was not part of Oro Valley at the time, but it is also the second team (not the last) from the area behind Canyon del Oro to claim a state football title. The Dorados won titles in 1976 and 1977 before Immaculate Heart won in 1982.
CDO won again in 2009, Ironwood Ridge won in 2012 and Pusch Ridge won in 2015.
CDO, Pusch Ridge and Immaculate Heart are less than two miles apart while Ironwood Ridge is only four miles away.
---