BOYS HOOPS: Palo Verde is making an early statement
December 7, 2017 by Andy Morales, AZPreps365
---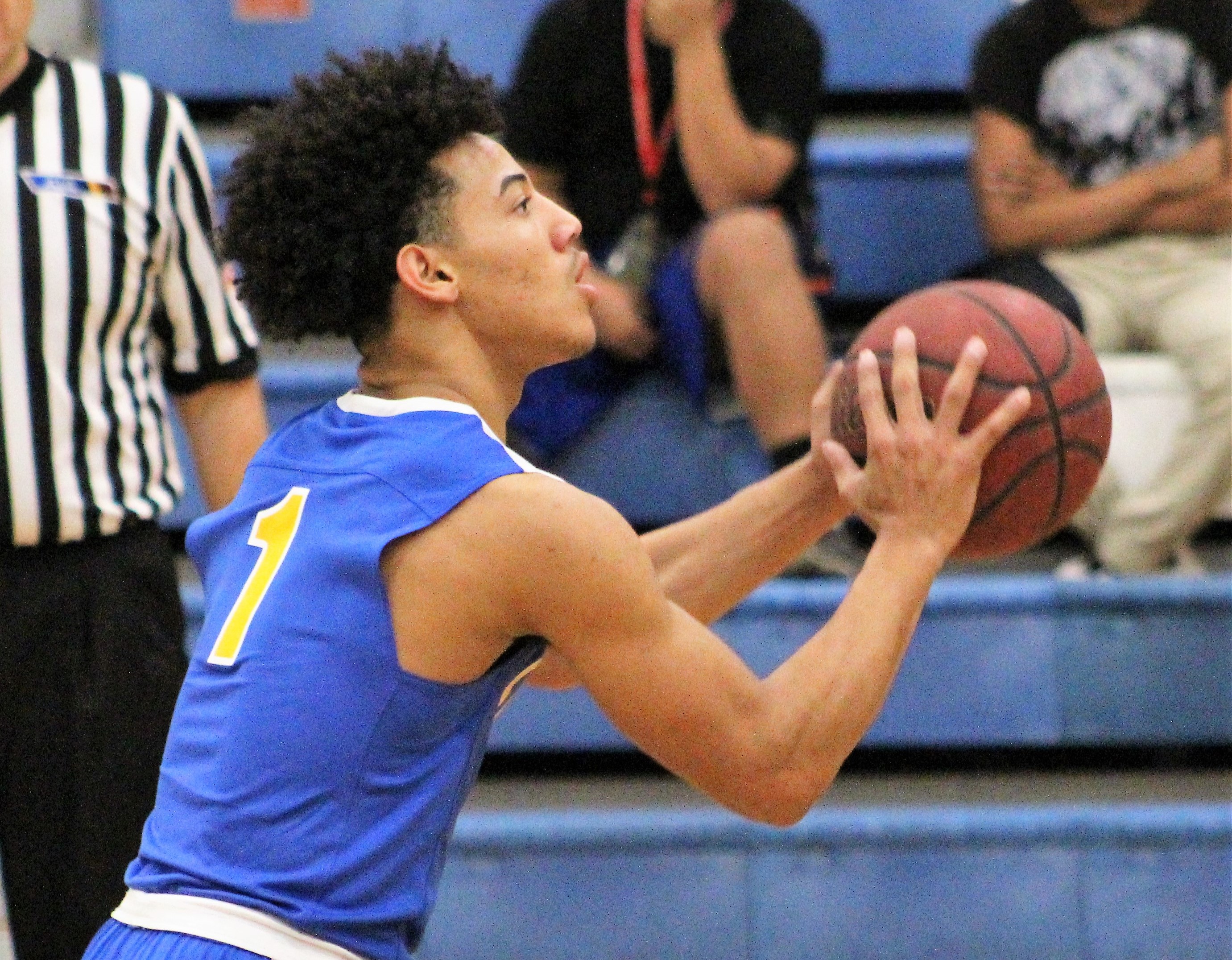 Zionn Sandoval (Andy Morales/AZPreps365.com)
A few made free throws here and a few less turnovers there and Palo Verde would have reached the Division III state final in 2015. A 60-52 loss to eventual champion Snowflake in the semifinal round ended a surprise season for the 18th-ranked Titans but there will be no surprises this year because most will be able to see Palo Verde (7-2) coming from a mile away.
The Titans have a couple of understandable losses on their record this year with a 74-57 loss to the second best team from Southern Arizona in 5A power Buena and a 71-69 loss to another top 5A opponent, Mountain View Marana. The wins have come against other upper-division power-programs such as Cholla and Tucson High.
Leading the way is junior Zionn Sandoval, senior Solomon Fernander and senior Devante Bates. Sandoval poured in 19 points to pace the Titans past Catalina 70-41 Thursday night while Fernander scored 11 and pulled down 12 rebounds. Bates added 13.
"We are way better this year than last year," Fernander said. "We push each other and run hard in practice. Our mindset is to get that ring."
Fernander was a freshman on the semifinal squad as was Taivionn Sandoval. Jimmie Nelson Jr. was the head coach and he was replaced by his assistant coach, and local playing legend, Marsharne Flannigan the following year.
Catalina (2-3) kept things close early on and trailed 14-12 with 2:04 left in the first quarter but the Trojans gave up five points in the final seconds of the opening period to fall back 19-12. Palo Verde slowly pulled away from there.
Junior Philippe Kijana led the Trojans with 18 points and junior Leon Hayes III hit four 3-pointers to finish with 12. The Trojans have struggled since the 2011 squad finished with 24 wins and made it to the 4A Division II quarterfinals.
Obie Tann took over in 2016 and this year looks to be a competitive one with six seniors and seven juniors on his roster. The Trojans are 1-0 in region play (3A South) with an important win over Tanque Verde to start the season
The 3A state tournament will include 24 teams with the top three in each region earning an automatic berth but it is a loaded region with Sahuarita, Sabino, Empire and Pusch Ridge also in the hunt for those three spots.
Catalina will travel to Amphitheater on Tuesday, Dec. 12 and Palo Verde has a bit of a break and will face Rincon/University on Dec. 18.
---