Horizon gearing up to host holiday boys basketball tournament
December 8, 2017 by Lauren Koval , Arizona State University
---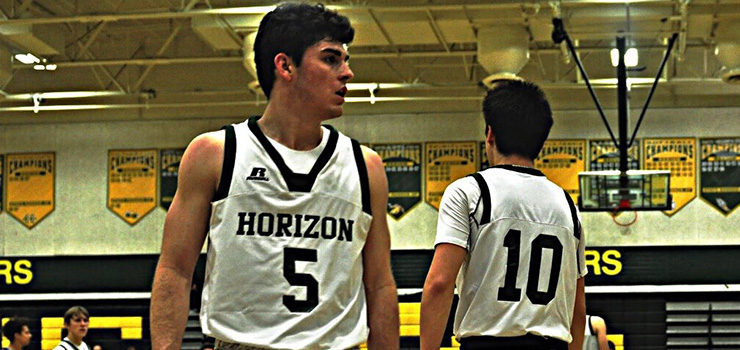 Horizon's annual holiday basketball tournament is coming up Dec. 21-23. The particpating teams are Mountain Ridge, Mountain View, La Joya, Scottsdale Christian, St. Mary's, Tempe, Horizon and Agua Fria.
Getting teams to participate in holiday tournaments like this one can be difficult. It is all about matching schedules of other teams. Since Horizon is running the tournament, it began by reaching out to coaching colleagues and gauging interests from various teams.
Per the AIA teams are allowed two tournaments per year so scheduling is key.
The benefit for teams who chose to participate in the tournament is that they do not count toward power points so the playoff picture is not impacted.
This gives teams a chance to experiment various lineups and players to have a system worked out by January.
Power points are impactful because come playoff time they will help determine your seeding and what team you will play against.
Horizon will begin tournament play on Dec. 21 against Agua Fria. The champion will be crowned following the final game on Dec. 23.
Horizon assistant coach Lucas Ramirez expressed his excitement for the tournament and scouting teams.
"With tournaments, we always can prepare and scout for the opening tournament," Ramirez said. "From there it is a quick turnaround scouting games and live in person as well as watching film."
This tournament will be one of the last times Horizon fans will get to see their team in action before region play begins.
Athletic Director Hannah Pacheco is just as excited as a fan would be to see the team in action, but she knows the hard work and dedication that went into forming this tournament.
"Running the tournament here at Horizon, I am involved in some of the scheduling and planning," Pacheco said. "To be honest our basketball program runs this tournament wonderfully. They are able to put this whole event on with very little assistance, and I am truly appreciative of their hard work. I look forward to seeing a spirited, sportsmanlike, competitive and fun tournament this year."
Ramirez echoed Pacheco's thoughts on the tournament.
"We are looking forward to a great event hosting great programs with equally as great coaches," Ramirez said. "We hope to learn a bit about ourselves as a team and continue to progress and take the next step as we prepare for region play. We would like to be playing well come January and February when we need to be playing our best basketball."
---