Brock Purdy wins Ed Dougherty Award
December 9, 2017 by Andy Morales, AZPreps365
---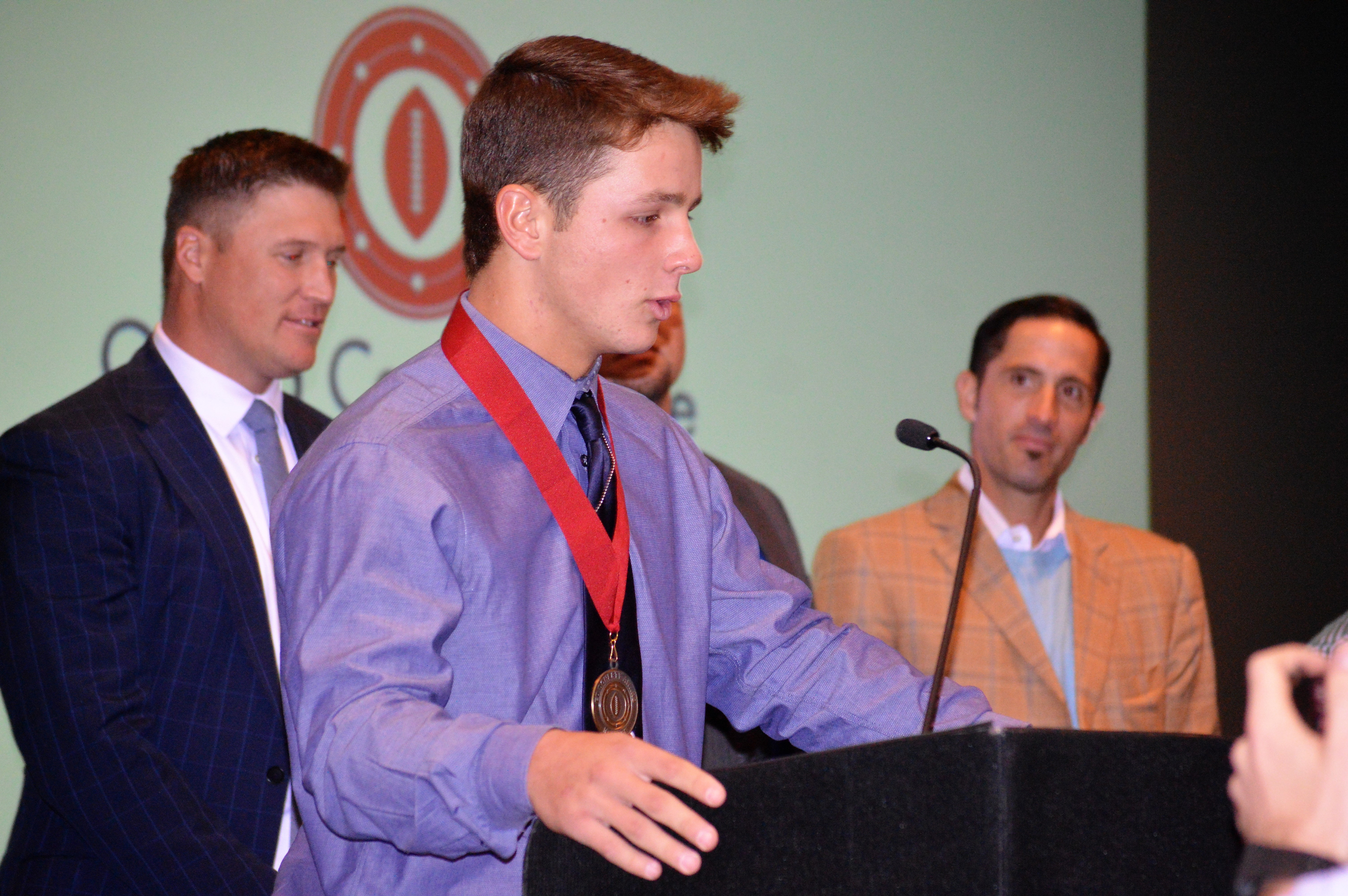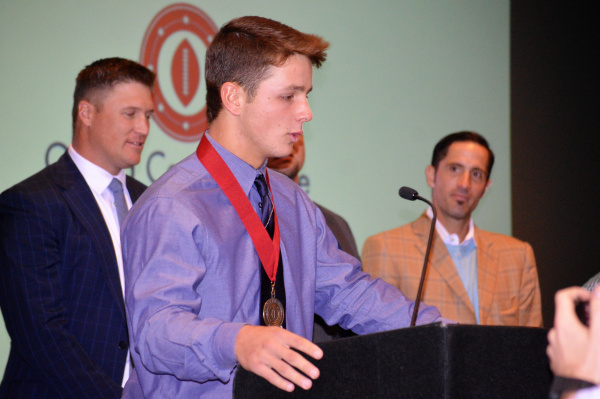 Brock Purdy accepts the award with Todd Heap (L) and Ryan Kealy standing behind him. (Andy Morales/AZPreps365.com)
Perry quarterback Brock Purdy was named the 2017 recipient of the Ed Doherty Award Saturday afternoon at ceremony held at the Scottsdale Resort at McCormick Ranch.
"The Ed Dougherty Award is the State of Arizona's highest individual high school football honor and is awarded to the state's most outstanding high school football player by the Grand Canyon State Gridiron Club," said Don Kile, President of the Gridiron Club. "In addition to on-field performance, the Ed Doherty Award recognizes the well-rounded accomplishments of community involvement, school pride, and academics."
2017 is the 31st anniversary of the award and 46 nominees were named throughout the year by a committee comprised of Yuma Catholic athletic director Rhett Stallworth, Chris Eaton of Gridiron Arizona, Richard Obert of the Arizona Republic, Jason Jewell of 247Sports.com, Kevin McCabe of Arizona Sports 98.7, Jason Skoda of MYMesaNews/CBS MaxPreps and, yours truly, Andy Morales of AZPreps365.com and AllSportsTucson.com.
The nominees met members of the Ed Doherty family and former Ed Doherty winners Ryan Kealy (St. Mary's/1995), Todd Heap (Mesa Mountain View/1997), Kyle Caldwell (Saguaro/2002), Tim Ruben (Saguaro/2007) and Teddy Ruben (Saguaro/2010).
Heap went on to play for ASU as a tight end before becoming an All-Pro in the NFL. Heap was the keynote speaker and he spoke of the character of Ed Doherty, especially since Doherty coached at both ASU (1947-50) and Arizona (1957-58). Doherty coached at several colleges and high schools, most notably at St. Mary's from 1967 to 1969 and Salpointe from 1978 to 1982.
Doherty coached St. Mary's to three straight title games (winning two) and Salpointe to the 1981 final. He served as the AD at Salpointe until 1990. He passed away in 2000.
Purdy (6-1, 197) threw for 4,405 yards this year with 57 touchdowns to help lead Perry (12-2) to a 6A runner-up finish to Chandler. The standout also ran for 1,017 yards and he picked up nine more TDs on the ground. Purdy finished his career with 8,932 passing yards and 107 TDs and he owns the 6A single-season records for passing yards and TDs thrown.
"It hurts not getting the championship but props to them," Purdy said. "It was an exciting feeling playing in front of that huge crowd. It was crazy."
Purdy is picking up some offers to play at the next level and getting the Ed Doherty nod just might help garner some Power 5 interest.
"The community came together this year and showed a lot of support," Purdy added. "I'm in the process of talking to some power programs now and hopefully I'll know soon."
Purdy was one of five finalists revealed at the ceremony and the other four were Cienega senior QB Jamarye Joiner, Higley senior running back Draycen Hall, Chandler senior RB Drake Anderson and Centennial senior RB Zidane Thomas.
Joiner was unable to attend the ceremony, but he was excited about the honor when reached by phone. "I didn't think I had a chance," Joiner said. "Coming from Tucson I feel like an underdog, but this is really exciting. I want to thank everyone."
Besides Joiner, other nominees from Southern Arizona included Sabino QB Alex Bell, Marana QB Trenton Bourguet, Ironwood Ridge RB Nick Brahler, Canyon del Oro RB Elijah Carey, Cholla QB Jordan Porter, Salpointe RB Bijan Robinson and San Manuel RB Christian Velasquez.
Brahler, Bourguet, Porter and Velasquez were all present at the ceremony. Robinson is only a sophomore and he is a sure bet to be nominated twice more and Bourguet will be back for his senior season.
Brahler will be concentrating on the track season now but he is mulling over a few offers to play college football like Adams State and CSU-Pueblo. Robinson's coach, Dennis Bene, played for Doherty at Salpointe and Robinson is constantly aware of the impact Doherty had on Bene and Salpointe.
"He tells us all the time what it means to play at Salpointe," Robinson said. "To follow in Doherty's footsteps is important to us and coach expects us follow his example."
Joiner was named the Southern Arizona Player of the Year, Robinson earned top running back honors, Bourguet was named the top QB from Southern Arizona, Porter earned top performer honors, Carey is a Southern Arizona first-team selection, as is Brahler. Bell and Velasquez are also All-Southern Arizona selections.
---