Boys hoops: Hamilton trims Perry in OT
December 18, 2017 by Les Willsey, AZPreps365
---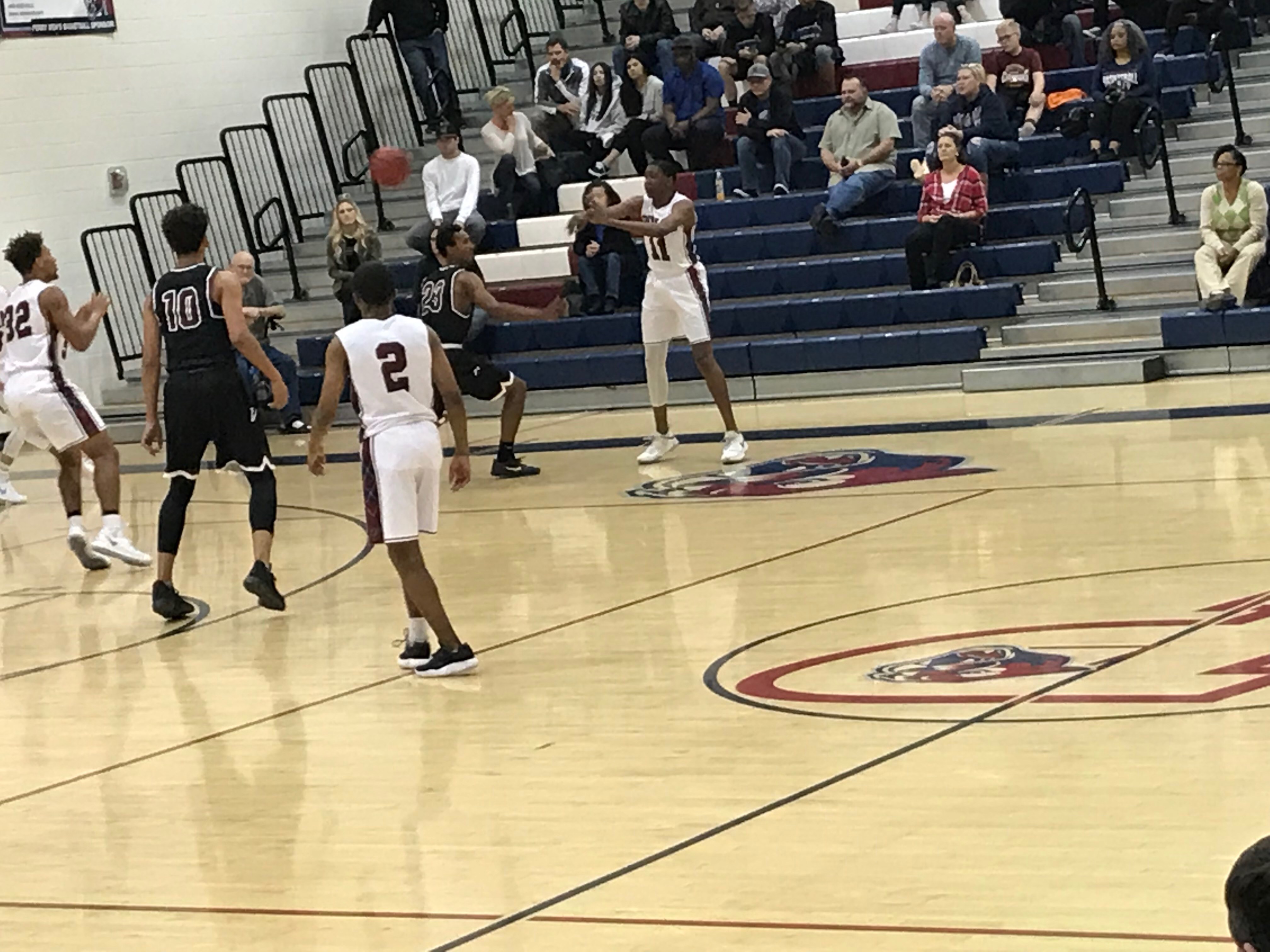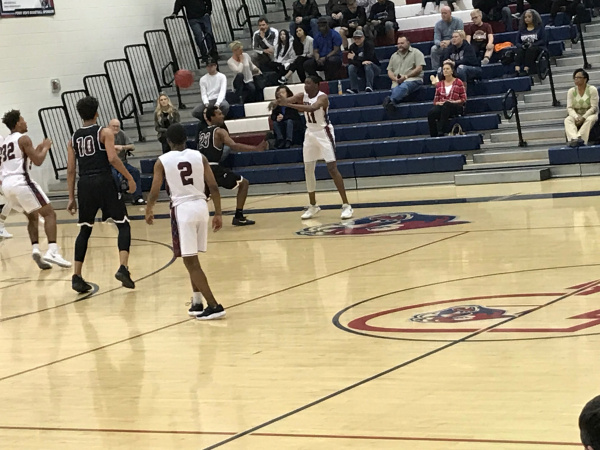 Perry's Jalen Williams (11) passes inside while defended by Hamilton's Cole Steed (23). (AzPreps365 photo)
Cole Steed, Ryan Engemann and Tyler Curvey aren't the names that come to mind initially when one talks of Hamilton's boys basketball. The trio did pelnty to get some recognition on Monday night.
Steed picked up the slack offensively for leading scorer Rashad Smith to help lead a fourth-quarter rally and Engemann provided the first salvo of overtime to help Hamilton top Perry, 58-55, in a 6A Premiere Region contest at Perry High.
Hamilton, No. 2 in the first power-rankings released Monday, raised its record to 10-1 overall and 7-0 in power-ranking games. The bulk of the Huskies wins thus far haven't gone down to the wire -- this one an exception.
Hamilton trailed 33-28 in the final seconds of the third period, but nearly a quarter later held what appeared a safe lead at 45-37 with 1:47 to play. Steed scored seven of his 15 points in the fourth quarter to ignite the turnaround. But Perry battled back resorting to fouling to slice the margin. It worked well enough.
Perry's leading scorer Jalen Williams sank four free throws,a two-point bucket and a pair of threes in the final 1:32. The second three - well beyond the arc -- drew nothing but net to send the game to overtime at 49-49. Wiliams tallie a game-high 30 points.
Enter Engemann. The 6-3 senior, who missed a desperation 3 at the buzzer of regulation was undaunted. He got off the first shot of overtime and nailed a 3 putting Hamilton up 52-49. The Huskies never trailed again. Engemann scored all seven of hits points in the fourth quarter and overtime. Curvey, a junior guard added his only three of the game with 1:26 to play in overtime. Hamilton nursed a four-five-point lead to the end and again almost didn't close it making 3 of 6 free throws (all by Curvey) in the final 36 seconds for a 58-55 lead. Williams attemped a very tough three with two seconds left but this one caromed off the heal and the Huskies snatched a nice road win.
"We had some guys step up," Hamilton coach Doug Harris said. "Cole, we've been trying to get him to be more aggressive and he was tonight. We always have the mentality of next man up if someone isn't having a good night.You don't often win on the road when you miss the free throws we did. And Ryan' shot was a big one."
Smith was defended well by Perry and checked in with a season-low four points (averaging 13.4 coming in). Smith opted more to playmake in the second half and used penetration to gain three-point looks for Steed, Engemann and Curvey. Steed led Hamilton with 15 points, Zach Anderson added 12 and Curvey finished with 10.
CJ Jamerson joined Williams in double figures for Perry with 11 points. Perry is now 4-9 overall and 3-6 in prg. Five of its losses are by three points or less. The Pumas gotten to see two football players on the court after the long season finished a couple weeks ago (D'Shayne James and Tate Speaker). The Pumas add a third starting Dec. 27 at the VisitMesa.com Invite when transfer Kyle Patterson is eligible to play after sitting out nine power-ranking games.
---