Girls hoops: Arizona enters 12 teams in Nike TOC
December 18, 2017 by Les Willsey, AZPreps365
---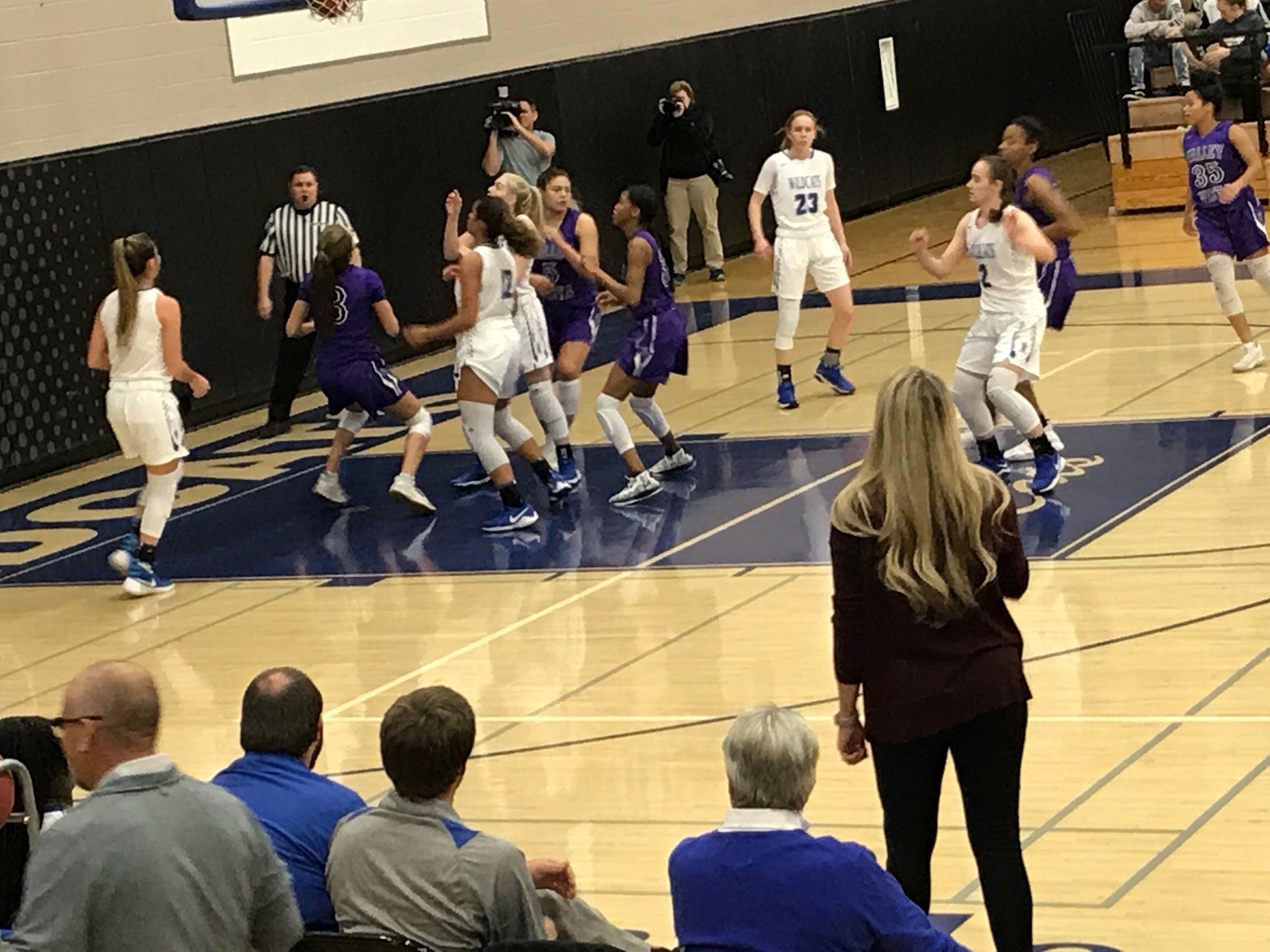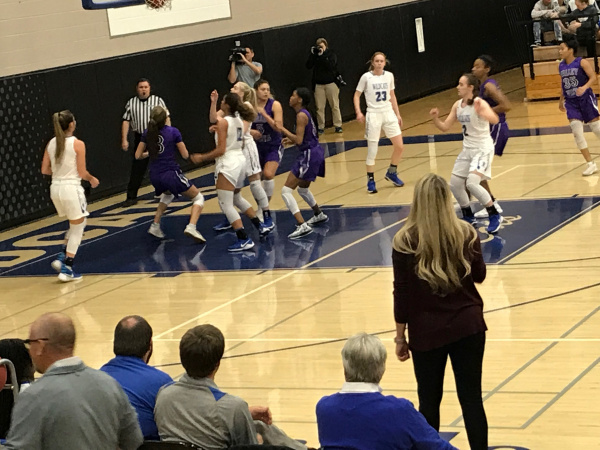 Mesquite and Valley Vista players brace for rebound in a game earlier this month. (AzPreps365 photo)
The 21st annual Nike Tournament of Champions sets sail this week with 10 nationally-ranked teams and 12 Arizona teams among the 80-team, five-bracket event.
Play begins Tuesday, Dec. 19, and continues through bracket finals on Friday, Dec. 22. Mesquite, Highland, Campo Verde and Queen Creek high schools are game sites.
Defending 5A state champion Mesquite (11-0) brings a 37-game winning streak dating back to November 2016 to the elite Joe Smith bracket. Mesquite won the next bracket down last year (John Anderson) with a 4-0 mark. It faces the ultimate test this week. Mesquite is one of 10 nationally-ranked teams in the latest MaxPreps Xcellent 25 rankings resting at No. 23. Millennium, last year's 6A state runner-up, also competes in the Joe Smith bracket. The Tigers are unbeaten so far this season at 9-0 and not ranked in the Xcellent 25.
Mesquite's opening game is Tuesday against No. 10 North Little Rock (ARK) at 5:30 at Mesquite. Millennium plays at 3:30 p.m. against No. 4 Archbishop Mitty (CA), also at Mesquite HS. Valley Vista (11-2), the defending 6A state champion, draws La Jolla Country Day (CA) in its first game Tuesday at 3:30 p.m. at Highland High. Valley Vista's losses this season are to Mesquite and Seton Catholic (defending 4A state champ).
Mesquite is led by senior guard tandem Shaylee Gonzales (BYU signee) and Lindsey VanAllen (Santa Clara signee). They've wreaked havoc in the state for four years. Both are averaging 21 points a game and are the top two on the team in assists and steals per game.
Millennium is paced by a younger lineup featuring juniors Dominque Phillips, Alaina Diggs Shyann Heredia, sophomore Jasmine Singleton and senior Tyonna Singleton, The Tigers have been without one of their best players all year thus far in sophomore Ali Zelaya. Zelaya won't return January recovering from a broken (non-shooting) hand. Phillips (16.8 points), Tyonna Singleton (10.8) and Alaina Diggs (10.8) are the team's top scorers. Millennium was 0-4 in last year's tourney.
Valley Vista is led by Oregon-bound senior guard Taylor Chavez (22.8 ppg), senior guard Terrysha Banner (13.3 ppg) and senior guard Clarissa Rodarte (11.9.ppg). Freshman Marissa Davis has stepped in with size to average seven points and seven rebounds per game. Valley Vista lost to La Jolla Country Day, 51-48, in last year's TOC consolation final. Valley Vista was 2-2 in last year's tourney.
Three Arizona teams will compete in the Mike Desper bracket -- Gilbert, Hamilton and Perry. Gilbert (11-2) is led by the Cavinder twins -- Hanna and Haley. Haley is averaging 23 points a game and Hanna 21. New Mexico transfer Brynn Wade has added 10 ppg and 13 rebounds per contest. Gilbert's first opponent is St. Mary's NY. Hamilton (8-4) faces Mount Lebanon PA in its opener. Perry (6-5) started out fast, but has been slowed by injury of late. The Pumas tangle with Sacred Heart Cathedral (CA) to begin play.
Basha (5-7), Chandler (6-3), Chaparral (9-3), Desert Mountain (8-4) and Highland (10-3) are aligned in the Dan Wiley bracket. Westview (3-8) rounds out the Arizona contingent playing in the Derrill Kipp bracket. First-round matchups for these six schools are: Basha vs. Fairmont Prep CA; Chandler vs. Clovis CA; Desert Mountain vs. Canyon CA; Chaparral vs. Corona Centennial CA; Highland vs. Bonita Vista, CA and Westview vs. Granado Hills Charter CA.
To view the five brackets, game times, locations and results go to www.niketournamentofchampions.com/events/basketball
---